Published on November 18, 2021

A systematic review and meta-analysis of 8 studies confirms an inverse correlation between COVID-19 mortality and vitamin D levels
Key Points
A new meta-analysis shows that as vitamin D levels increase, COVID-19 mortality decreases, to a point where the projected mortality rate reaches zero at around 50 ng/ml (125 nmol/L)
There is much evidence that low vitamin D3 is a predictor rather than just a side effect of infection, and that "a fatal outcome from COVID-19 infection, apart from other risk factors, is strongly dependent on the vitamin D status of the patient."
Measuring vitamin D levels is necessary to ensure a target level has been reached with supplementation
---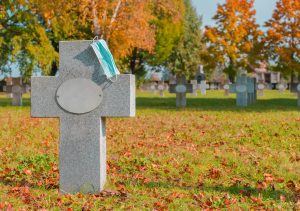 A review by Borsche et al. used data from 8 different studies (one population study and seven clinical studies) to determine a potential optimal vitamin D level to minimize COVID-19 mortality. This analysis is titled COVID-19 Mortality Risk Correlates Inversely with Vitamin D3 Status, a Mortality Rate Close to Zero Could Theoretically be Achieved at 50 ng/ml 25(OH)D3: Results of a Systematic Review and Meta-Analysis.
The chart below illustrates the data to very clearly show how, as vitamin D levels increase, mortality decreases, to a point where the projected mortality rate reaches zero at around 50 ng/ml (125 nmol/L) of vitamin D.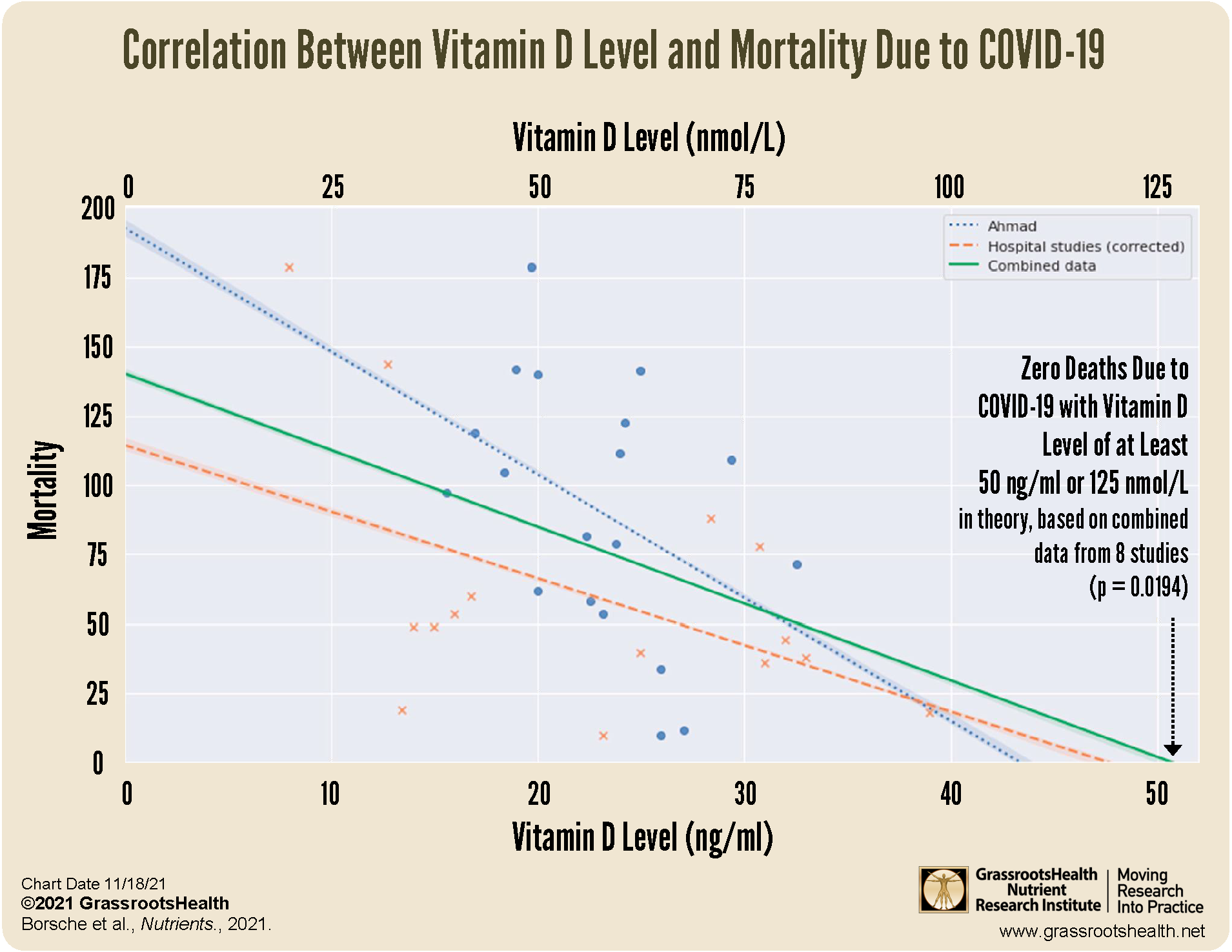 Click to Enlarge & Print
We highly suggest reading this paper, however, below is a summary and a quick video review by Dr. John Campbell, PhD, who created two different reviews of this paper – one is a short summary version (below) and the other (Part 2) goes into further detail.
Watch the Video
The video below is a quick review of this paper and its findings. Please also read through the summary and added notes after watching the video.
For an in-depth video review by Dr. Campbell, watch Part 2 here.
The Conclusion Says it All
As the authors of this paper conclude,
"The datasets provide strong evidence that low D3 is a predictor rather than just a side effect of the infection. Despite ongoing vaccinations, we recommend raising serum 25(OH)D levels to above 50 ng/mL to prevent or mitigate new outbreaks due to escape mutations or decreasing antibody activity."
How Do You Get Your Vitamin D to 50 ng/ml (125 nmol/L)?
As also outlined by the authors, testing vitamin D levels before starting a new supplementation plan, combined with taking note of health history and other health factors (such as digestive health, recent illness, medications, etc.), can help provide clues as to how the individual may respond to vitamin D supplementation and if higher doses of vitamin D, or other co-nutrients, may be helpful in achieving a level of 50 ng/ml. Several conditions and diseases, such as autoimmune diseases and cancer, may call for a higher target vitamin D level. Knowing the current level and what an appropriate target level is for each individual are just two steps towards reaching and maintaining a minimum vitamin D level. After calculating a new dose of vitamin D and/or implementing a new vitamin D routine (such as including indoor UVB or sunshine exposure into daily habits), testing levels again after 2-3 months is essential in order to see if the target has been met. If not, re-evaluate to see what may need further adjustment, and repeat. These steps are further outlined here.
Remember that, while an extra 4,000 to 10,000 IU of vitamin D may be needed per day for some individuals to reach their target level, it may be too much for others. This is another reason testing is important. Vitamin D is safe and toxicity is difficult to achieve, however, toxicity can be seen with vitamin D levels above 200 ng/ml (500 nmol/L). Measuring levels and getting enough co-nutrients (such as magnesium and vitamin K2) can help avoid potentially negative effects of supplementing with higher doses. (In regards to vitamin K2, the authors of this paper recommend getting 200 mcg per day along with vitamin D.)
Participating in the GrassrootsHealth Vitamin D*action project gives participants a platform to measure vitamin D levels from home and track results along with health, supplement, and lifestyle data, all while contributing to vitamin D research. We call it Citizen Science… Join Today!
Vitamin D is Essential for Proper Immune Function
"One strong pillar in the protection against any type of virus infection is the strength of our immune system… this unquestioned basic principle of nature has been more or less neglected by the responsible authorities."
Immune cells rely on vitamin D for specific functions. Intracellular vitamin D3 receptors are found in almost all cell types involved in the immune response, including monocytes/macrophages, T cells, B cells, natural killer (NK) cells, and dendritic cells (DCs). With vitamin D being necessary for all stages of the immune attack, the body's demand for vitamin D increases from the time the body is exposed to a pathogen, throughout the immune response. This need cannot be met if vitamin D levels are too low to start, and if left uncorrected, could be a cause for poor outcomes.
Vitamin D deficiency
limits immune system performance
increases the spread of diseases
reduces protection against infections
reduces effectiveness of vaccination
is a main cause of severe COVID-19 illness
Vitamin D status correlates with
length of ongoing COVID disease
severity of symptoms
mortality risk
Data shows that patients with higher vitamin D levels were very unlikely to die from COVID-19 infection, even with various comorbidities. According to this study and findings from several others, "a fatal outcome from COVID-19 infection, apart from other risk factors, is strongly dependent on the vitamin D status of the patient."
Low Vitamin D a Likely Cause of Disease Severity, Not a Side-Effect
This paper's analysis included data from one population study on people who became ill with COVID-19 (based on the long-term average vitamin D3 levels documented for 19 countries) along with 7 clinical studies on rates versus vitamin D3 levels (levels were either pre-infection values or taken the day after hospitalization, at the latest). For the clinical studies, levels obtained were from 1601 hospitalized patients, 784 who had their vitamin D levels measured within a day after admission, and 817 whose vitamin D levels were known pre-infection. This is strong evidence that low vitamin D levels are a predictor of disease rather than just a side effect of the infection.
"According to many scientists and medical professionals, we are far from the end of this disaster and hence must learn to coexist with the virus for several more years, perhaps decades."
Have you taken steps to ensure your vitamin D level is not too low?
Vitamin D is an Easily Modifiable Factor to Help Improve Disease Outcomes – Check Your Level Today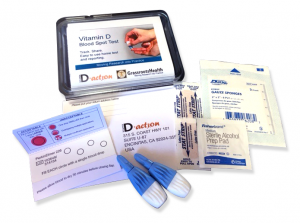 Having and maintaining healthy vitamin D levels and other nutrient levels can help improve your health now and for your future. Choose which to measure, such as your vitamin D, omega-3s, and essential minerals including magnesium and zinc, by creating your custom home test kit today. Take steps to improve the status of each of these measurements to benefit your overall health. You can also track your own intakes, symptoms and results to see what works best for YOU.
Enroll and test your levels today, learn what steps to take to improve your status of vitamin D (see below) and other nutrients and blood markers, and take action! By enrolling in the GrassrootsHealth projects, you are not only contributing valuable information to everyone, you are also gaining knowledge about how you could improve your own health through measuring and tracking your nutrient status, and educating yourself on how to improve it.
What Does it Take YOU to Get Your D to 40 ng/ml (100 nmol/L)?
Did you know your health could be greatly affected by making sure you have a vitamin D level of at least 40 ng/ml (100 nmol/L)? Help us help you.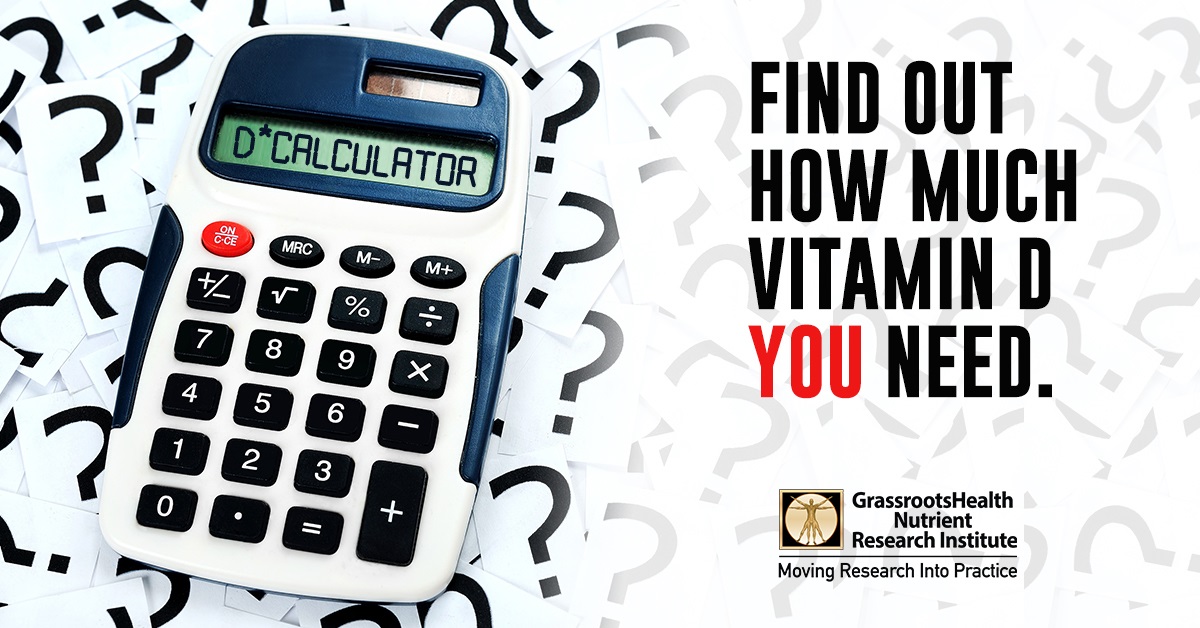 STEP 1 - Do you know what your vitamin D level is? If not, be sure to test today to find out.
STEP 2 – Determine your target level. Are you at your target level? Experts recommend a level of at least 40-60 ng/ml (100-150 nmol/L).
STEP 3 – Need to boost your level? Use the D*calculator to see how much vitamin D it may take to reach your target. Opt for the Loading Dose for a quicker boost.
STEP 4 – Optimize how your body absorbs and utilizes vitamin D with co-nutrients and these simple steps.
STEP 5 – Re-Test! This is an important step to make sure you have reached your target level, and to ensure you are not taking too much! Re-testing after 3-4 months is recommended.
STEP 6 – Adjust, Repeat…
Give your immune system the nutrients it needs to support a healthy you and protect yourself from unnecessary diseases, especially COVID-19.
NEWS ALERT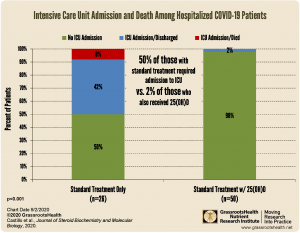 The first Randomized Controlled Trial on vitamin D and COVID-19 has shown a 96% lower risk of ICU admission for those receiving vitamin D (as 25(OH)D to quickly boost vitamin D blood levels) along with the standard treatment, compared to those receiving standard treatment alone.
These results support many previous observational studies showing a relationship between vitamin D levels and intake and COVID-19 severity.
Review the Latest Nutrient Research for COVID-19
GrassrootsHealth Nutrient Research Institute has launched the new Immune Boost project with the use of our myData-myAnswers nutrient health system that nearly 15,000 people are already using for their health. Specific markers that influence immune health are suggested for testing as part of this project including:
Vitamin D
Omega-3 Index
Essential elements magnesium, selenium, and zinc
hsCRP
Our goal is to demonstrate how one can use the Nutrient Research Model established by Dr. Robert Heaney to show the effect of vitamin D serum levels of at least 40 ng/ml (100 nmol/L) on risk reduction for all ethnicities in the population. Status and intake of other nutrients will also be analyzed for any type of relationship to immune status and symptom severity. Join the project today!
Please let us know if you're interested in helping sponsor this project.

CLICK HERE for updates and new information about the project.
Through GrassrootsHealth Nutrient Research Institute, you can also test your essential elements magnesium, copper, zinc and selenium, toxins such as lead, mercury and cadmium, as well as your omega-3 levels, inflammation levels and thyroid stimulating hormone (TSH) level. Find out your levels today! Log on to the test selection page (click the link below) to get your tests and see for yourself if your levels can be improved.
Make sure you track your results before and after, about every 6 months!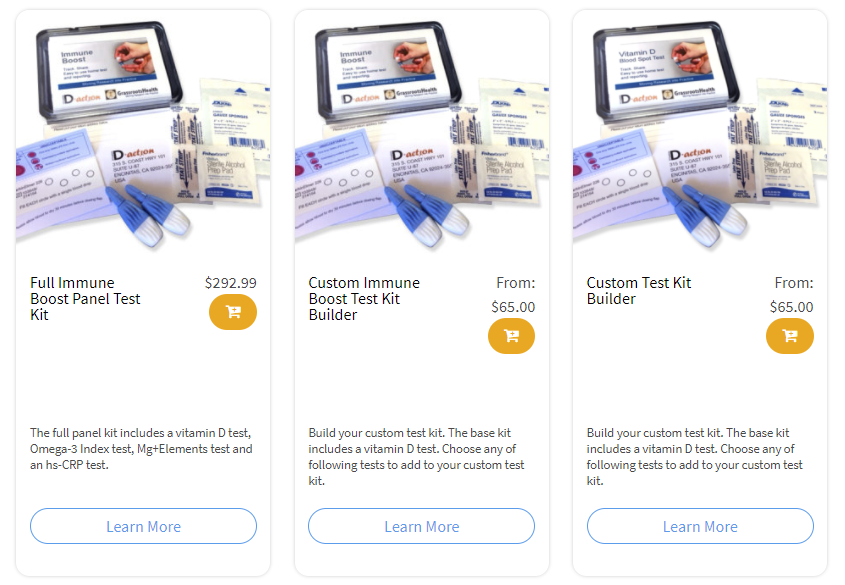 Click Here to Access the Test Page
How can I track my nutrient intake and levels over time?
To help you track your supplement use and nutrient levels, GrassrootsHealth has created the Personal Health Nutrient Decision System called

For each specific supplement, you can track what days you take it, how much, and many other details.  This will help you know your true supplemental intake and what patterns of use work for you to reach and maintain optimum nutrient levels. Check it out today!