Published on August 4, 2021

Study shows that women with the highest vitamin D level at breast cancer diagnosis had a better chance of survival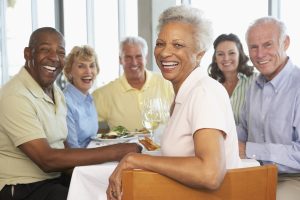 Vitamin D has known anticancer effects, and much research has been published over the last several decades showing a link between vitamin D levels and cancer risk. Depending on the type of cancer, vitamin D alone can potentially reduce the risk of cancer by about 25% to 80%.
In our last post, we summarized findings on breast cancer and vitamin D from an analysis published by GrassrootsHealth in 2018. This analysis that showed women with vitamin D levels at or above 60 ng/ml (150 nmol/L) had an 80% lower breast cancer risk compared to women with levels less than 20 ng/ml (50 nmol/L). In other previous posts we have discussed studies with similar results, such as an 83% lower breast cancer risk and a 2019 meta-analysis showing a 71% lower breast cancer risk.
Breast Cancer Survival Outcomes Associated with Vitamin D Level at Diagnosis
Research from Roswell Park Comprehensive Cancer Center and Kaiser Permanente was recently highlighted at the American Society of Clinical Oncology (ASCO) 2021 virtual annual meeting. The poster by Yao et al., Clinically sufficient vitamin D levels at breast cancer diagnosis and survival outcomes in a prospective cohort of 3,995 patients after a median follow-up of 10 years, summarized initial findings from Kaiser Permanente Northern California's Pathways Study, involving women diagnosed with incident invasive breast cancer between 2006 and 2013, and their risk of death.
To analyze the data, vitamin D levels among the women at the time of breast cancer diagnosis were categorized as deficient (<20 ng/ml or <50 nmol/L), insufficient (20-30 ng/ml or 50-75 nmol/L), or sufficient (>30 ng/ml or >75 nmol/L).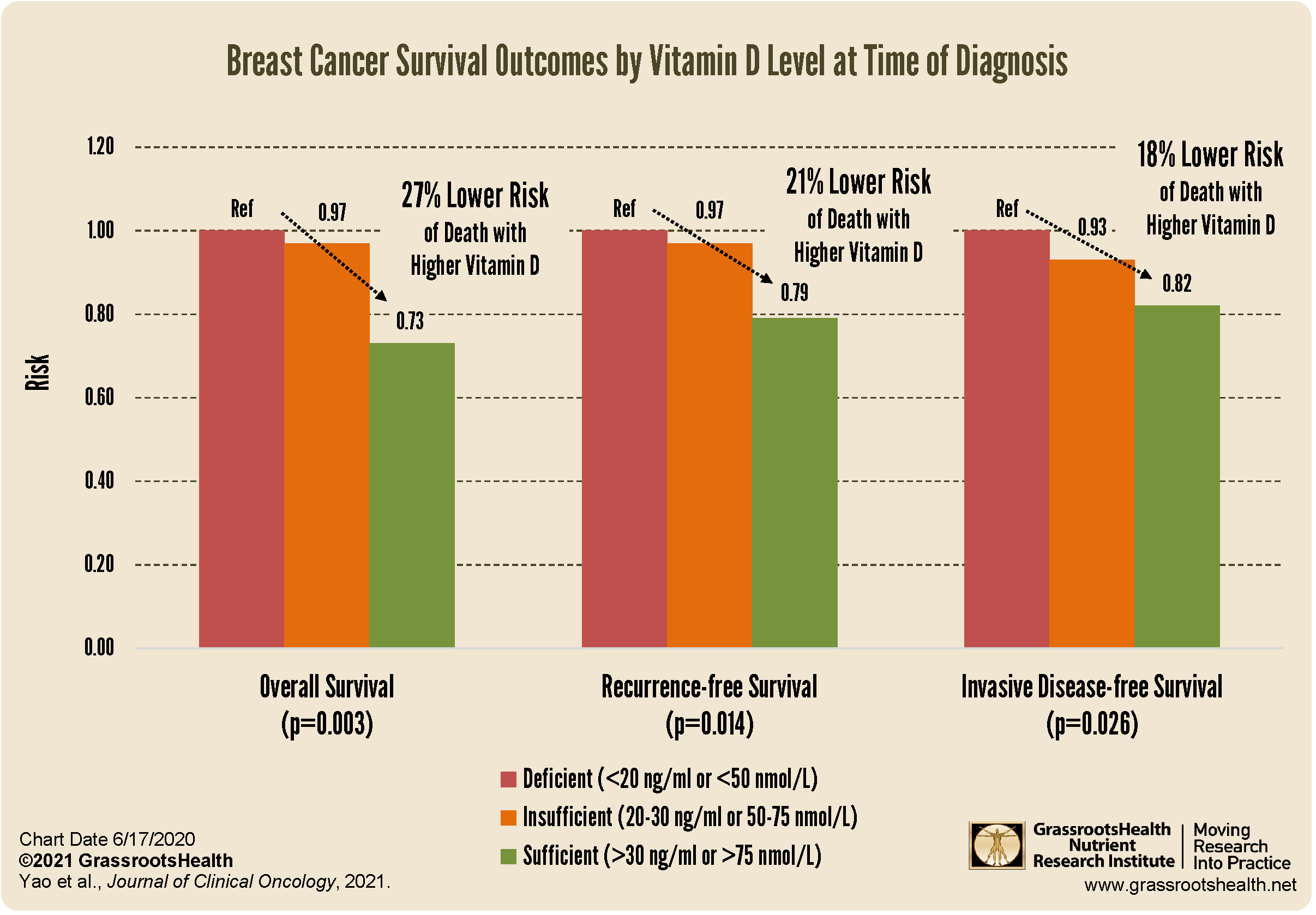 When compared to women whose vitamin D levels were deficient at the time of breast cancer diagnosis, women whose vitamin D levels were sufficient had a
27% lower risk of death overall (p=0.003)
21% lower risk of recurrence-free death (p=0.014)
18% lower risk of invasive disease-free death (p=0.026)
The study also looked at the most influential factors on the vitamin D dose response (or how the serum level responded to supplementation). Besides supplement amount, BMI and race/ethnicity had the most impact on vitamin D level, while genetic variants had a limited impact.
Black Women are at Much Higher Risk of Vitamin D Deficiency
In this study, black women had the lowest vitamin D levels, which the authors suggest is a major contributor to their poorer survival outcomes. Blacks overall have a 15-20 fold higher prevalence of severe vitamin D deficiency, which may account for a majority of their increased health and mortality risks. Blacks also have much higher mortality rates from diseases associated with vitamin D deficiency. In fact, an analysis by Ames et al. found that the risk of mortality for blacks is similar to the risk of mortality for whites when compared by vitamin D serum level! This indicates that correcting vitamin D deficiency and insufficiency among blacks could close the gap in mortality rates between blacks and whites.
In Conclusion
The authors state, "our findings support the use of daily vitamin D supplementation to maintain sufficient vitamin D levels after breast cancer diagnosis, particularly among Black women and patients diagnosed with a higher stage disease."
Keep in mind that vitamin D levels of 60 ng/ml (150 nmol/L) or higher may provide even more benefit when it comes to breast cancer, as highlighted in several studies, including our paper titled Breast cancer risk markedly lower with serum 25-hydroxyvitamin D concentrations ≥ 60 vs < 20 ng/ml (150 vs 50 nmol/L): Pooled analysis of two randomized trials and a prospective cohort, which is among the top 10% of 2018 papers published in PLOS ONE for being cited in other research.
Breast cancer incidence has also been associated with levels of omega-3 fatty acids and magnesium intake, as well as the intake and status of other nutrients. Ensuring adequate intake of these nutrients, and measuring their levels, may be essential for those concerned with the prevention of breast cancer and many other chronic diseases.
Measure Your Level of Vitamin D and Other Important Nutrients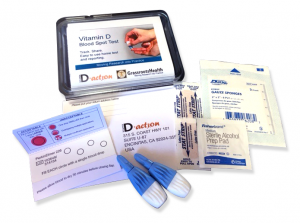 Having and maintaining healthy vitamin D levels and other nutrient levels can help improve your health now and for your future. Choose which to measure, such as your vitamin D, omega-3s, and essential minerals including magnesium and zinc, by creating your custom home test kit today. Take steps to improve the status of each of these measurements to benefit your overall health. You can also track your own intakes, symptoms and results to see what works best for YOU.
Enroll and test your levels today, learn what steps to take to improve your status of vitamin D (see below) and other nutrients and blood markers, and take action! By enrolling in the GrassrootsHealth projects, you are not only contributing valuable information to everyone, you are also gaining knowledge about how you could improve your own health through measuring and tracking your nutrient status, and educating yourself on how to improve it.
Help everyone Move Research into Practice with vitamin D and other nutrients! As a special birthday gift to everyone, in honor of the science, we have created a special scholarship fund for anyone to donate to that will go towards helping others participate. Your donation will allow anyone to get help with funding their participation when they need it.
Text-to-give: Text Daction to 44321 to add to our Scholarship Fund.
What Does it Take YOU to Get Your D to 40 ng/ml (100 nmol/L)?
Did you know your health could be greatly affected by making sure you have a vitamin D level of at least 40 ng/ml (100 nmol/L)? Help us help you.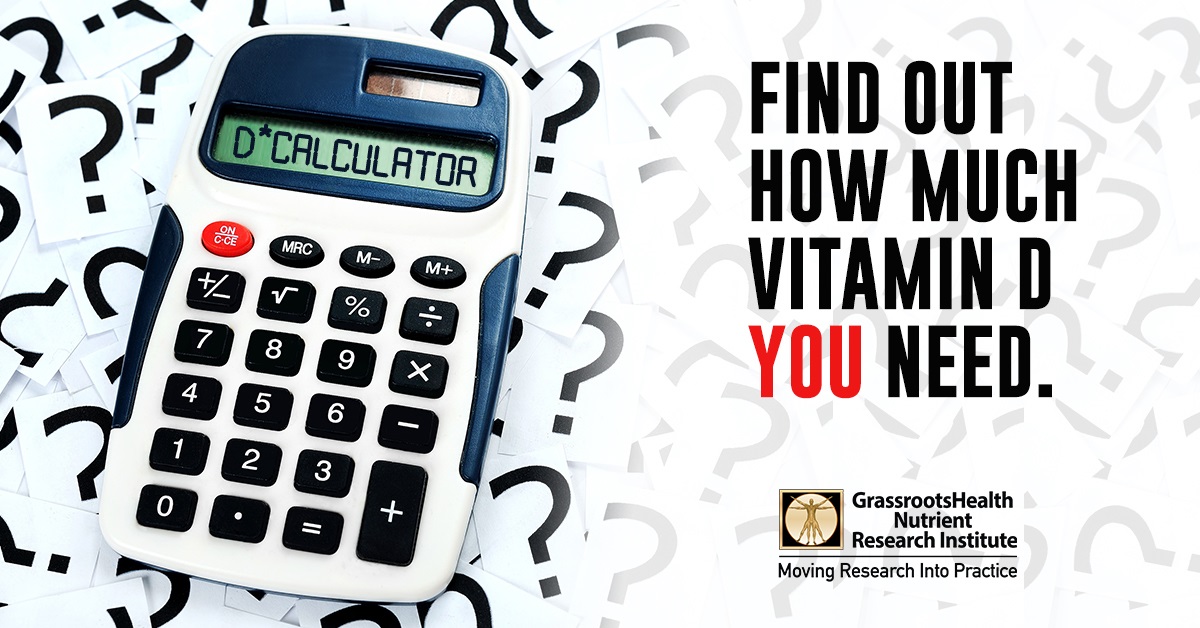 STEP 1 - Do you know what your vitamin D level is? If not, be sure to test today to find out.
STEP 2 – Determine your target level. Are you at your target level? Experts recommend a level of at least 40-60 ng/ml (100-150 nmol/L).
STEP 3 – Need to boost your level? Use the D*calculator to see how much vitamin D it may take to reach your target. Opt for the Loading Dose for a quicker boost.
STEP 4 – Optimize how your body absorbs and utilizes vitamin D with co-nutrients and these simple steps.
STEP 5 – Re-Test! This is an important step to make sure you have reached your target level, and to ensure you are not taking too much! Re-testing after 3-4 months is recommended.
STEP 6 – Adjust, Repeat…
Give your immune system the nutrients it needs to support a healthy you and protect yourself from unnecessary diseases, especially COVID-19.
NEWS ALERT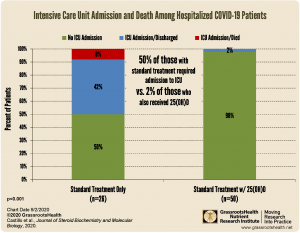 The first Randomized Controlled Trial on vitamin D and COVID-19 has shown a 96% lower risk of ICU admission for those receiving vitamin D (as 25(OH)D to quickly boost vitamin D blood levels) along with the standard treatment, compared to those receiving standard treatment alone.
These results support many previous observational studies showing a relationship between vitamin D levels and intake and COVID-19 severity.
Review the Latest Nutrient Research for COVID-19
GrassrootsHealth Nutrient Research Institute has launched the new Immune Boost project with the use of our myData-myAnswers nutrient health system that nearly 15,000 people are already using for their health. Specific markers that influence immune health are suggested for testing as part of this project including:
Vitamin D
Omega-3 Index
Essential elements magnesium, selenium, and zinc
hsCRP
Our goal is to demonstrate how one can use the Nutrient Research Model established by Dr. Robert Heaney to show the effect of vitamin D serum levels of at least 40 ng/ml (100 nmol/L) on risk reduction for all ethnicities in the population. Status and intake of other nutrients will also be analyzed for any type of relationship to immune status and symptom severity. Join the project today!
Please let us know if you're interested in helping sponsor this project.

CLICK HERE for updates and new information about the project.
Through GrassrootsHealth Nutrient Research Institute, you can also test your essential elements magnesium, copper, zinc and selenium, toxins such as lead, mercury and cadmium, as well as your omega-3 levels, inflammation levels and thyroid stimulating hormone (TSH) level. Find out your levels today! Log on to the test selection page (click the link below) to get your tests and see for yourself if your levels can be improved.
Make sure you track your results before and after, about every 6 months!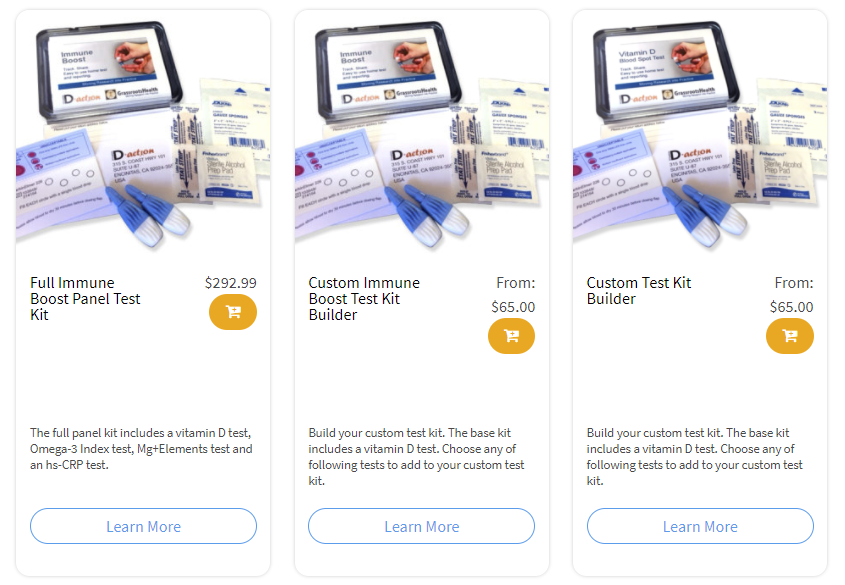 Click Here to Access the Test Page
How can I track my nutrient intake and levels over time?
To help you track your supplement use and nutrient levels, GrassrootsHealth has created the Personal Health Nutrient Decision System called

For each specific supplement, you can track what days you take it, how much, and many other details.  This will help you know your true supplemental intake and what patterns of use work for you to reach and maintain optimum nutrient levels. Check it out today!