Published on October 1, 2021

Over 90% of children in the United States have vitamin D levels below the recommended 40 ng/ml – how can you help ensure your child is getting enough?
Key Points
93% of children in the general US population have vitamin D levels below 40 ng/ml (100 nmol/L), 16% of whom are below 20 ng/ml (50 nmol/L)
Vitamin D levels tend to drop among children and teens as they age, likely due to the need for increased intake as they grow bigger. A general requirement for vitamin D intake from all sources is around 35 IU/pound (75 IU/kg) per day, on average.
Not testing children's levels as they age and grow can easily lead to vitamin D levels below what is recommended
Studies show children can also benefit from having enough vitamin D to help decrease the risk of severe COVID-19
---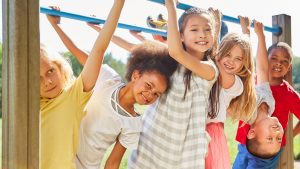 Vitamin D is essential for everyone, but especially for growing children. Unfortunately, many children are not getting enough vitamin D, and the problem seems to worsen as they age.
According to 2009-2014 data from the National Health and Nutrition Examination Survey (NHANES) on children under the age of 18 in the United States, 93% had vitamin D levels below 40 ng/ml (100 nmol/L), with 16% of them below 20 ng/ml (50 nmol/L). That data is charted below next to data on children in the GrassrootsHealth cohort, among whom over 50% are still below the recommended 40 ng/ml, regardless of the fact that the parents testing their children through the project are educated enough about vitamin D to be measuring levels on their own.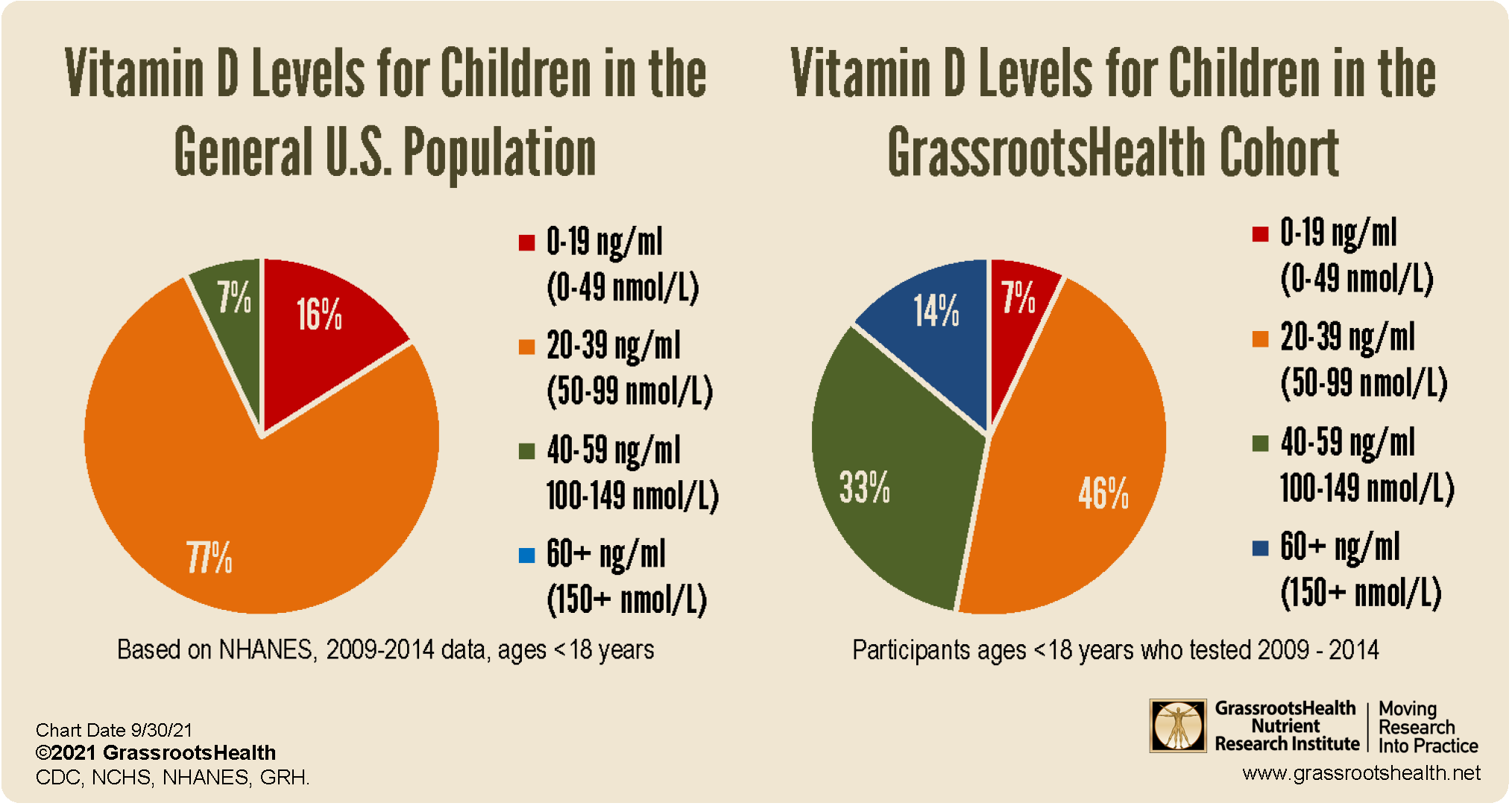 Click to Enlarge & Print
In a past analysis of vitamin D intake and levels among children in the GrassrootsHealth cohort, we discovered that as the age of the children increased, the percent of participants with levels at or above 40 ng/ml decreased, from about two-thirds for those 0-4 years to about one-third for those 13-17 years. We also found that, while vitamin D intake should increase as body weight increases, intake remained the same or decreased as age increased, which is likely the main cause of the decreasing vitamin D levels with age.
How Can You Choose a Starting Dose for Kids?
As with adults, it is essential to measure the vitamin D level in order to determine an appropriate daily dose of vitamin D needed to reach a target level. If waiting for results, or if testing is not an option, one way to calculate an approximate dose is by using the average requirement of about 35 IU of vitamin D per pound of body weight (75 IU/kg) per day, from all sources. For example, a child weighing 60 pounds may need approximately 2100 IU of vitamin D per day. A supplement of 2000 IU per day could be enough for such a child who gets a moderate amount of vitamin D from sunshine exposure, or if some is obtained through their diet.
However, vitamin D testing should be done at least annually with children as well as with adults to determine an appropriate supplement amount for maintaining their target vitamin D level and ensure they are getting enough (and not too much) vitamin D.
How Can You Help Your Child Get the Right Amount of Vitamin D?
Is swallowing a capsule or pill too difficult for your child? Consider options such as a powder filled capsule that can be broken apart and put into a drink or smoothie, a liquid drop that can be put directly under the tongue or onto food, or even a topical vitamin D cream.
As children age, and as they start to take on the responsibility of taking their own supplements, it is important to make sure they are following through with taking their supplements, and that their vitamin D intake is enough to accommodate their growth. We cannot know unless we test regularly! Test your children's level today and take steps to keep them within a target of 40-60 ng/ml or 100-150 nmol/L!
How Does the Vitamin D Level Affect Children's COVID-19 Risk?
Current available data suggests that avoiding or correcting vitamin D deficiency at any point during the COVID-19 pandemic may improve outcomes overall. This all makes sense, considering the role vitamin D plays in immune health, including modulating immune function and inflammation directly within the lungs. Many studies among vitamin D deficient COVID-19 adult patients have also shown improvement in symptoms and survival rates with vitamin D supplementation, indicating that replenishing vitamin D is helpful for improving COVID-19 disease outcome.
Studies among children have shown similar results as studies among adults on vitamin D and COVID-19, such as a previously reviewed study which found increased COVID-19 disease severity among children with lower vitamin D levels. In this study, among children whose vitamin D level was below 20 ng/ml (50 nmol/L), 31% had moderate to severe COVID-19 symptoms, compared to only 18% with moderate symptoms (none classified as severe) for children with vitamin D levels of 20 ng/ml or higher. Additionally, 46% of the children with higher vitamin D levels were asymptomatic, compared to only 10% of those with lower vitamin D levels. Keep in mind that the cut-off vitamin D level here is only 20 ng/ml, where several studies among adults suggest levels of at least 40 ng/ml (100 nmol/L) may provide the greatest protection against COVID-19.
A separate review concluded that raising vitamin D levels among children could also be effective in reducing the severity of MIS-C, as has been observed with another similar syndrome resulting from an excessive immune response to infection, Kawasaki disease.
The Importance of Getting Enough of All Nutrients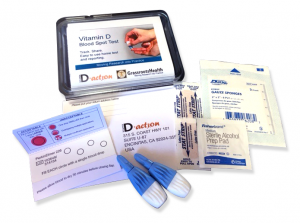 Having and maintaining healthy vitamin D levels and other nutrient levels can help improve your health now and for your future. Choose which to measure, such as your vitamin D, omega-3s, and essential minerals including magnesium and zinc, by creating your custom home test kit today. Take steps to improve the status of each of these measurements to benefit your overall health. You can also track your own intakes, symptoms and results to see what works best for YOU.
Enroll and test your levels today, learn what steps to take to improve your status of vitamin D (see below) and other nutrients and blood markers, and take action! By enrolling in the GrassrootsHealth projects, you are not only contributing valuable information to everyone, you are also gaining knowledge about how you could improve your own health through measuring and tracking your nutrient status, and educating yourself on how to improve it.
Help everyone Move Research into Practice with vitamin D and other nutrients! As a special birthday gift to everyone, in honor of the science, we have created a special scholarship fund for anyone to donate to that will go towards helping others participate. Your donation will allow anyone to get help with funding their participation when they need it.
Text-to-give: Text Daction to 44321 to add to our Scholarship Fund.
What Does it Take YOU to Get Your D to 40 ng/ml (100 nmol/L)?
Did you know your health could be greatly affected by making sure you have a vitamin D level of at least 40 ng/ml (100 nmol/L)? Help us help you.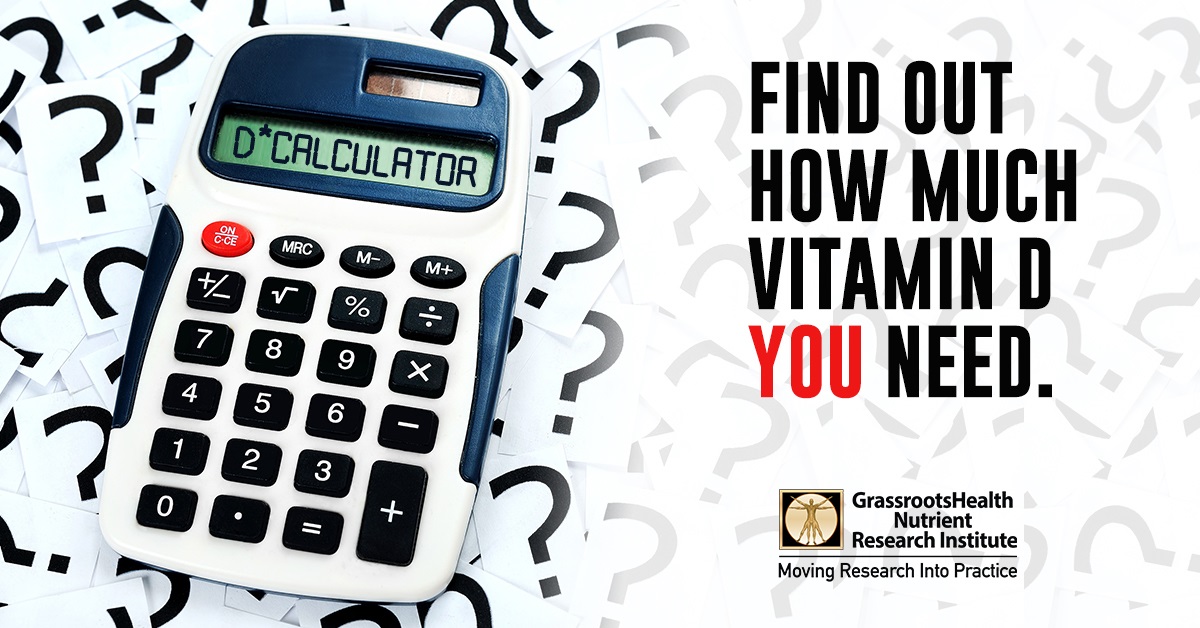 STEP 1 - Do you know what your vitamin D level is? If not, be sure to test today to find out.
STEP 2 – Determine your target level. Are you at your target level? Experts recommend a level of at least 40-60 ng/ml (100-150 nmol/L).
STEP 3 – Need to boost your level? Use the D*calculator to see how much vitamin D it may take to reach your target. Opt for the Loading Dose for a quicker boost.
STEP 4 – Optimize how your body absorbs and utilizes vitamin D with co-nutrients and these simple steps.
STEP 5 – Re-Test! This is an important step to make sure you have reached your target level, and to ensure you are not taking too much! Re-testing after 3-4 months is recommended.
STEP 6 – Adjust, Repeat…
Give your immune system the nutrients it needs to support a healthy you and protect yourself from unnecessary diseases, especially COVID-19.
NEWS ALERT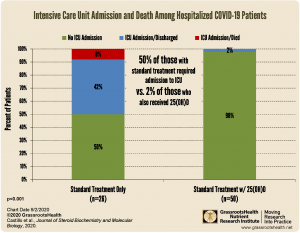 The first Randomized Controlled Trial on vitamin D and COVID-19 has shown a 96% lower risk of ICU admission for those receiving vitamin D (as 25(OH)D to quickly boost vitamin D blood levels) along with the standard treatment, compared to those receiving standard treatment alone.
These results support many previous observational studies showing a relationship between vitamin D levels and intake and COVID-19 severity.
Review the Latest Nutrient Research for COVID-19
GrassrootsHealth Nutrient Research Institute has launched the new Immune Boost project with the use of our myData-myAnswers nutrient health system that nearly 15,000 people are already using for their health. Specific markers that influence immune health are suggested for testing as part of this project including:
Vitamin D
Omega-3 Index
Essential elements magnesium, selenium, and zinc
hsCRP
Our goal is to demonstrate how one can use the Nutrient Research Model established by Dr. Robert Heaney to show the effect of vitamin D serum levels of at least 40 ng/ml (100 nmol/L) on risk reduction for all ethnicities in the population. Status and intake of other nutrients will also be analyzed for any type of relationship to immune status and symptom severity. Join the project today!
Please let us know if you're interested in helping sponsor this project.

CLICK HERE for updates and new information about the project.
Through GrassrootsHealth Nutrient Research Institute, you can also test your essential elements magnesium, copper, zinc and selenium, toxins such as lead, mercury and cadmium, as well as your omega-3 levels, inflammation levels and thyroid stimulating hormone (TSH) level. Find out your levels today! Log on to the test selection page (click the link below) to get your tests and see for yourself if your levels can be improved.
Make sure you track your results before and after, about every 6 months!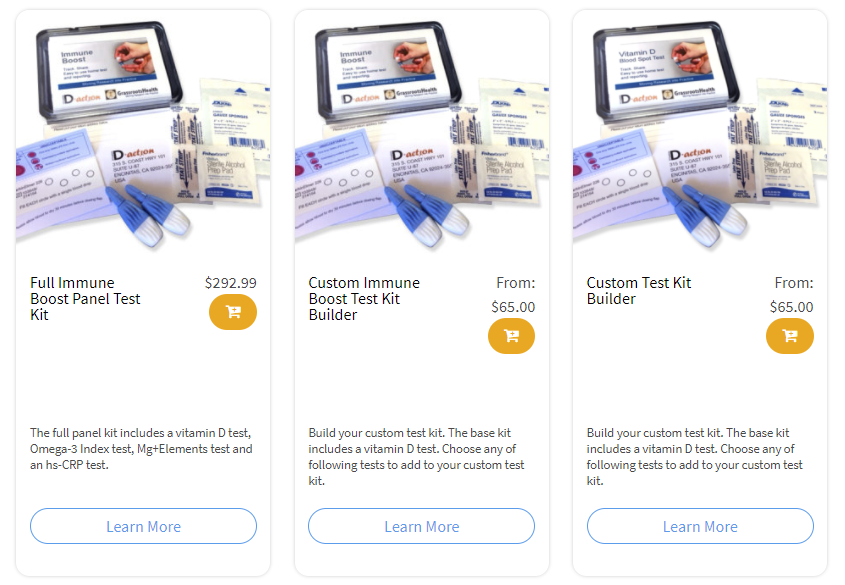 Click Here to Access the Test Page
How can I track my nutrient intake and levels over time?
To help you track your supplement use and nutrient levels, GrassrootsHealth has created the Personal Health Nutrient Decision System called

For each specific supplement, you can track what days you take it, how much, and many other details.  This will help you know your true supplemental intake and what patterns of use work for you to reach and maintain optimum nutrient levels. Check it out today!