Published on January 4, 2021

Greek study finds a correlation between vitamin D level and COVID-19 death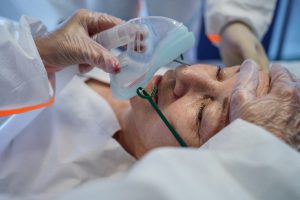 As the new year begins, we will continue to report on the evidence that links vitamin D and COVID-19 disease and severity. Studies have been published concluding that higher vitamin D levels are associated with more positive outcomes, from a decreased risk of testing positive for SARS-CoV-2 to a decreased risk of severity and death. Last week, we shared a study that showed the risk of being hospitalized with COVID-19 is higher with vitamin D deficiency. Below we discuss a study that focuses on patients with COVID-19 that have been admitted to the ICU.
Severity of COVID-19 is associated with inflammatory responses, specifically with the presence of pneumonia, severe acute respiratory distress syndrome, myocarditis (inflammation of the heart muscle), thrombosis (formation of blood clots in the blood vessels) and cytokine storms. We recently reviewed how vitamin D helps prevent inflammation and reduce the severity of COVID-19.
Vitamin D Levels in Patients Admitted to the ICU
In a prospective, observational study, Vassilious and colleagues investigated COVID-19 patients who were admitted to the ICU to see whether low vitamin D levels put them at greater risk of mortality. Critically ill patients diagnosed with COVID-19 pneumonia who were admitted to the ICU of a Greek hospital had their vitamin D levels measured.
Thirty adults, with an average age of 65 years, presented with symptoms of pneumonia 6 days before admission to the ICU, with 90% having acute respiratory distress syndrome (ARDS), mostly moderate or mild. Common risk factors in these patients included hypertension, hyperlipidemia and diabetes. Twenty-three patients required mechanical ventilation and 5 died within 28 days after ICU admission.
80% of Hospitalized COVID-19 Patients Were Vitamin D Deficient, All Were Insufficient
Of the 30 patients admitted to the ICU with COVID-19 pneumonia, 80% (n=24) had vitamin D levels less than 20 ng/ml (50 nmol/L) and classified as deficient, and the remaining 20% (n=6) were considered insufficient with levels between 20 and less than 30 ng/ml (75 nmol/L).
To examine the effect of low vitamin D on mortality, patients were divided as "high" or "low" based on whether they were above or below the median vitamin D level (the middle value) of 15.2 ng/ml (38 nmol/L), a level we would consider to be "severely" deficient. By 28 days, five of the patients with vitamin D levels below 15.2 ng/ml died whereas none of the patients in the group with a vitamin D level of at least 15.2 ng/ml had died.
Risk of Death Higher with Lower Vitamin D Levels
As depicted in the box chart below, vitamin D levels, although insufficient, were higher in patients who survived with a median level of 16.7 ng/ml (42 nmol/L) in comparison with those who died with levels of 9.4 ng/ml (23.5 nmol/L).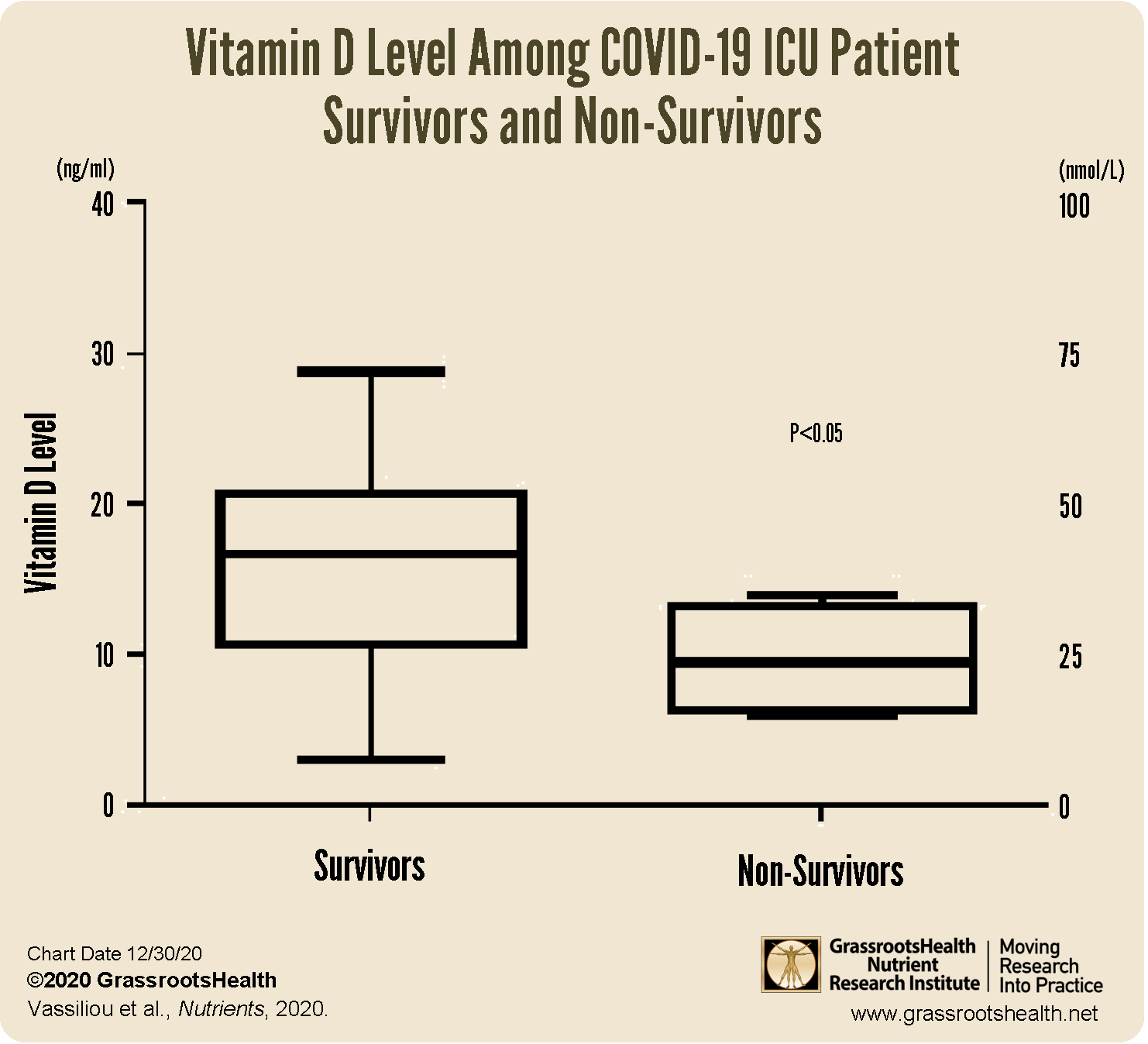 All patients belonging to the higher vitamin D group survived, while all non-survivors belonged to the group with lower levels.
Do You Know Your Vitamin D Level?
By joining the GrassrootsHealth projects, you are not only contributing valuable information to our study, but you are also gaining knowledge about how you could improve your own health through measuring and tracking your nutrient status, and educating yourself on how to improve it. Do you know what your status of vitamin D, omega-3s, and other essential nutrients is? Could your levels be improved? Test now to find out!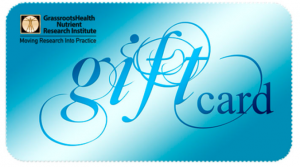 We now have a NEW GIFTING SERVICE that allows you to quickly send 'Gift Cards' to friends, family and coworkers who you consider might need immediate access to testing, and to Claim the Joy of Your Health TODAY. Give the gift today!
What does the Research Say about Vitamin D & COVID-19?
It's TIME to start saving lives! If you can help PREVENT the majority of the death, it's time! What's it costing you/us not to take action NOW?
There is much published research that supports a clear link between vitamin D and COVID-19 showing that higher vitamin D levels are related to: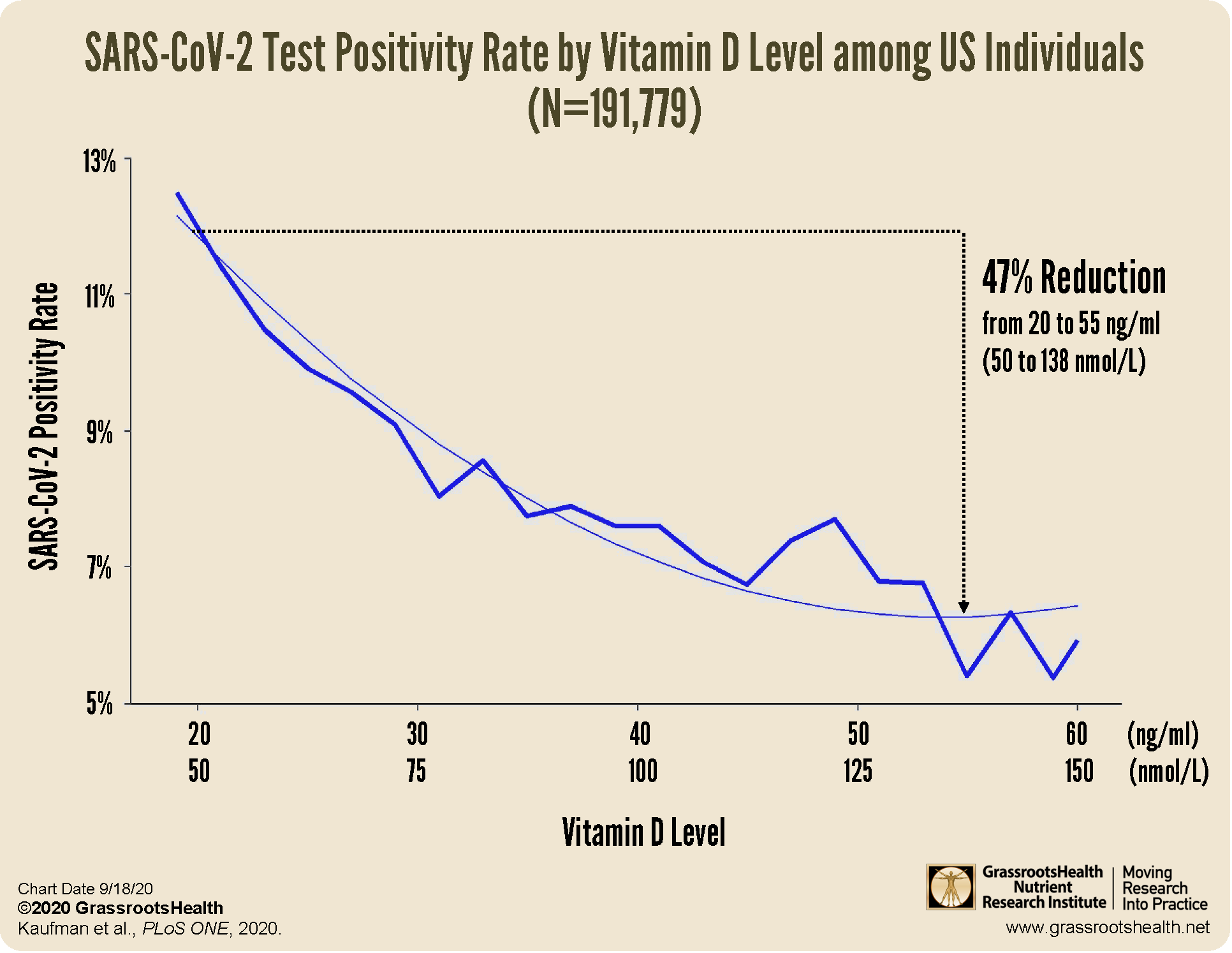 a decreased risk of testing positive for COVID-19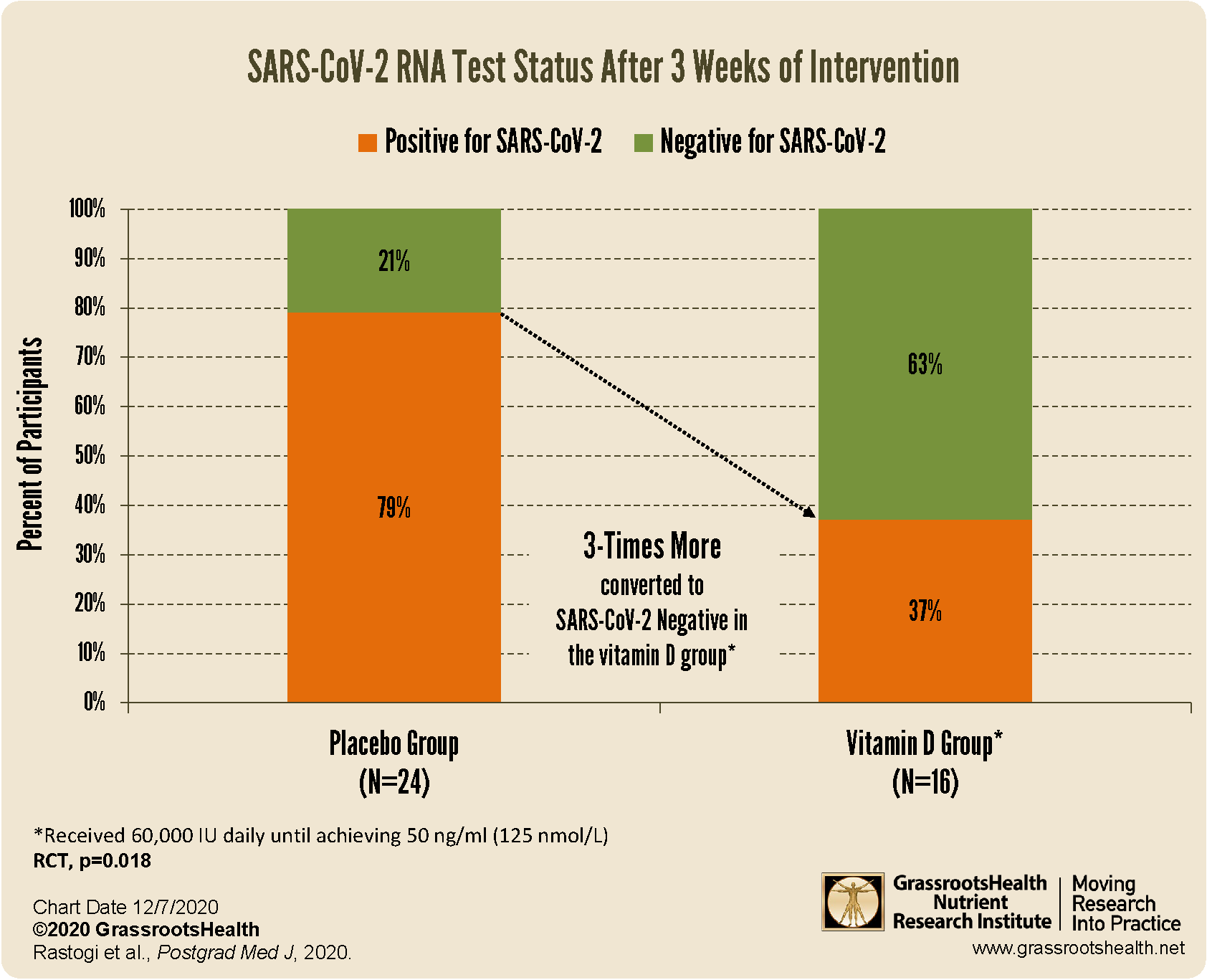 increased viral SARS-CoV-2 RNA clearance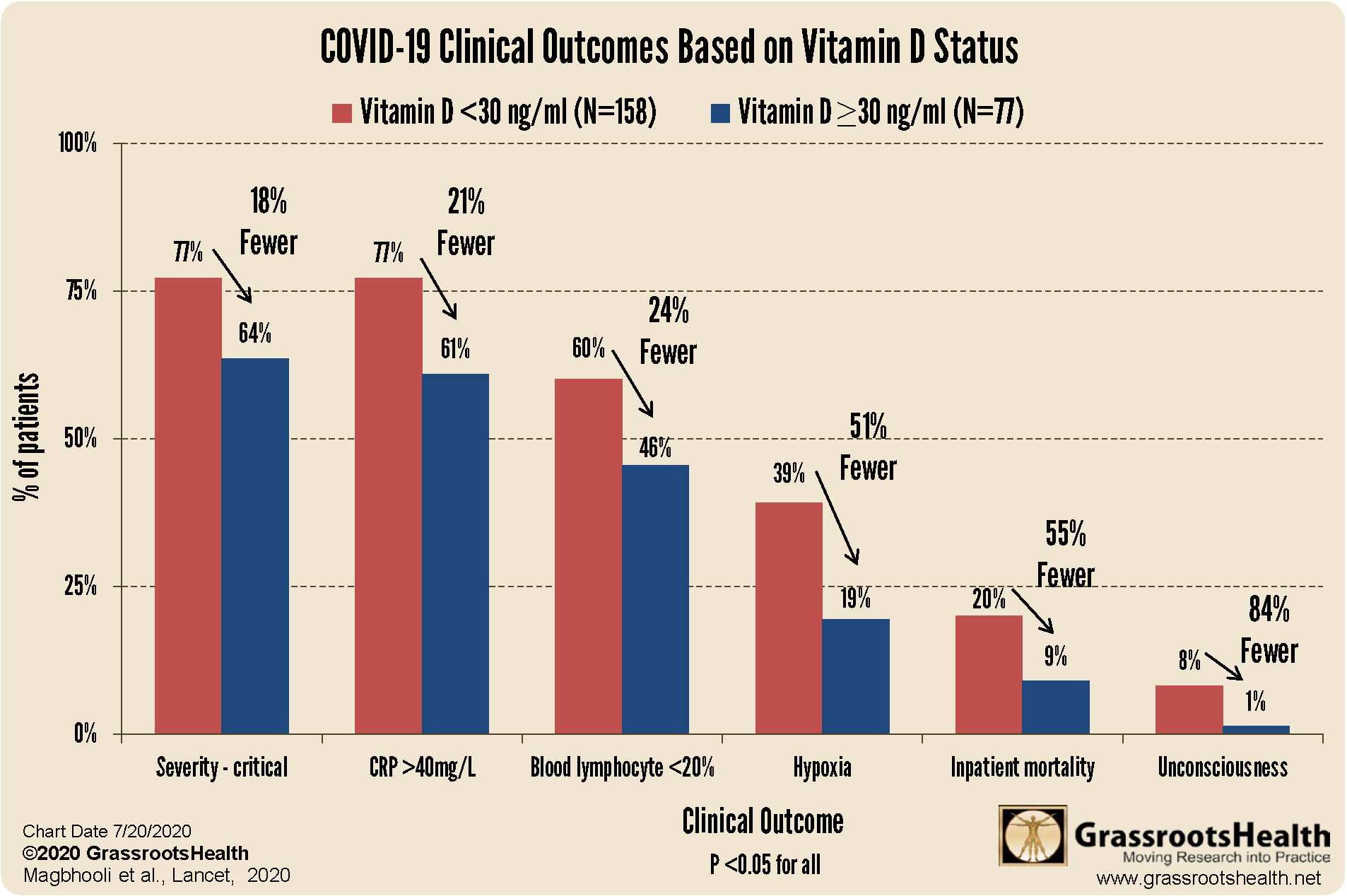 better clinical outcomes among patients with COVID-19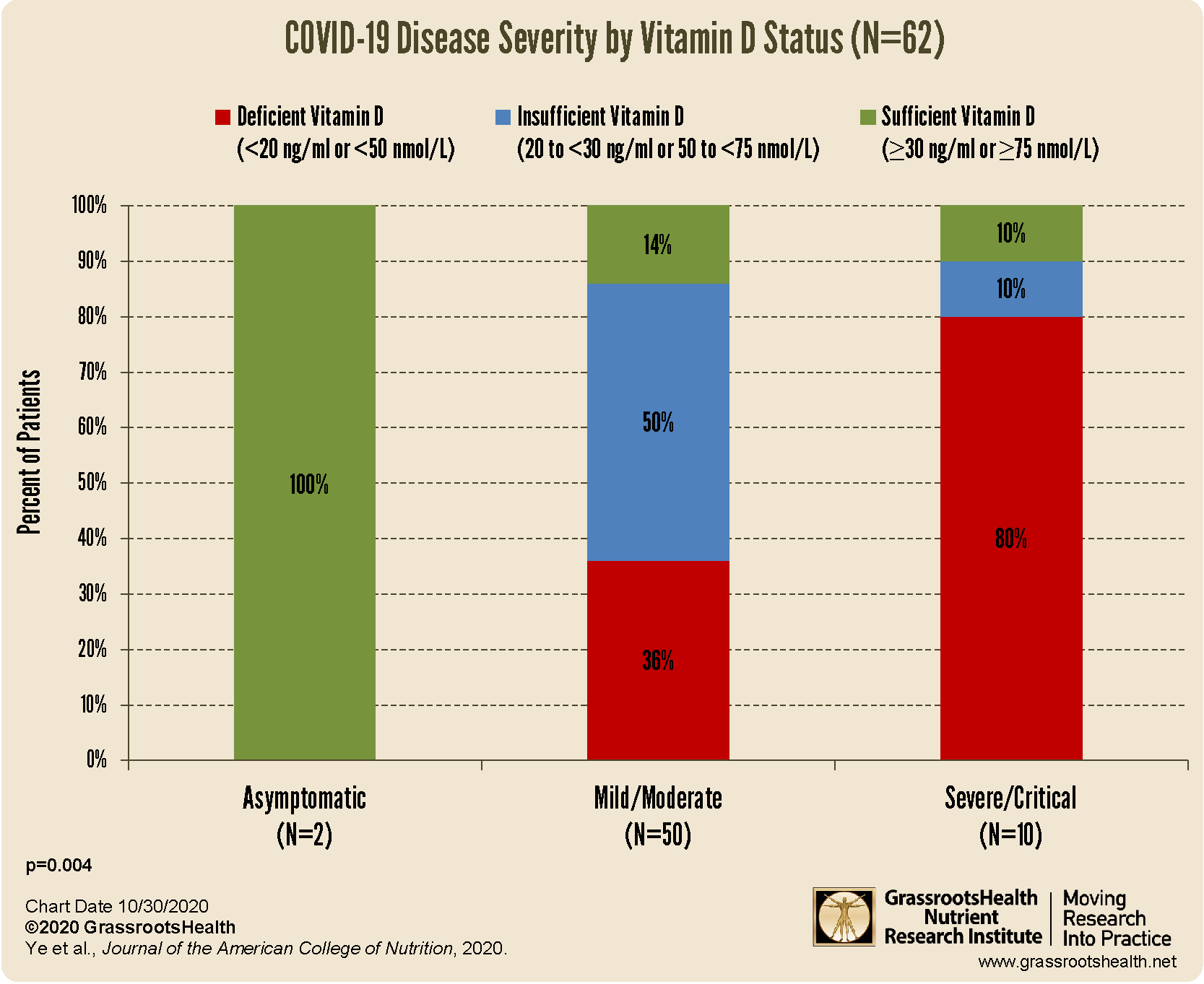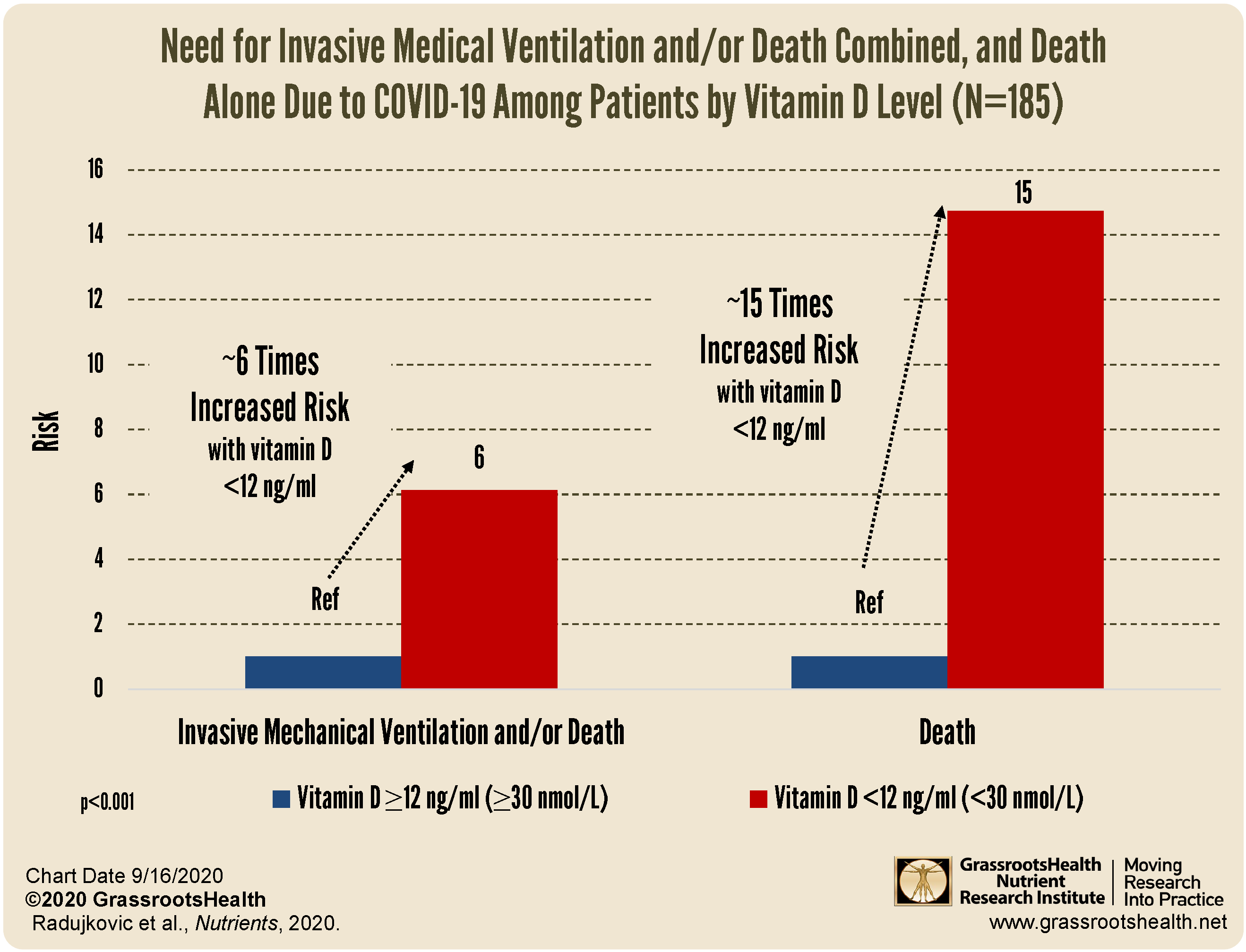 decreased risk of death due to COVID-19
Be sure to educate yourself on the benefits and importance of vitamin D for immune health, and take steps to ensure you and your loved ones are getting enough.
You can review all of the COVID-19 and immune health information we have shared on this page.
What Does it Take YOU to Get Your D to 40 ng/ml (100 nmol/L)?
Did you know your health could be greatly affected by making sure you have a vitamin D level of at least 40 ng/ml (100 nmol/L)? Help us help you.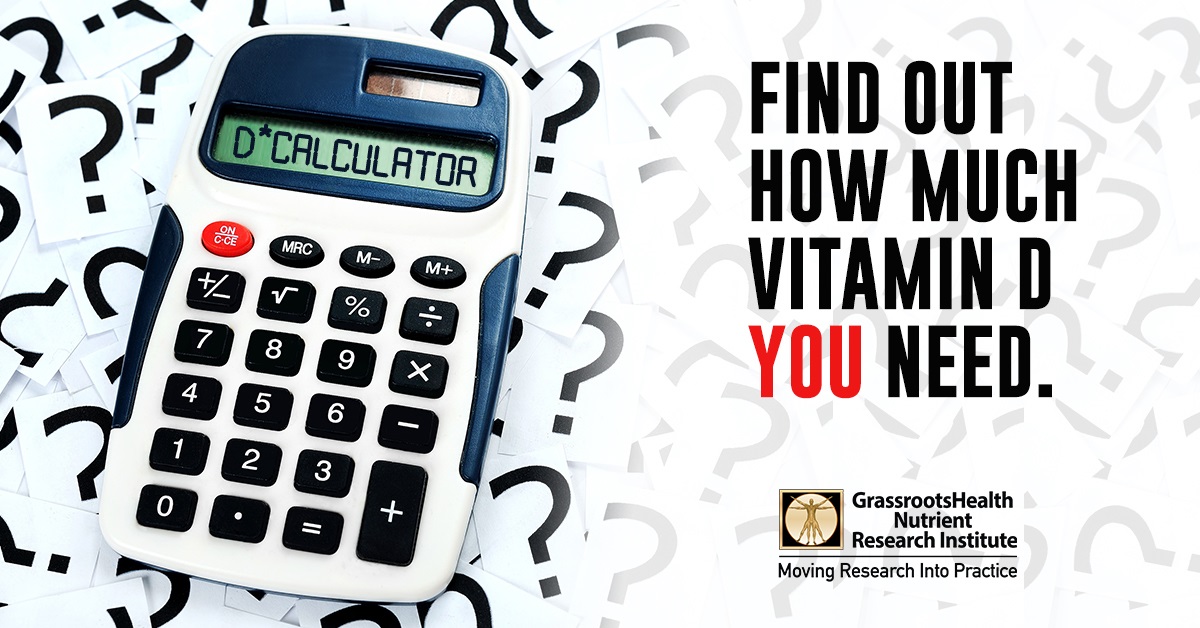 STEP 1 - Do you know what your vitamin D level is? If not, be sure to test today to find out.
STEP 2 – Determine your target level. Are you at your target level? Experts recommend a level of at least 40-60 ng/ml (100-150 nmol/L).
STEP 3 – Need to boost your level? Use the D*calculator to see how much vitamin D it may take to reach your target. Opt for the Loading Dose for a quicker boost.
STEP 4 – Optimize how your body absorbs and utilizes vitamin D with co-nutrients and these simple steps.
STEP 5 – Re-Test! This is an important step to make sure you have reached your target level, and to ensure you are not taking too much! Re-testing after 3-4 months is recommended.
STEP 6 – Adjust, Repeat…
Give your immune system the nutrients it needs to support a healthy you and protect yourself from unnecessary diseases, especially COVID-19.
NEWS ALERT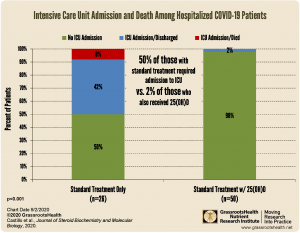 The first Randomized Controlled Trial on vitamin D and COVID-19 has shown a 96% lower risk of ICU admission for those receiving vitamin D (as 25(OH)D to quickly boost vitamin D blood levels) along with the standard treatment, compared to those receiving standard treatment alone.
These results support many previous observational studies showing a relationship between vitamin D levels and intake and COVID-19 severity.
Review the Latest Nutrient Research for COVID-19
GrassrootsHealth Nutrient Research Institute has launched the new Immune Boost project with the use of our myData-myAnswers nutrient health system that nearly 15,000 people are already using for their health. Specific markers that influence immune health are suggested for testing as part of this project including:
Vitamin D
Omega-3 Index
Essential elements magnesium, selenium, and zinc
hsCRP
Our goal is to demonstrate how one can use the Nutrient Research Model established by Dr. Robert Heaney to show the effect of vitamin D serum levels of at least 40 ng/ml (100 nmol/L) on risk reduction for all ethnicities in the population. Status and intake of other nutrients will also be analyzed for any type of relationship to immune status and symptom severity. Join the project today!
Please let us know if you're interested in helping sponsor this project.

CLICK HERE for updates and new information about the project.
Through GrassrootsHealth Nutrient Research Institute, you can also test your essential elements magnesium, copper, zinc and selenium, toxins such as lead, mercury and cadmium, as well as your omega-3 levels, inflammation levels and thyroid stimulating hormone (TSH) level. Find out your levels today! Log on to the test selection page (click the link below) to get your tests and see for yourself if your levels can be improved.
Make sure you track your results before and after, about every 6 months!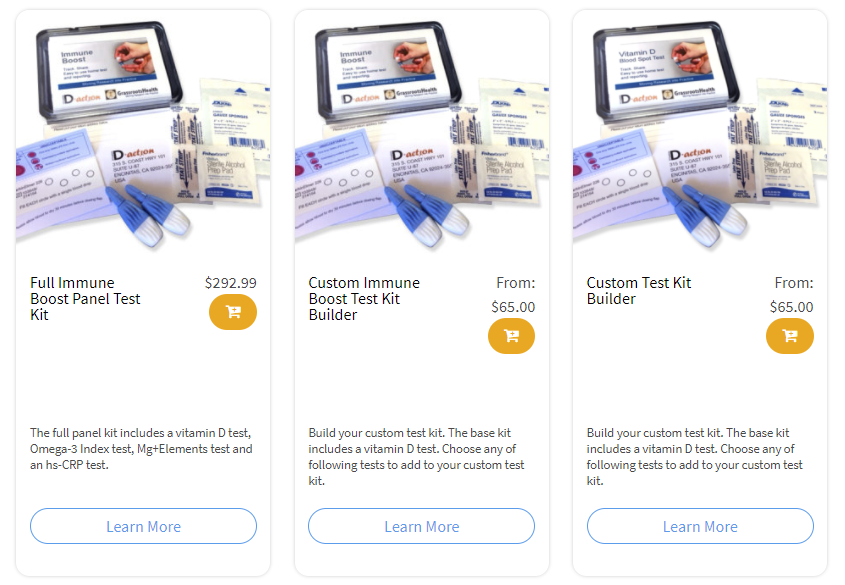 Click Here to Access the Test Page
How can I track my nutrient intake and levels over time?
To help you track your supplement use and nutrient levels, GrassrootsHealth has created the Personal Health Nutrient Decision System called

For each specific supplement, you can track what days you take it, how much, and many other details.  This will help you know your true supplemental intake and what patterns of use work for you to reach and maintain optimum nutrient levels. Check it out today!