Published on February 25, 2021

Video Friday: What is the cost of ignoring the importance of vitamin D and other nutrients for our health and disease PREVENTION?
It's Video Friday! In this video, GrassrootsHealth's Founder and Director, Carole Baggerly, presents to Chris Göthel and the audience at the Academy of Human Medicine in Germany about the importance of vitamin D for many aspects of health, as well as the steps necessary and importance of taking action to implement the research into practice. This particular segment focuses on the cost savings and additional benefits of implementing vitamin D into practice for disease prevention.
Please take a moment to watch and share the video along with our detailed information below.
Watch the Video
After watching the video, be sure to make note of our added details below!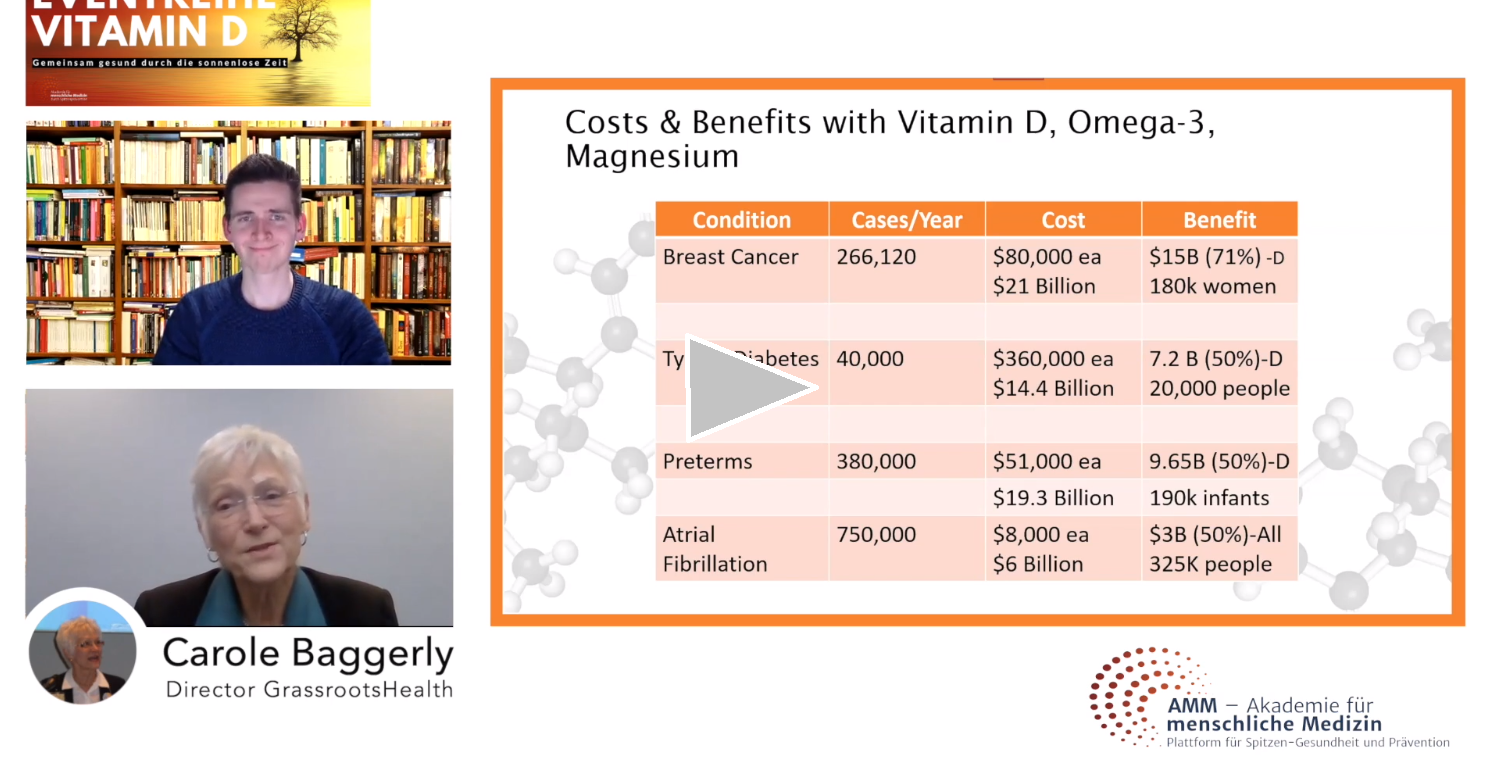 The Cost of Money, Time, and Stress can be Saved with Nutrient Action for Disease PREVENTION
Here is a quick summary of what this video discusses, along with additional information and details:
The incidence rate of breast cancer has barely 'budged' over the last couple of decades, as the number of women (and to a lesser extent men) being diagnosed has stayed the same. This is not the case for treatment; the number of lives saved has increased due to improvements (such as new targeted drugs, hormone therapy, surgery, chemotherapy, and radiation). There has been close to zero effort and research implementation put into prevention, where our energies would serve the most good. This is despite the fact that we know vitamin D could make a huge difference!
The table below shows the disease burden (incidence and cost) for breast cancer, Type 1 Diabetes, preterm births, and atrial fibrillation, followed by the benefit (or the number of individuals spared the disease and the resulting cost savings) that could be achieved by implementing nutrient testing, education, and supplementation programs to help with prevention.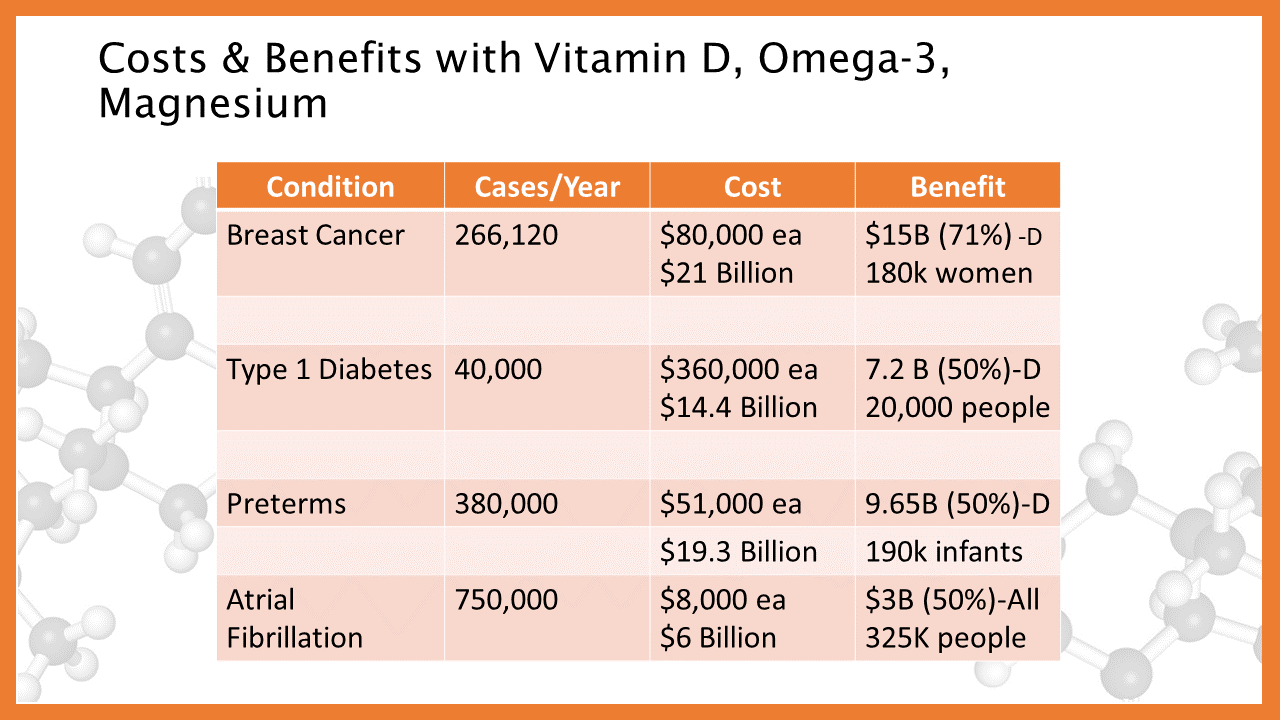 The following charts show 71% reduction in Breast Cancer incidence with a vitamin D level of at least 40 ng/ml (100 nmol/L),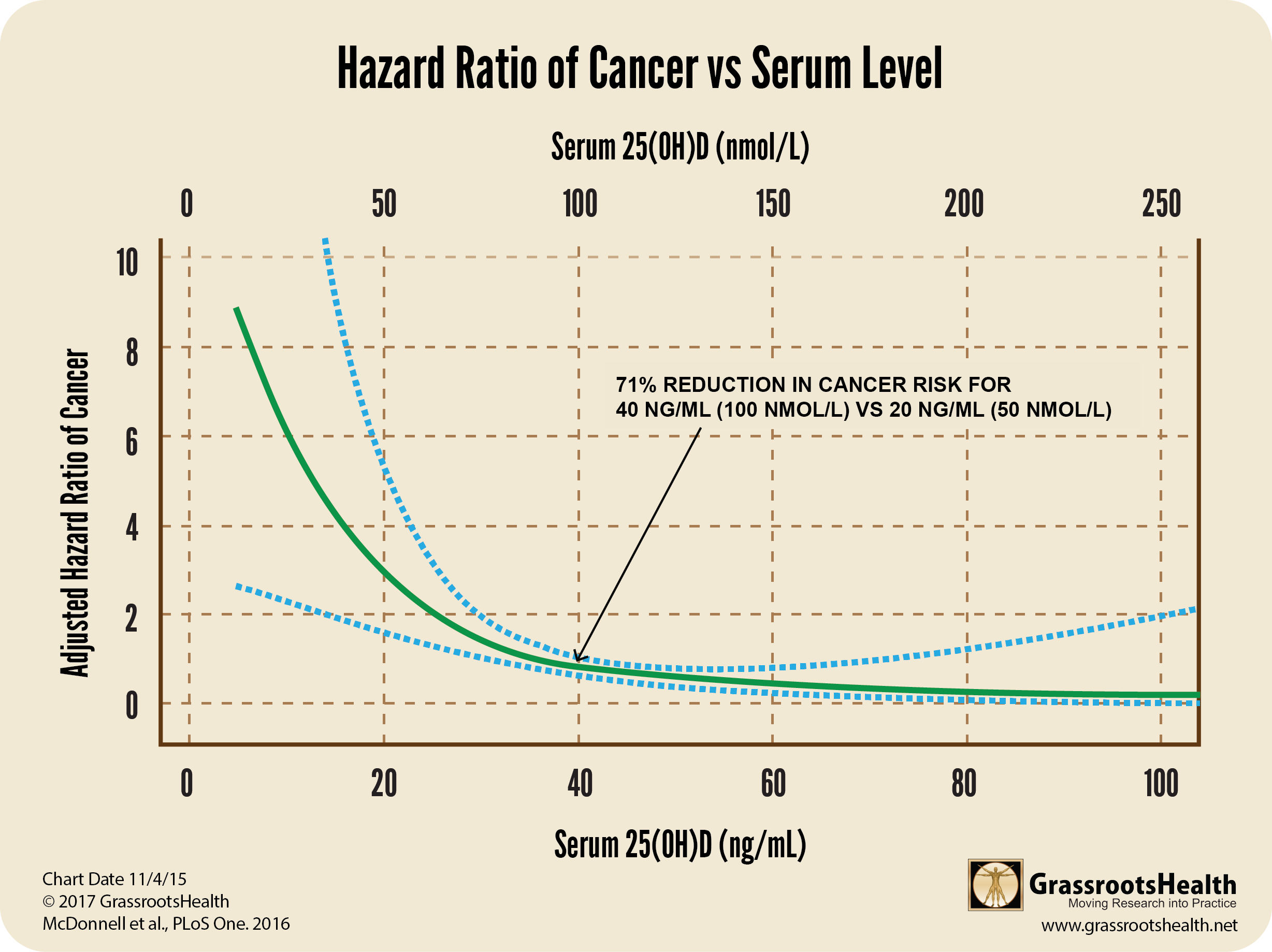 and an 82% reduction with a vitamin D level of at least 60 ng/ml (150 nmol/L)!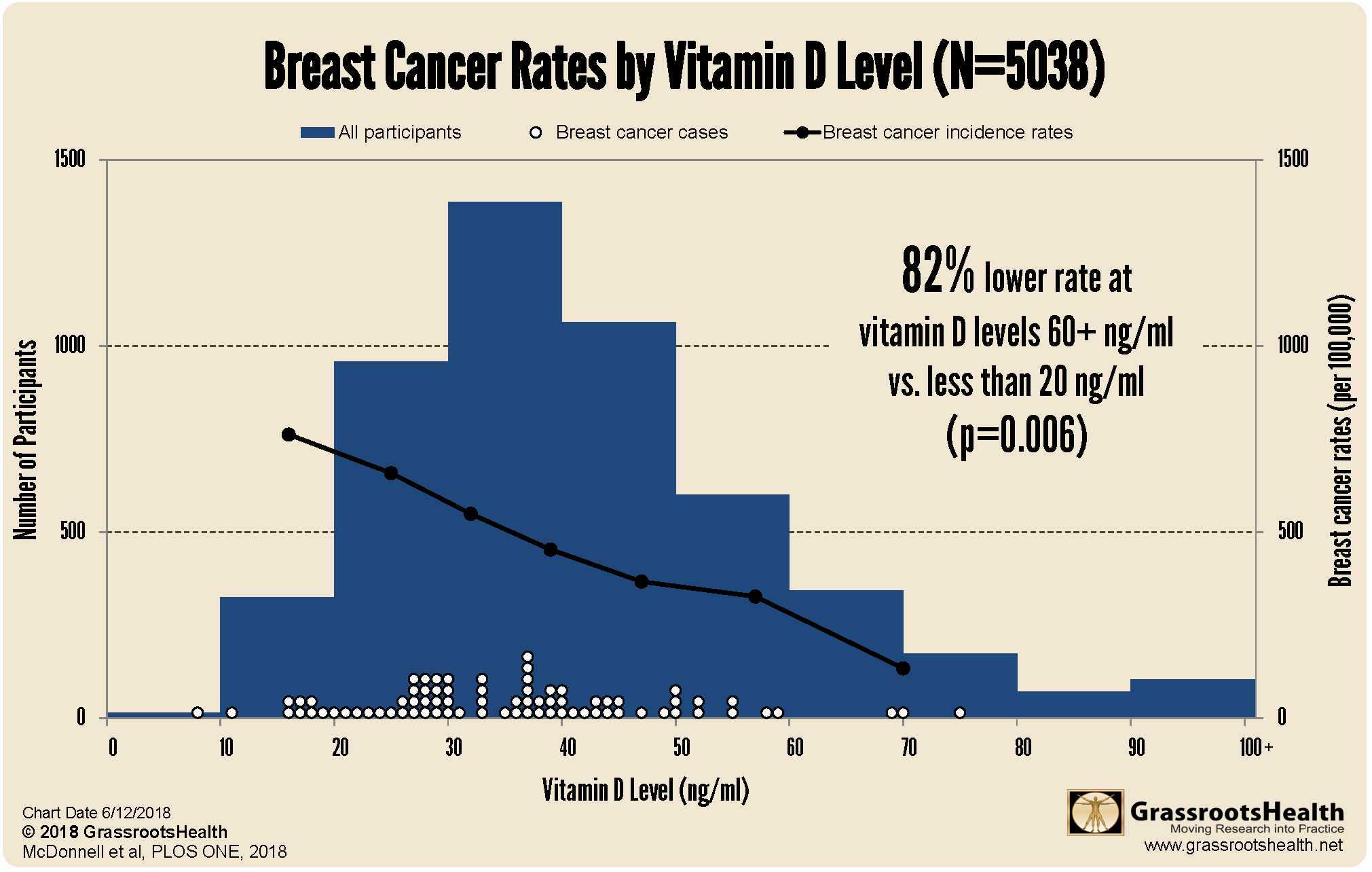 GrassrootsHealth's Protect Our Children NOW! Project was implemented in September 2015 at the Medical University of South Carolina (MUSC). This initiated a new standard of care for pregnant women that included routine vitamin D testing and supplementation to reduce preterm birth. Results from year one were published in PLOS One in 2017. This project supported previous clinical trial and field study findings that vitamin D levels at or above 40 ng/ml are associated with a 50% lower risk of preterm birth!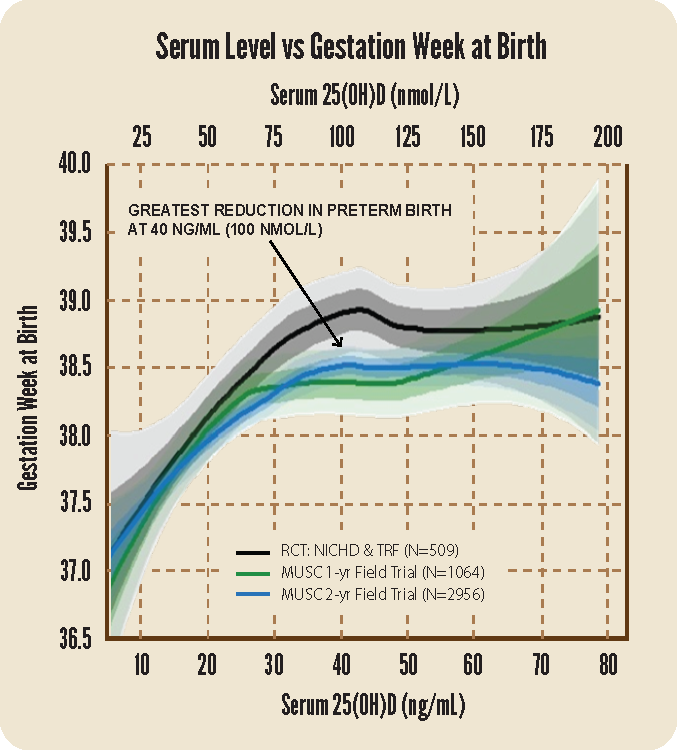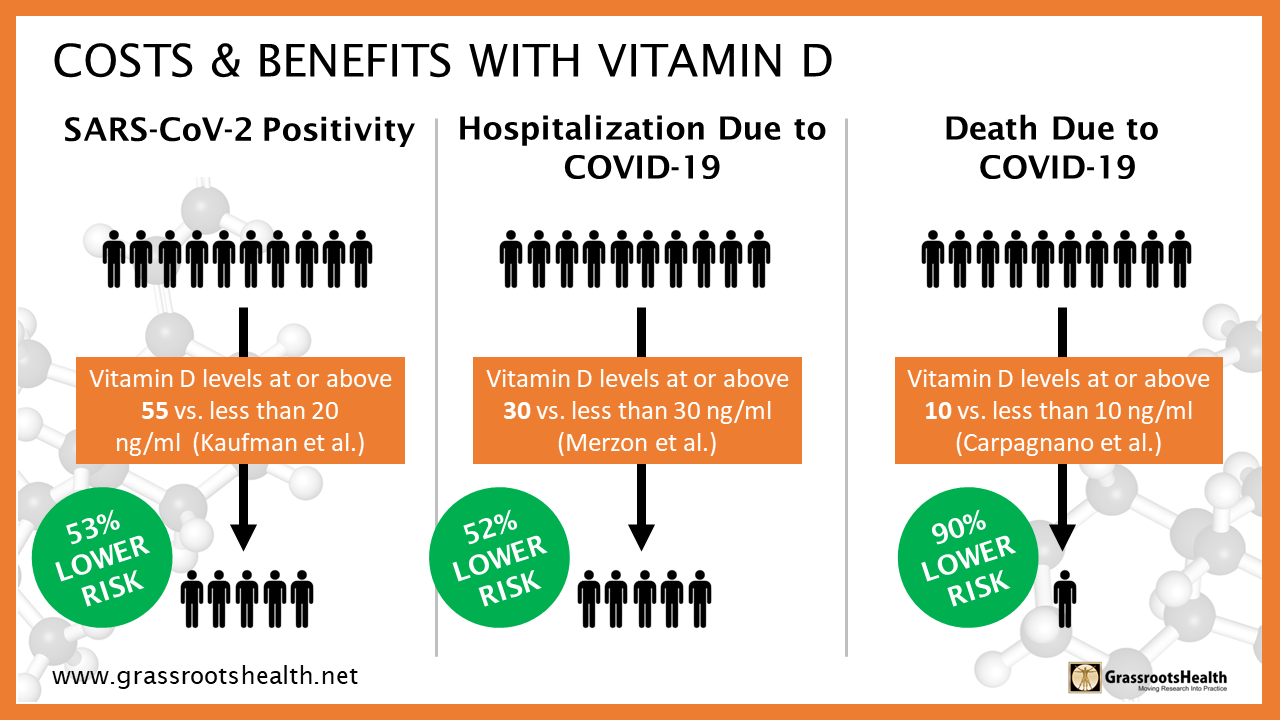 What Could Vitamin D Do for You?
Everyone needs vitamin D! Below is a guide for how much you might need, and who may need more. Your levels can be tested safely at home – order your home test kit today.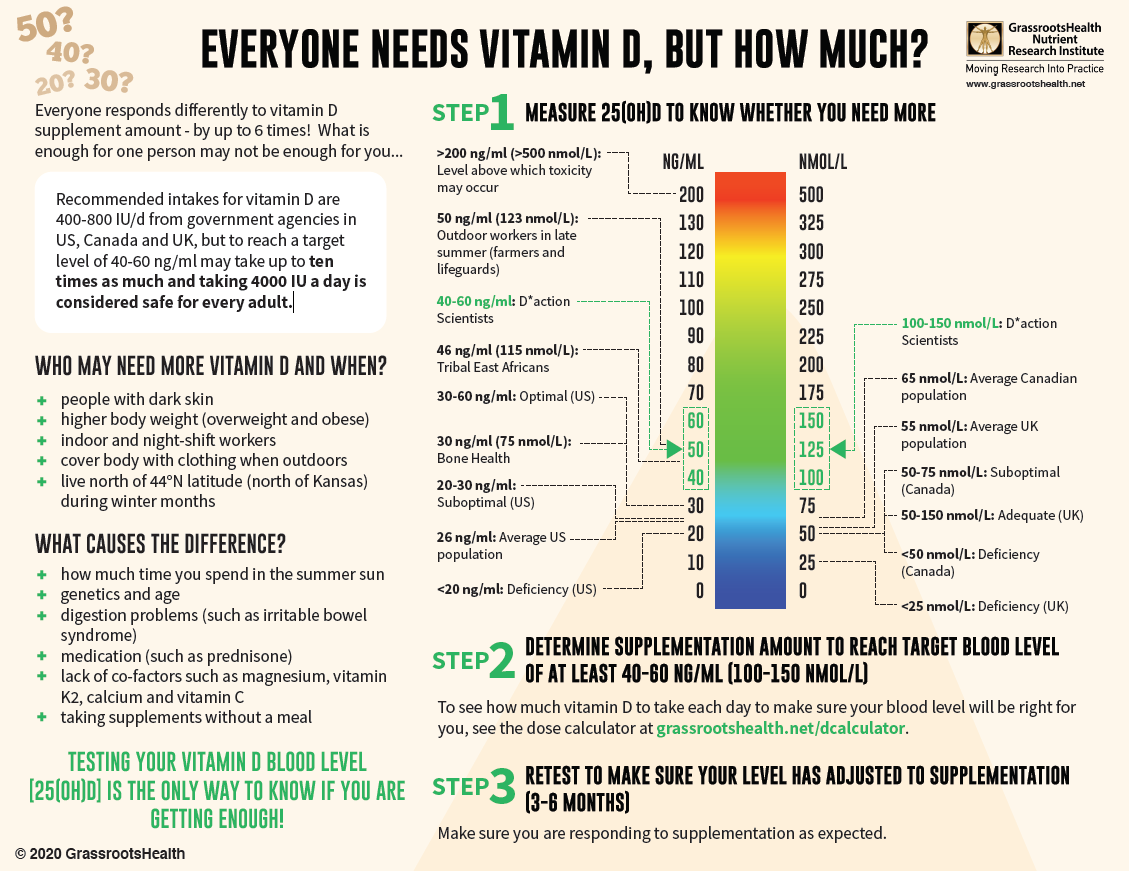 By joining the GrassrootsHealth projects, you are not only contributing valuable information to our study, but you are also gaining knowledge about how you could improve your own health through measuring and tracking your nutrient status, and educating yourself on how to improve it. Do you know what your status of vitamin D, omega-3s, and other essential nutrients is? Could your levels be improved? Test now to find out!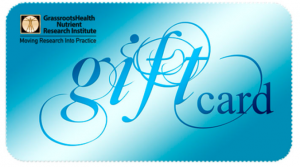 We now have a NEW GIFTING SERVICE that allows you to quickly send 'Gift Cards' to friends, family and coworkers who you consider might need immediate access to testing, and to Claim the Joy of Your Health TODAY. Give the gift today!
What does the Research Say about Vitamin D & COVID-19?
It's TIME to start saving lives! If you can help PREVENT the majority of the death, it's time! What's it costing you/us not to take action NOW?
There is much published research that supports a clear link between vitamin D and COVID-19 showing that higher vitamin D levels are related to: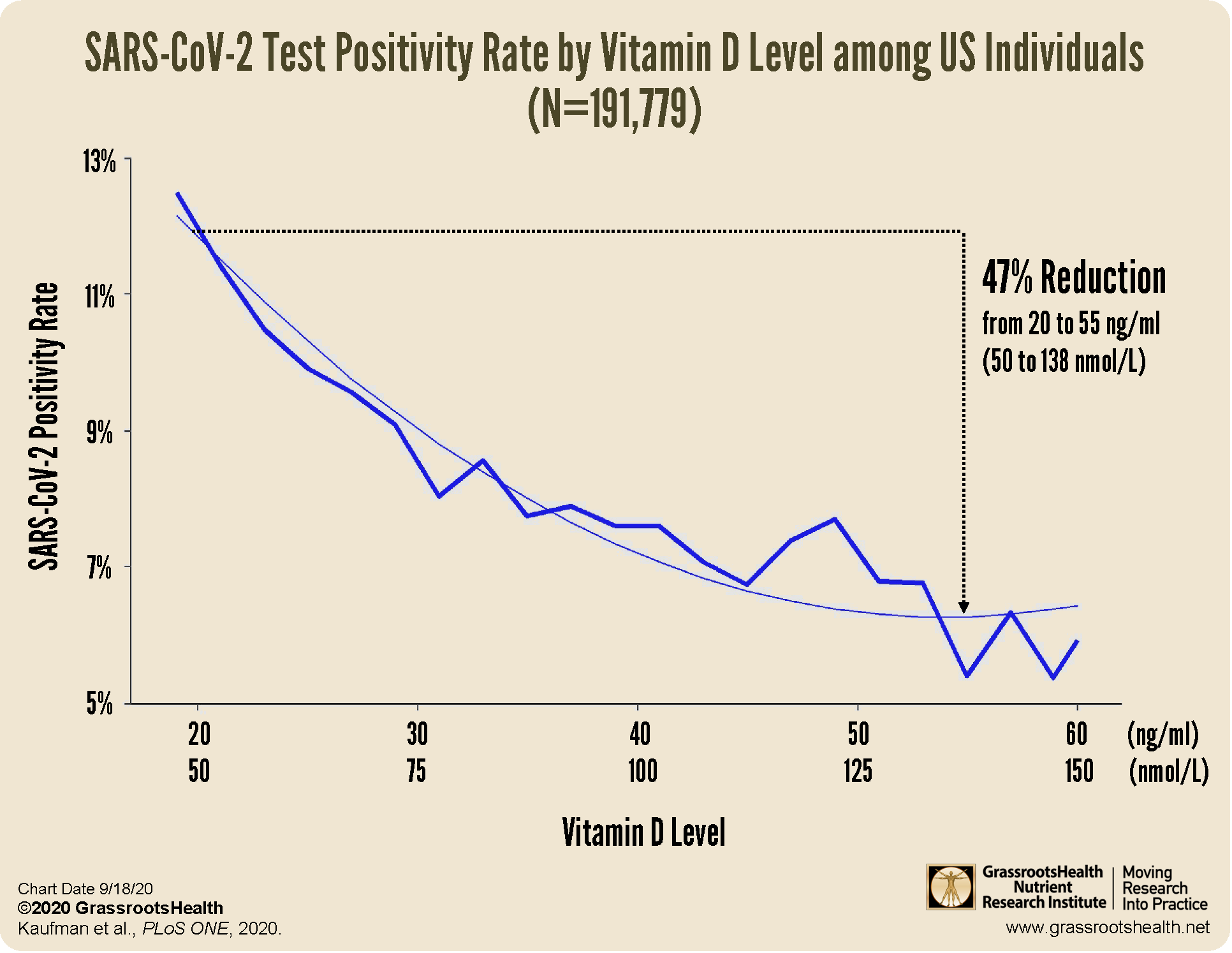 a decreased risk of testing positive for COVID-19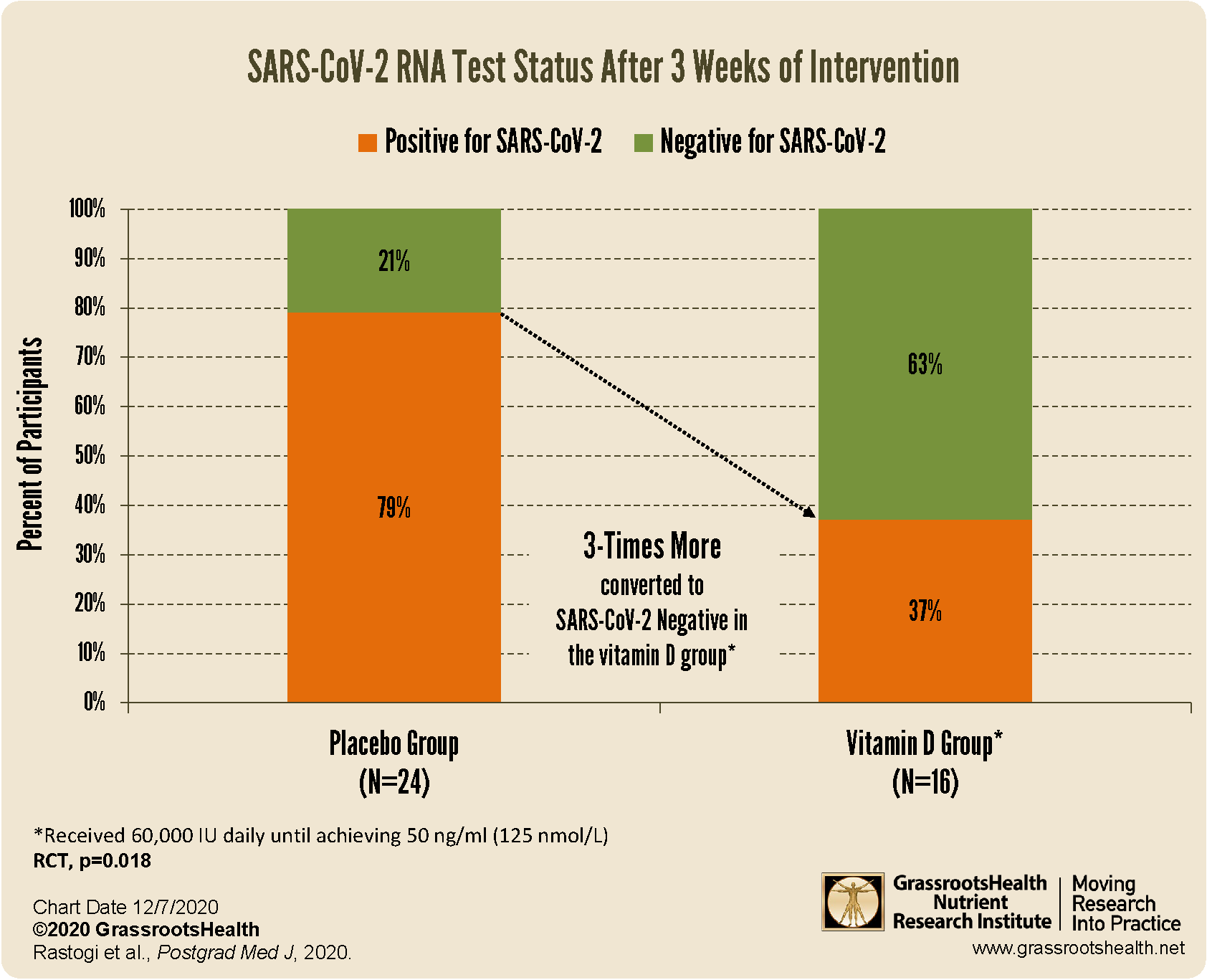 increased viral SARS-CoV-2 RNA clearance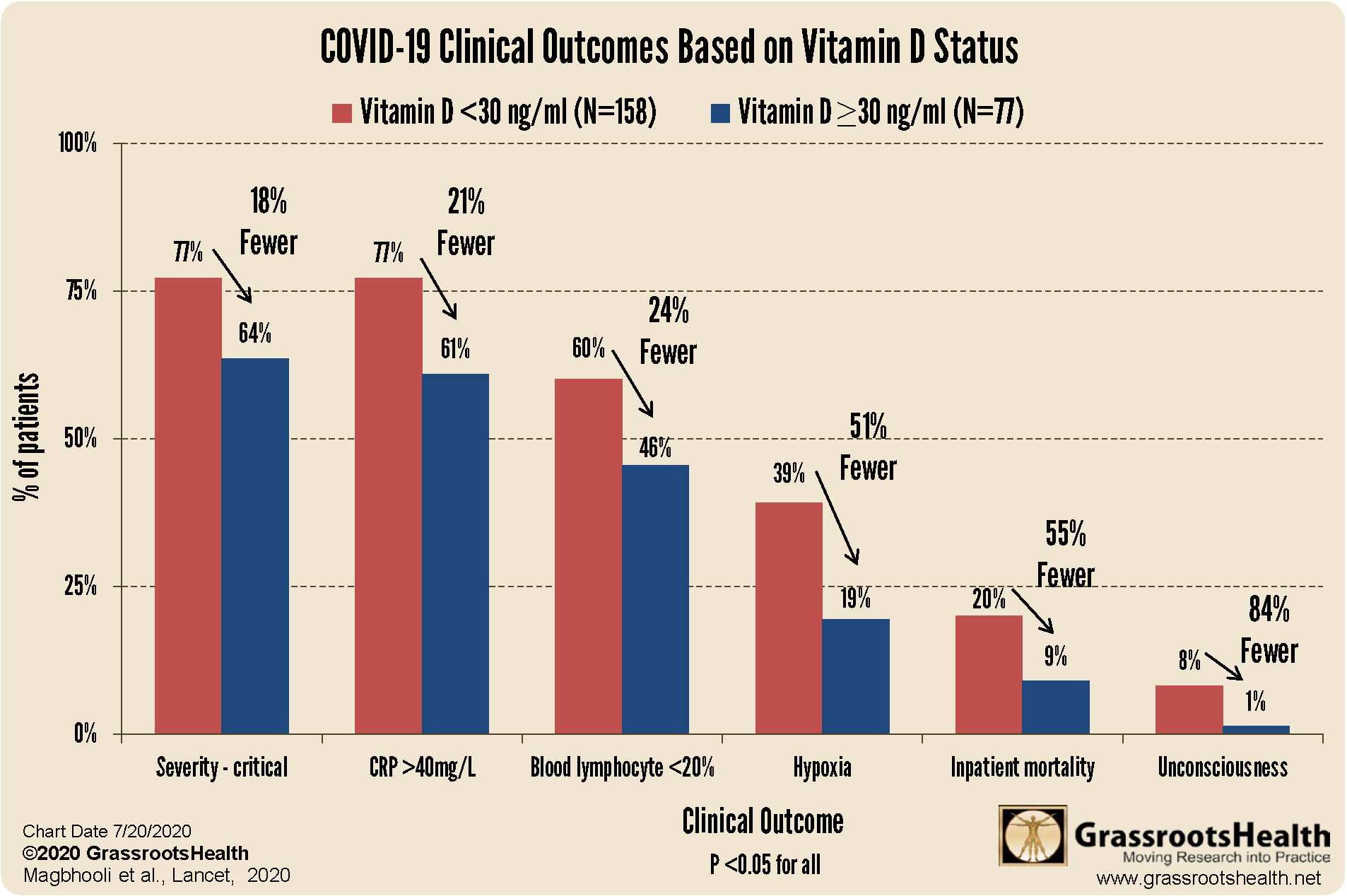 better clinical outcomes among patients with COVID-19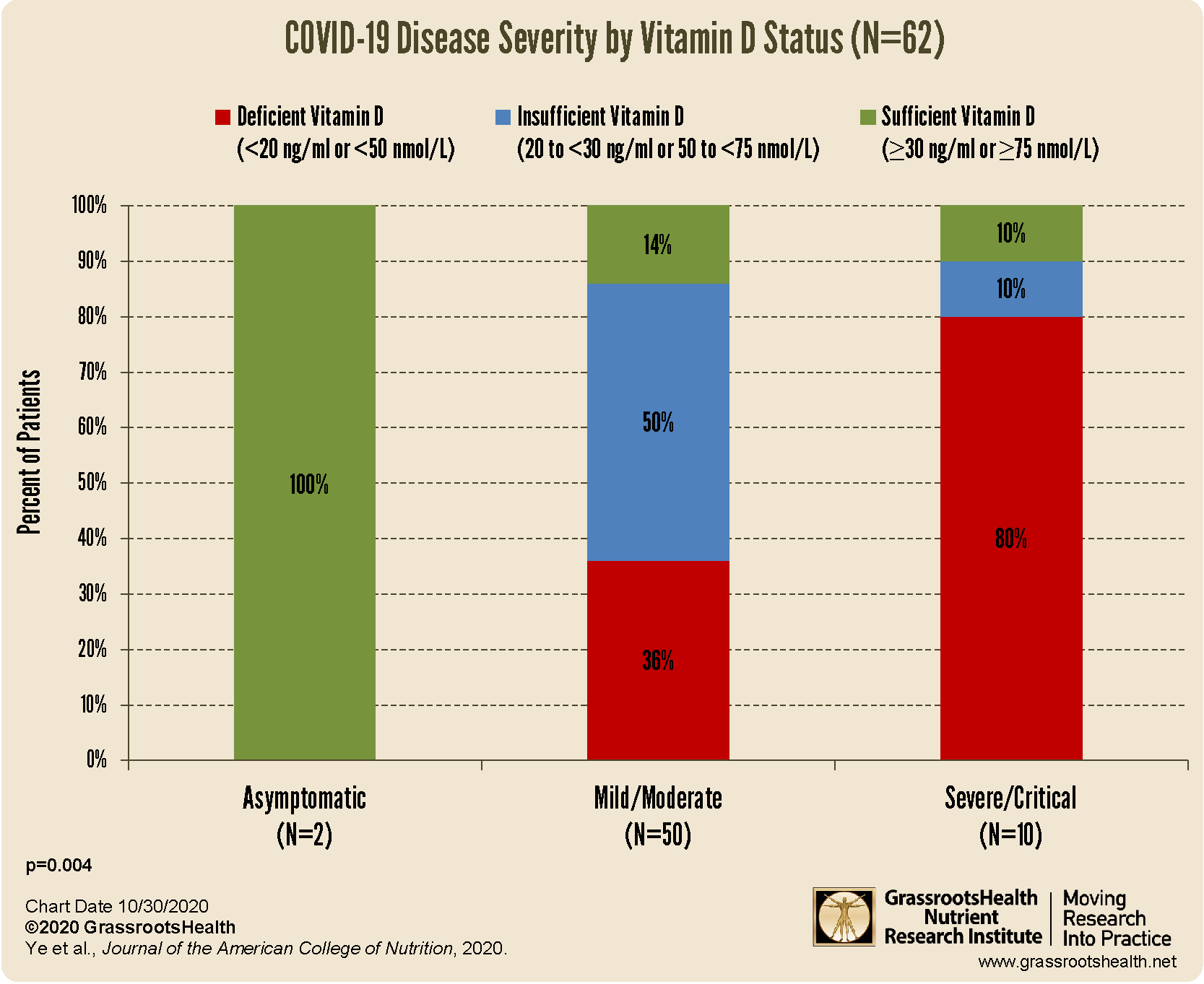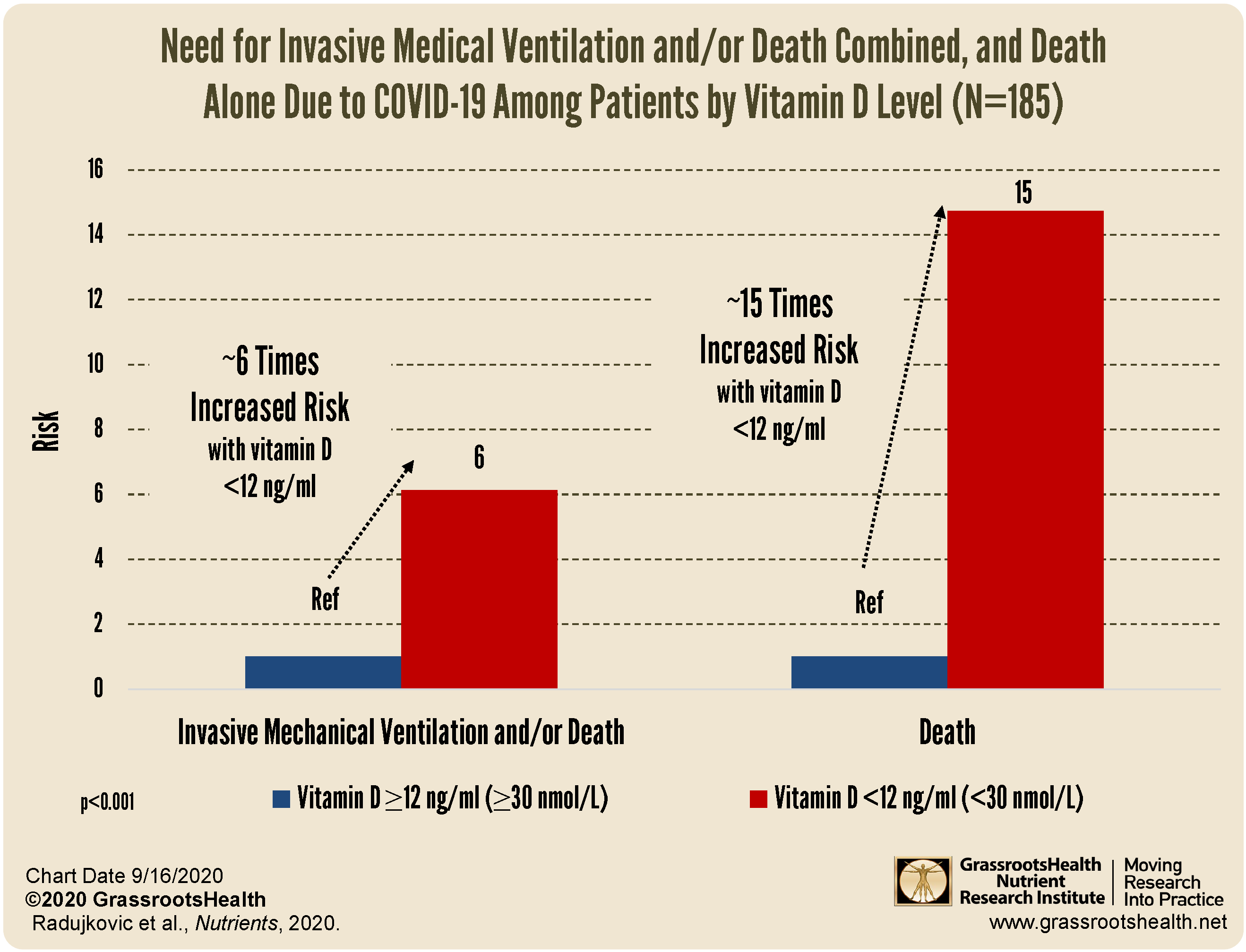 decreased risk of death due to COVID-19
Be sure to educate yourself on the benefits and importance of vitamin D for immune health, and take steps to ensure you and your loved ones are getting enough.
You can review all of the COVID-19 and immune health information we have shared on this page.
What Does it Take YOU to Get Your D to 40 ng/ml (100 nmol/L)?
Did you know your health could be greatly affected by making sure you have a vitamin D level of at least 40 ng/ml (100 nmol/L)? Help us help you.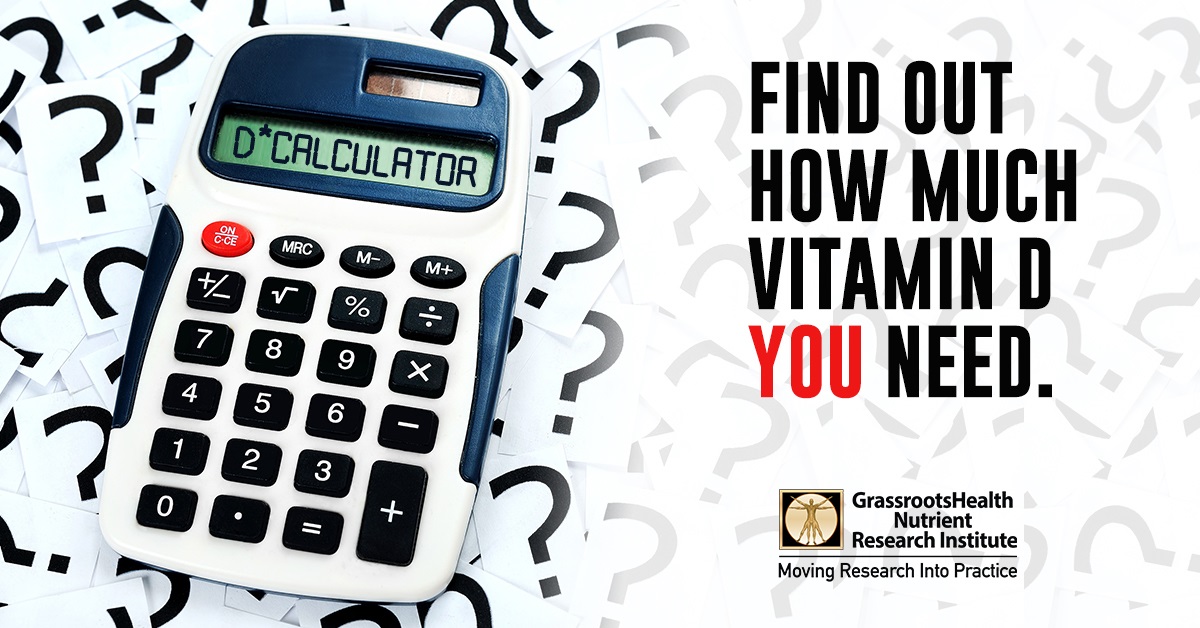 STEP 1 - Do you know what your vitamin D level is? If not, be sure to test today to find out.
STEP 2 – Determine your target level. Are you at your target level? Experts recommend a level of at least 40-60 ng/ml (100-150 nmol/L).
STEP 3 – Need to boost your level? Use the D*calculator to see how much vitamin D it may take to reach your target. Opt for the Loading Dose for a quicker boost.
STEP 4 – Optimize how your body absorbs and utilizes vitamin D with co-nutrients and these simple steps.
STEP 5 – Re-Test! This is an important step to make sure you have reached your target level, and to ensure you are not taking too much! Re-testing after 3-4 months is recommended.
STEP 6 – Adjust, Repeat…
Give your immune system the nutrients it needs to support a healthy you and protect yourself from unnecessary diseases, especially COVID-19.
NEWS ALERT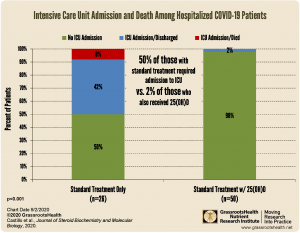 The first Randomized Controlled Trial on vitamin D and COVID-19 has shown a 96% lower risk of ICU admission for those receiving vitamin D (as 25(OH)D to quickly boost vitamin D blood levels) along with the standard treatment, compared to those receiving standard treatment alone.
These results support many previous observational studies showing a relationship between vitamin D levels and intake and COVID-19 severity.
Review the Latest Nutrient Research for COVID-19
GrassrootsHealth Nutrient Research Institute has launched the new Immune Boost project with the use of our myData-myAnswers nutrient health system that nearly 15,000 people are already using for their health. Specific markers that influence immune health are suggested for testing as part of this project including:
Vitamin D
Omega-3 Index
Essential elements magnesium, selenium, and zinc
hsCRP
Our goal is to demonstrate how one can use the Nutrient Research Model established by Dr. Robert Heaney to show the effect of vitamin D serum levels of at least 40 ng/ml (100 nmol/L) on risk reduction for all ethnicities in the population. Status and intake of other nutrients will also be analyzed for any type of relationship to immune status and symptom severity. Join the project today!
Please let us know if you're interested in helping sponsor this project.

CLICK HERE for updates and new information about the project.
Through GrassrootsHealth Nutrient Research Institute, you can also test your essential elements magnesium, copper, zinc and selenium, toxins such as lead, mercury and cadmium, as well as your omega-3 levels, inflammation levels and thyroid stimulating hormone (TSH) level. Find out your levels today! Log on to the test selection page (click the link below) to get your tests and see for yourself if your levels can be improved.
Make sure you track your results before and after, about every 6 months!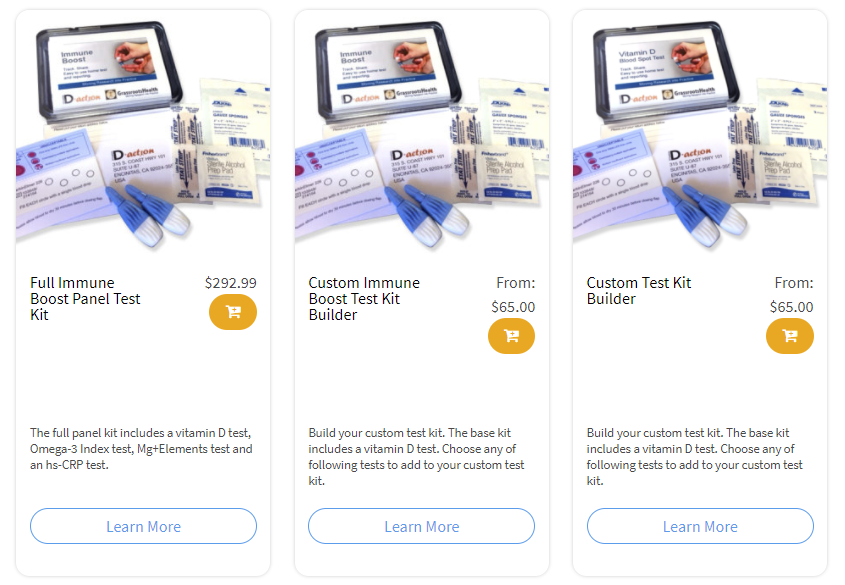 Click Here to Access the Test Page
How can I track my nutrient intake and levels over time?
To help you track your supplement use and nutrient levels, GrassrootsHealth has created the Personal Health Nutrient Decision System called

For each specific supplement, you can track what days you take it, how much, and many other details.  This will help you know your true supplemental intake and what patterns of use work for you to reach and maintain optimum nutrient levels. Check it out today!