Published on June 15, 2021

Today is Carole's birthday! She wants to share her presents with you.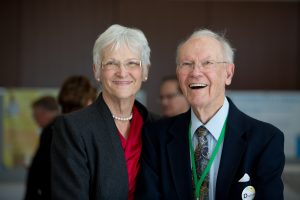 It's GrassrootsHealth's founder Carole Baggerly's BIRTHDAY!
June 14th is a very special day in honoring everyone's work to Move Research into Practice with vitamin D and other nutrients! We are creating a special scholarship fund for anyone to donate to that will go towards helping others with their participation in the D*action projects.
Donate Today!
Text-to-give: Text Daction to 44321 to add to our Scholarship Fund.
It Started with Her Experience with Breast Cancer, and an Incredible Passion to Move Research into Practice
Last week, we shared an announcement of the joint recognition of Kaiser Permanente and Roswell Park Cancer Institute that vitamin D has a significant, positive effect on breast cancer outcomes. As Carole's primary motivation in beginning GrassrootsHealth was with her own breast cancer experience (and 'treatment'), and her discovery of the unknown research on the role of vitamin D, this announcement was an ENORMOUS gift to her that you helped create!
In 2007, as Carole was recovering from breast cancer treatment, she stumbled upon a web site which touted vitamin D levels as being important, even preventive, for breast cancer. After more research she found that indeed this research was REAL and that vitamin D deficiency was also a world-wide epidemic. Could she have prevented her breast cancer?
Carole started GrassrootsHealth by garnering the support of 40 internationally recognized vitamin D researchers around the world and creating a Scientists' Call to Action to define a target vitamin D level of between 40-60 ng/ml (100-150 nmol/L) and to alert the public of its importance. Through the launch of the D*action project, she began to spread the word about vitamin D and its many benefits to our health, and to get information about the research from the scientists out to the public — all while providing an easily accessible way for anyone to measure their vitamin D level (which was hard to do at the time!) and learn what actions to take for themselves on an individual level.
Our tag line, Moving Research into Practice, came about because the more Carole learned about vitamin D, the more she realized that the clinical research is there for many health conditions, yet the implementation process wasn't happening. In fact, she learned that it may take somewhere between 15 and 25 years for successful nutrient research to be implemented into practice. Because of this, GrassrootsHealth's focus became not only the science, but the methodology as well. The biggest problem with vitamin D research design is the methodology used to analyze the data. For example, analyzing by dosage is targeted to give a research study no or minimal result. If you analyze it properly, by serum level, not by intake, you get interesting results. Our first paper, published in 2011, showed the dose response relationship. You can easily see that two people taking the same dose (e.g., 4,000 IU/day) could have very different resulting vitamin D levels. That's why testing and reporting by achieved level is so important.
We Call it Citizen Science
Since its founding, GrassrootsHealth has grown into the world's largest population field trial on vitamin D, thanks to all of the participants who have contributed as "Citizen Scientists." By joining the GrassrootsHealth project, everyone has provided valuable health information and methods to help Move Research into Practice — while also measuring their vitamin D level and receiving education and tools to help track, achieve and maintain healthy levels for themselves.
Becoming a participant of GrassrootsHealth means that anyone is joining thousands of people in collaborating on nutrient research – we call it "citizen science." Citizen science welcomes everyone's participation in the discovery and sharing of scientific knowledge. As a citizen scientist, you'll help everyone gain a better understanding of the role of nutrients in health and disease, and use the results to help inform public health officials to create change. Additionally, you can use your results to make informed decisions about nutrients that affect your health.
Please see our website for some of what our citizen scientists have helped us to discover, especially highlighted under our blog section "GrassrootsHealth Cohort Data," review the peer-reviewed research that has been published from the GrassrootsHealth vitamin D*action data, our "Resources" tab for more, and our Moving Research into Practice booklet for an easy-to-read summary.
All of this thanks to YOU!
Help Make Carole's Birthday Wish Come True — Donate Today to Help Fund a Fellow Citizen Scientist!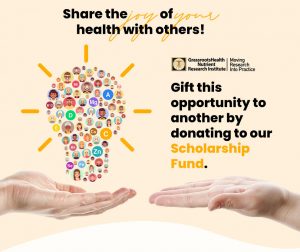 Participation in the GrassrootsHealth project revolves around the measurement of vitamin D levels through self-sponsored vitamin D tests, meaning participants pay a fee to cover the cost of the test, as well as the data analysis, publication of findings, education to the public and medical professionals, etc.. Over the years, the realization of the influence that other nutrients have on both vitamin D levels as well as overall health outcomes has led to the addition of several other tests (such as the Omega-3 Index, magnesium, and CRP tests) to be included with the vitamin D test. Including these measurements with the other health data can help everyone answer even more questions about these other nutrients and measurements, how they relate to each other, and to our overall health.
Adding these tests adds to the participant fees as well. GrassrootsHealth receives inquiries quite often from people who want to participate and could with a scholarship.
Help everyone Move Research into Practice with vitamin D and other nutrients! As a special birthday gift to everyone, in honor of the science, we have created a special scholarship fund for anyone to donate to that will go towards helping others participate. Your donation will allow anyone to get help with funding their participation when they need it.
Donate Today!
Text-to-give: Text Daction to 44321 to add to our Scholarship Fund.
What Are Your Levels?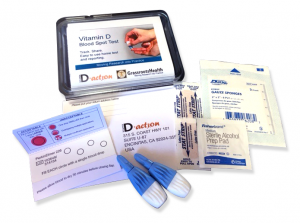 Enroll and test your levels today, learn what steps to take to improve your status of vitamin D (see below) and other nutrients and blood markers, and take action! By enrolling in the GrassrootsHealth projects, you are not only contributing valuable information to everyone, you are also gaining knowledge about how you could improve your own health through measuring and tracking your nutrient status, and educating yourself on how to improve it.
Using the GrassrootsHealth Custom Kit Builder, you can create a test kit that measures your status of vitamin D and other important nutrients (such as omega-3s, zinc and magnesium), as well as your CRP level to measure inflammation. Order your test kit today – make an impact on your health today and for your future!
What Does it Take YOU to Get Your D to 40 ng/ml (100 nmol/L)?
Did you know your health could be greatly affected by making sure you have a vitamin D level of at least 40 ng/ml (100 nmol/L)? Help us help you.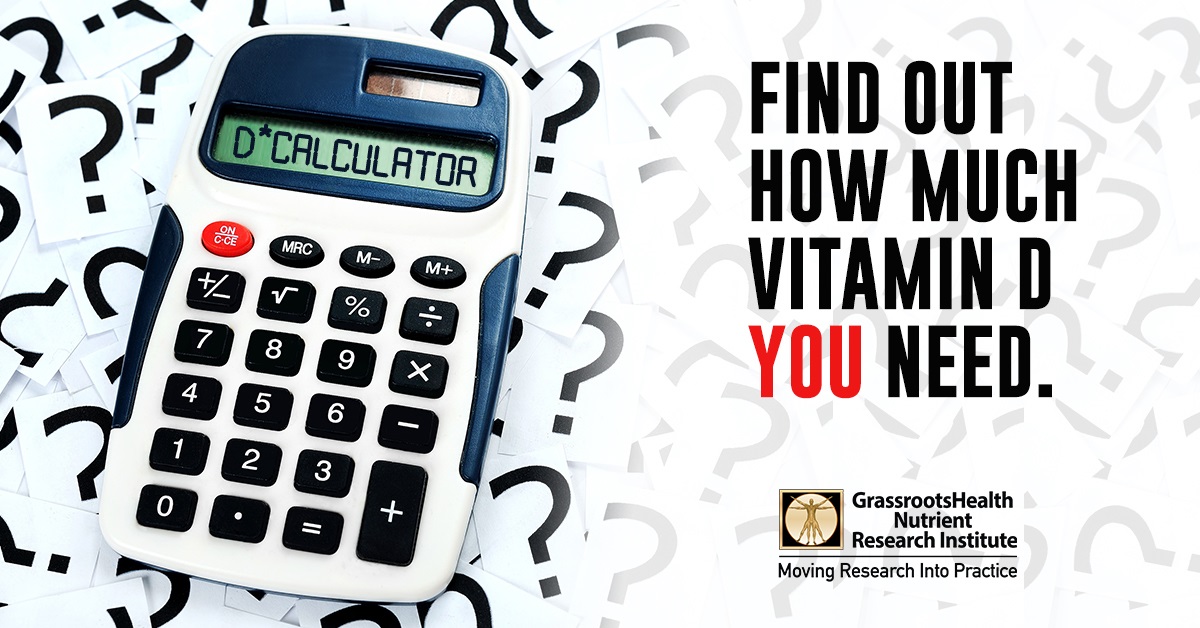 STEP 1 - Do you know what your vitamin D level is? If not, be sure to test today to find out.
STEP 2 – Determine your target level. Are you at your target level? Experts recommend a level of at least 40-60 ng/ml (100-150 nmol/L).
STEP 3 – Need to boost your level? Use the D*calculator to see how much vitamin D it may take to reach your target. Opt for the Loading Dose for a quicker boost.
STEP 4 – Optimize how your body absorbs and utilizes vitamin D with co-nutrients and these simple steps.
STEP 5 – Re-Test! This is an important step to make sure you have reached your target level, and to ensure you are not taking too much! Re-testing after 3-4 months is recommended.
STEP 6 – Adjust, Repeat…
Give your immune system the nutrients it needs to support a healthy you and protect yourself from unnecessary diseases, especially COVID-19.
NEWS ALERT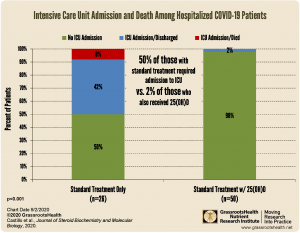 The first Randomized Controlled Trial on vitamin D and COVID-19 has shown a 96% lower risk of ICU admission for those receiving vitamin D (as 25(OH)D to quickly boost vitamin D blood levels) along with the standard treatment, compared to those receiving standard treatment alone.
These results support many previous observational studies showing a relationship between vitamin D levels and intake and COVID-19 severity.
Review the Latest Nutrient Research for COVID-19
GrassrootsHealth Nutrient Research Institute has launched the new Immune Boost project with the use of our myData-myAnswers nutrient health system that nearly 15,000 people are already using for their health. Specific markers that influence immune health are suggested for testing as part of this project including:
Vitamin D
Omega-3 Index
Essential elements magnesium, selenium, and zinc
hsCRP
Our goal is to demonstrate how one can use the Nutrient Research Model established by Dr. Robert Heaney to show the effect of vitamin D serum levels of at least 40 ng/ml (100 nmol/L) on risk reduction for all ethnicities in the population. Status and intake of other nutrients will also be analyzed for any type of relationship to immune status and symptom severity. Join the project today!
Please let us know if you're interested in helping sponsor this project.

CLICK HERE for updates and new information about the project.
Through GrassrootsHealth Nutrient Research Institute, you can also test your essential elements magnesium, copper, zinc and selenium, toxins such as lead, mercury and cadmium, as well as your omega-3 levels, inflammation levels and thyroid stimulating hormone (TSH) level. Find out your levels today! Log on to the test selection page (click the link below) to get your tests and see for yourself if your levels can be improved.
Make sure you track your results before and after, about every 6 months!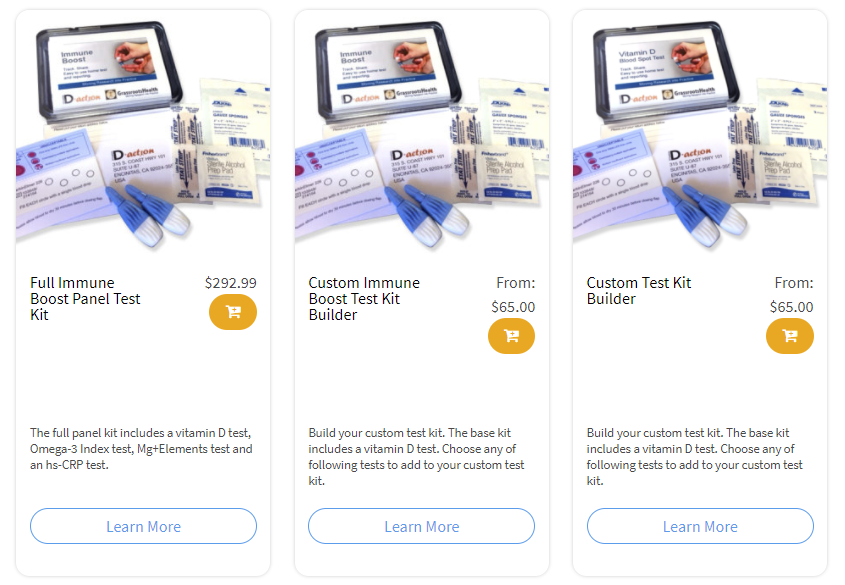 Click Here to Access the Test Page
How can I track my nutrient intake and levels over time?
To help you track your supplement use and nutrient levels, GrassrootsHealth has created the Personal Health Nutrient Decision System called

For each specific supplement, you can track what days you take it, how much, and many other details.  This will help you know your true supplemental intake and what patterns of use work for you to reach and maintain optimum nutrient levels. Check it out today!