Published on December 29, 2020

As the year comes to an end, I reflect on all the difficulties that many have faced in 2020. Dominating the news cycle are the Covid-19 strains with higher infectious rate. I want to end the year on a positive note. New vaccination efforts are currently taking place, and I am more confident than ever that the awareness that Vitamin D plays a significant role in keeping us healthy is growing. I am encouraged by the wonderful possibilities 2021 will bring!
We have shared much of the research which shows that vitamin D helps protect against becoming infected with, and developing serious symptoms of, COVID-19:
Radujkovic et al.: <12 ng/ml had a 6-fold higher risk of severe disease resulting in the need for invasive mechanical ventilation and/or death, and approximately 15 fold higher risk of death.
Carpagnano et al.: 81% of patients with acute respiratory failure due to COVID-19 had vitamin D levels <30 ng/ml; 24% had ≤10 ng/ml. When looking at mortality rates after 10 days of hospitalization, it was found that those with severe vitamin D deficiency had a 50% probability of death, compared to 5% among those >10 ng/ml.
Merzon et al.: 60% increased risk in COVID-19 infection for vitamin D <30 ng/ml compared to 30 ng/ml or higher, and almost doubled risk of hospitalization for <30 ng/ml.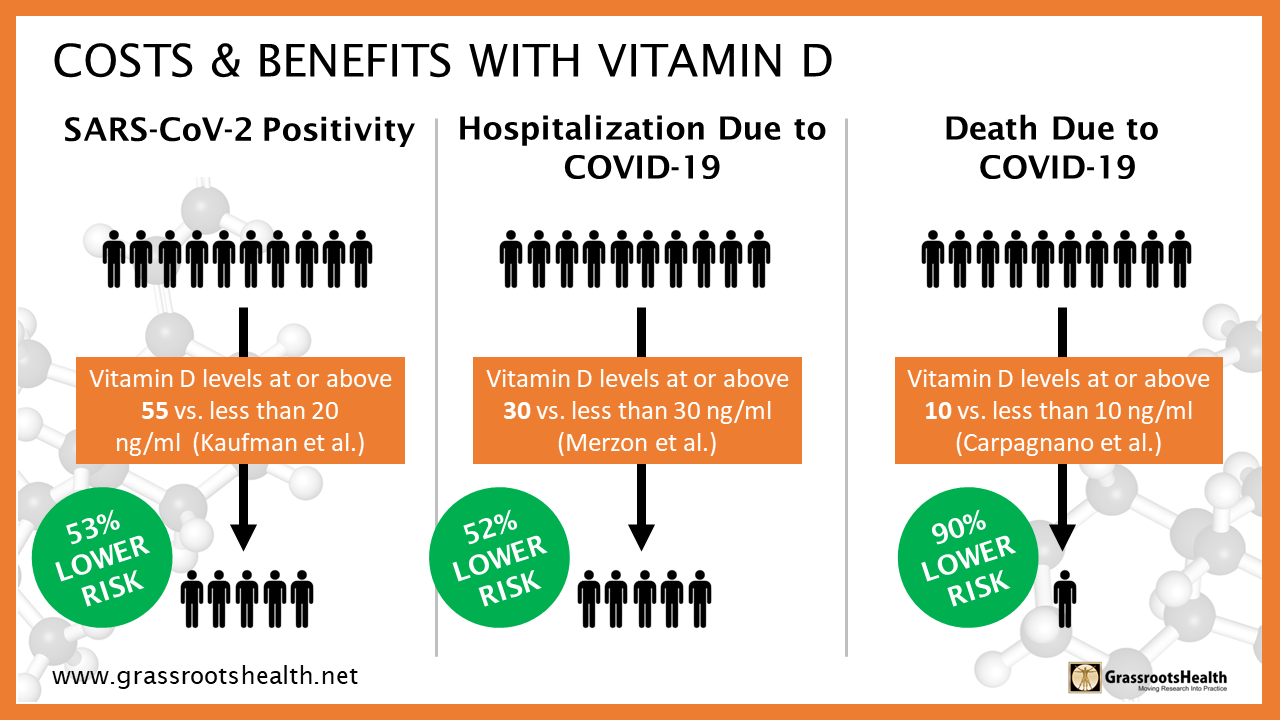 If anything, this year has shown us that a vitamin D level above 30 ng/ml (75 nmol/L) was associated with:
Less severe COVID-19 and lower lymphocyte counts (marker of mild-moderate cases)
Less acute inflammation (CRP) possibly resulting in reduced risk of "cytokine storm"
51% fewer cases of low blood oxygen (hypoxia) and 84% fewer cases of unconsciousness
55% fewer deaths
With these results, I look forward to 2021 as a great year!
What has me really excited about 2021 is the ability to give heath!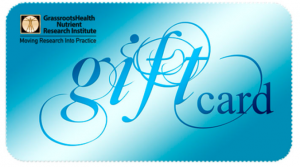 Last week, we announced a NEW GIFTING SERVICE that allows you to quickly send 'Gift Cards' to friends, family and coworkers who you consider might need immediate access to testing, and to Claim the Joy of Your Health TODAY. This is the first step in accessing all the educational tools we have created, and an excellent opportunity to establish a relationship the exceptional GrassrootsHealth Customer Service Team!
Our goal is to place vitamin D as a major player in PUBLIC HEALTH ACTION to continue moving research into practice. We will do so by continuing to develop educational resources based on a two-prong approach: Your ongoing development of awareness of your personal situation by testing and, by sharing more about what you are learning with others!
We need to take action NOW! My commitment for 2021 is to encourage you to help promote the outreach efforts to spread the word, make a difference. You can help by
Doing a MAJOR PUSH to spread the word to your family and friends, your business, your church and special interest groups… all over the world for that matter, so that these messages can be a key source of the recognition that there is something each person can do for their own health TODAY!
Asking all service providers and care givers to get tested to make sure their vitamin D levels are at least 40-60 ng/ml to help everyone make a healthy difference.
Give the gift of health via our Gift Card to get those around you started on the path to better health.
Donating $25 –or much more– will allow us to expand our outreach efforts and positively affect millions of lives! (It's your last chance this year to get a potential tax advantage for doing so). Let us know if your employer would match the donations made by individuals.
We have the research. We have the data. We have the scientific community support. You have us to help you! Please make sure you share! It might save a life.
From the GrassrootsHealth team, we thank you. We look forward to our work with you in 2021!
What does the Research Say about Vitamin D & COVID-19?
It's TIME to start saving lives! If you can help PREVENT the majority of the death, it's time! What's it costing you/us not to take action NOW?
There is much published research that supports a clear link between vitamin D and COVID-19 showing that higher vitamin D levels are related to: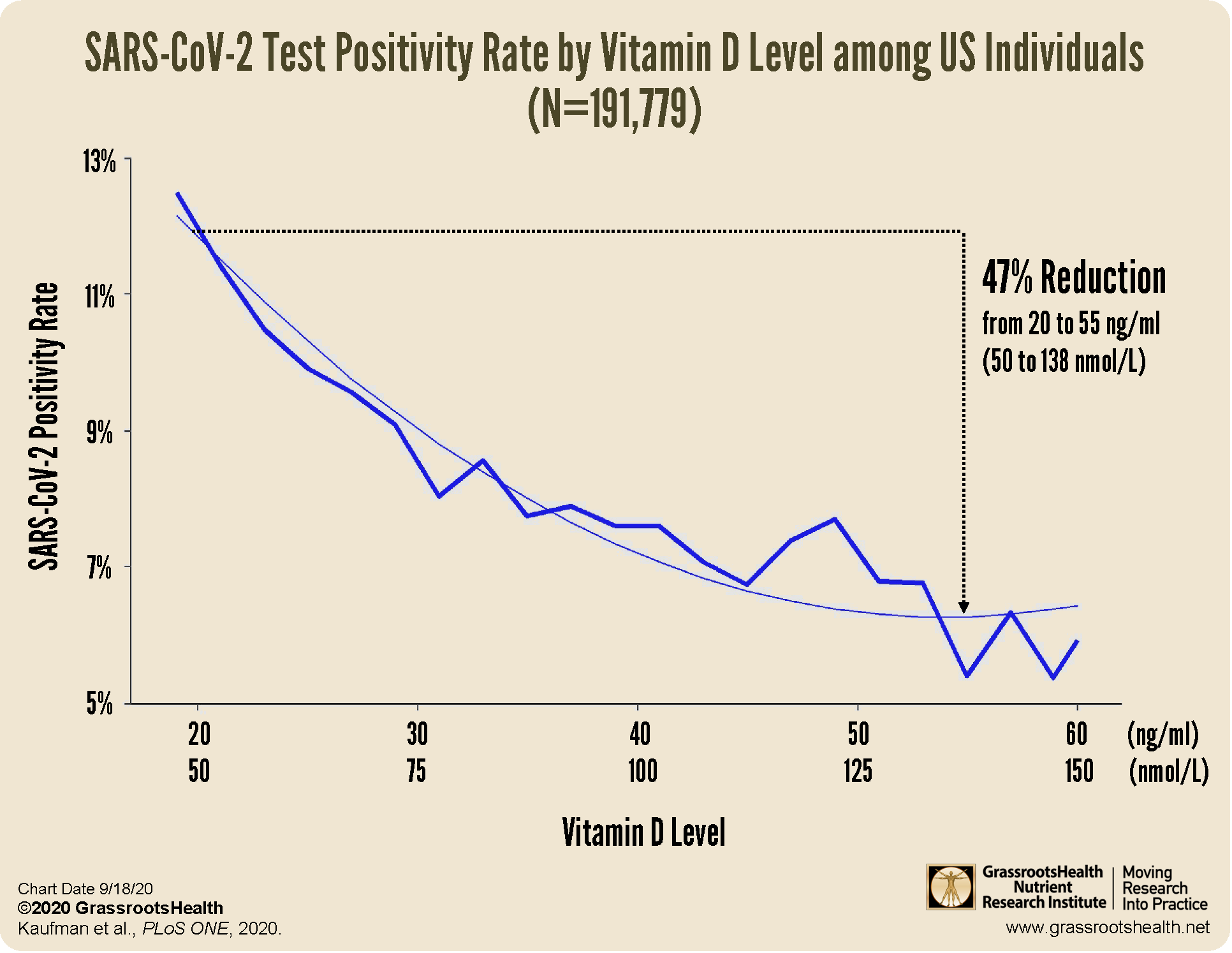 a decreased risk of testing positive for COVID-19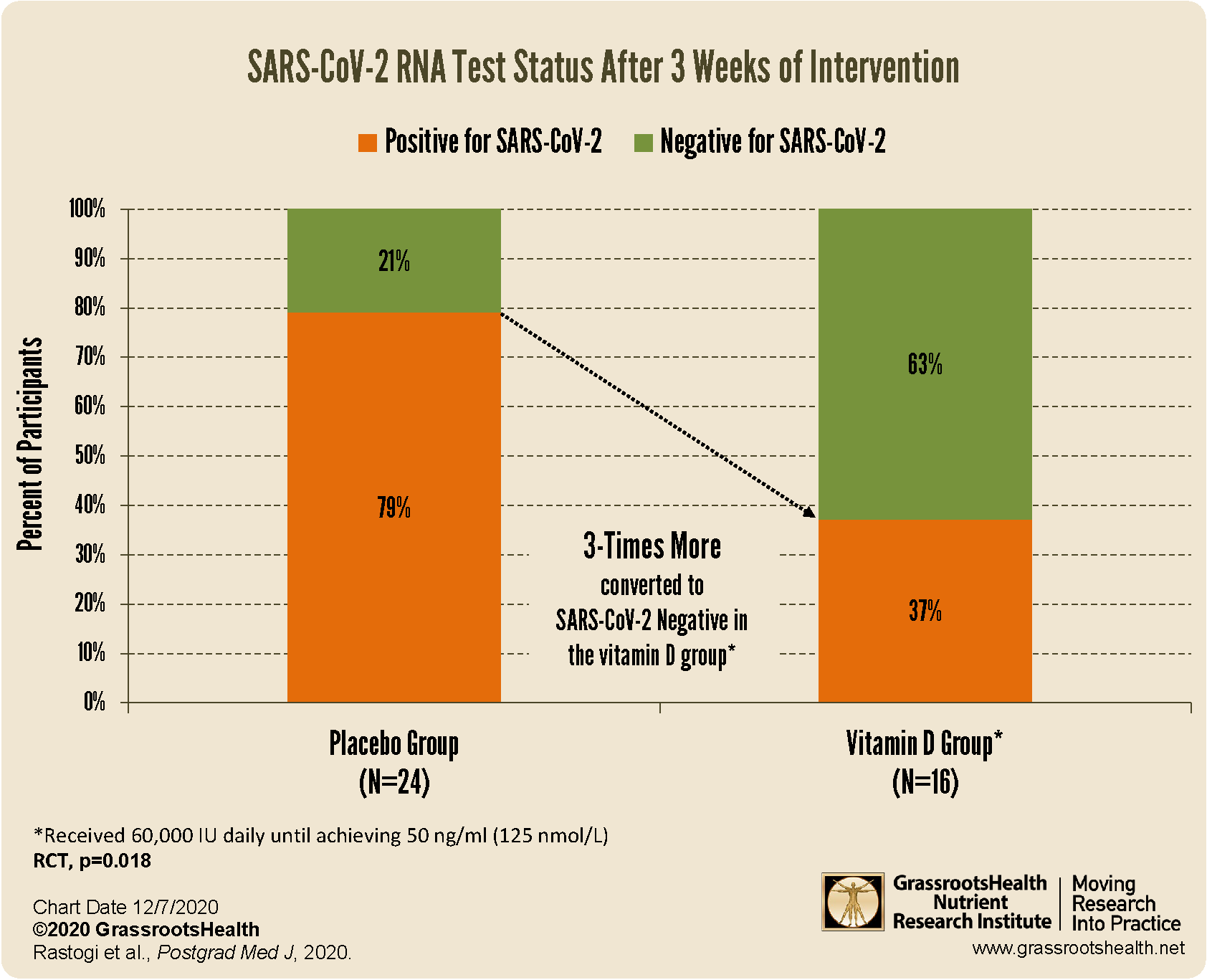 increased viral SARS-CoV-2 RNA clearance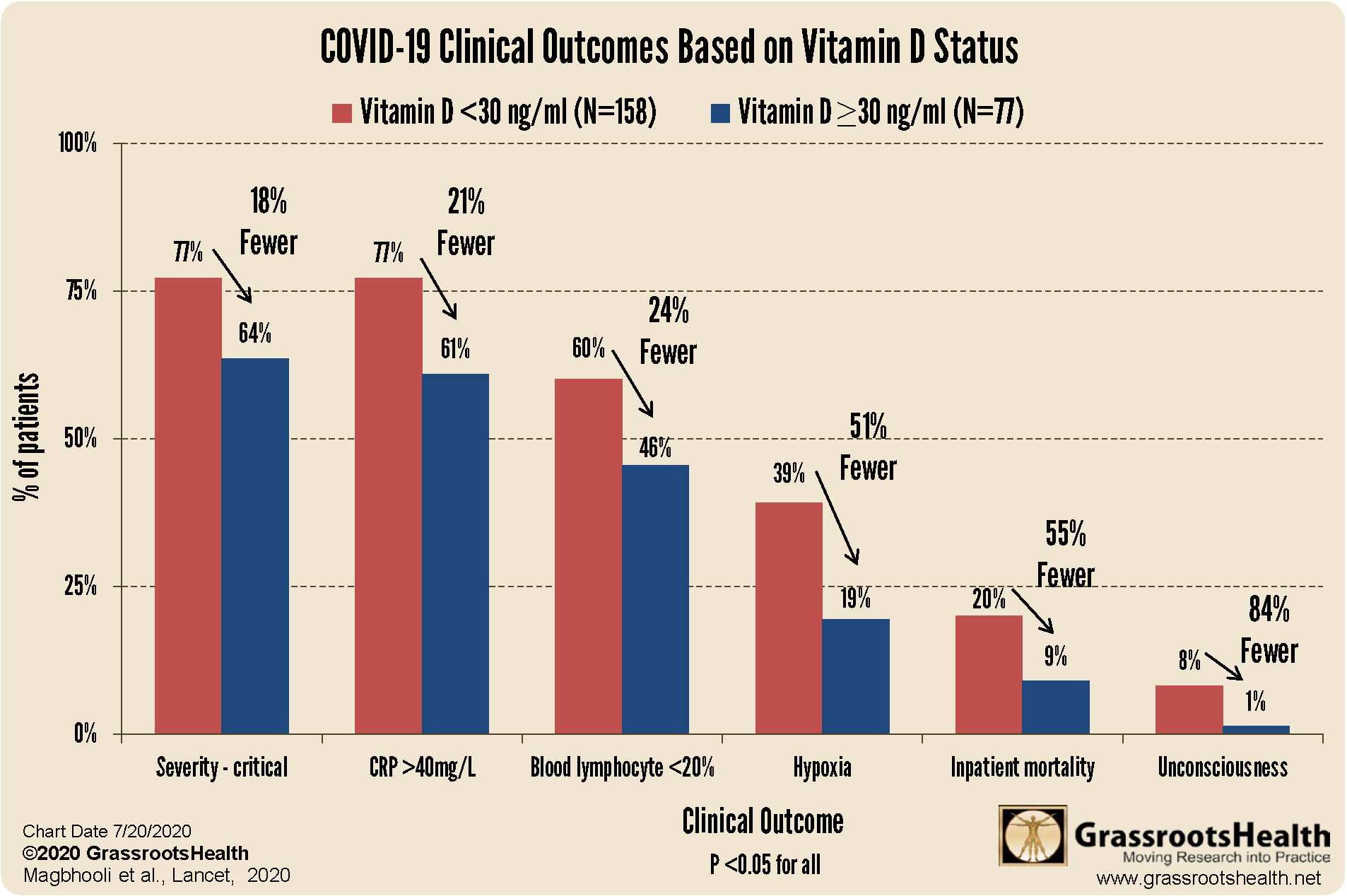 better clinical outcomes among patients with COVID-19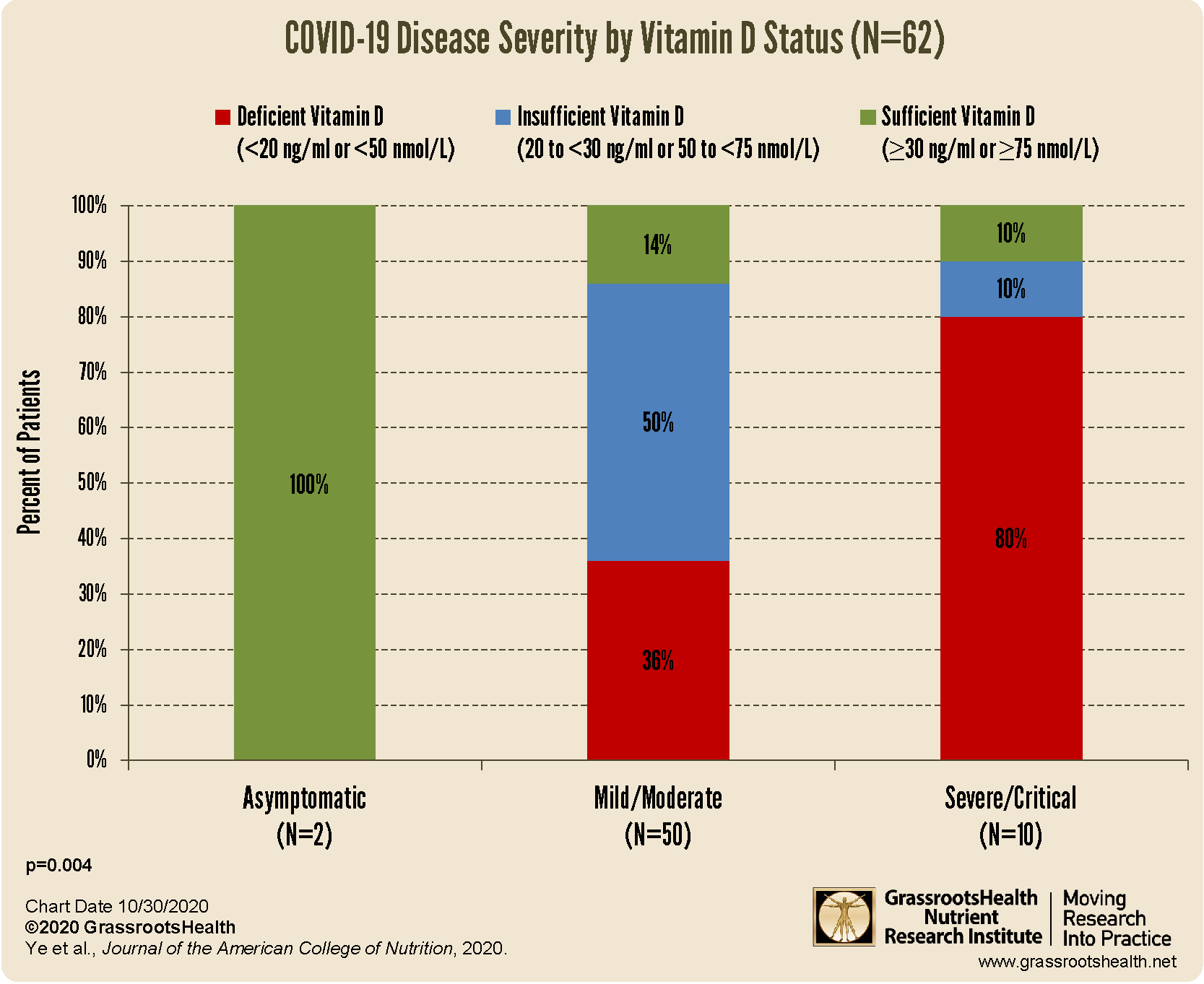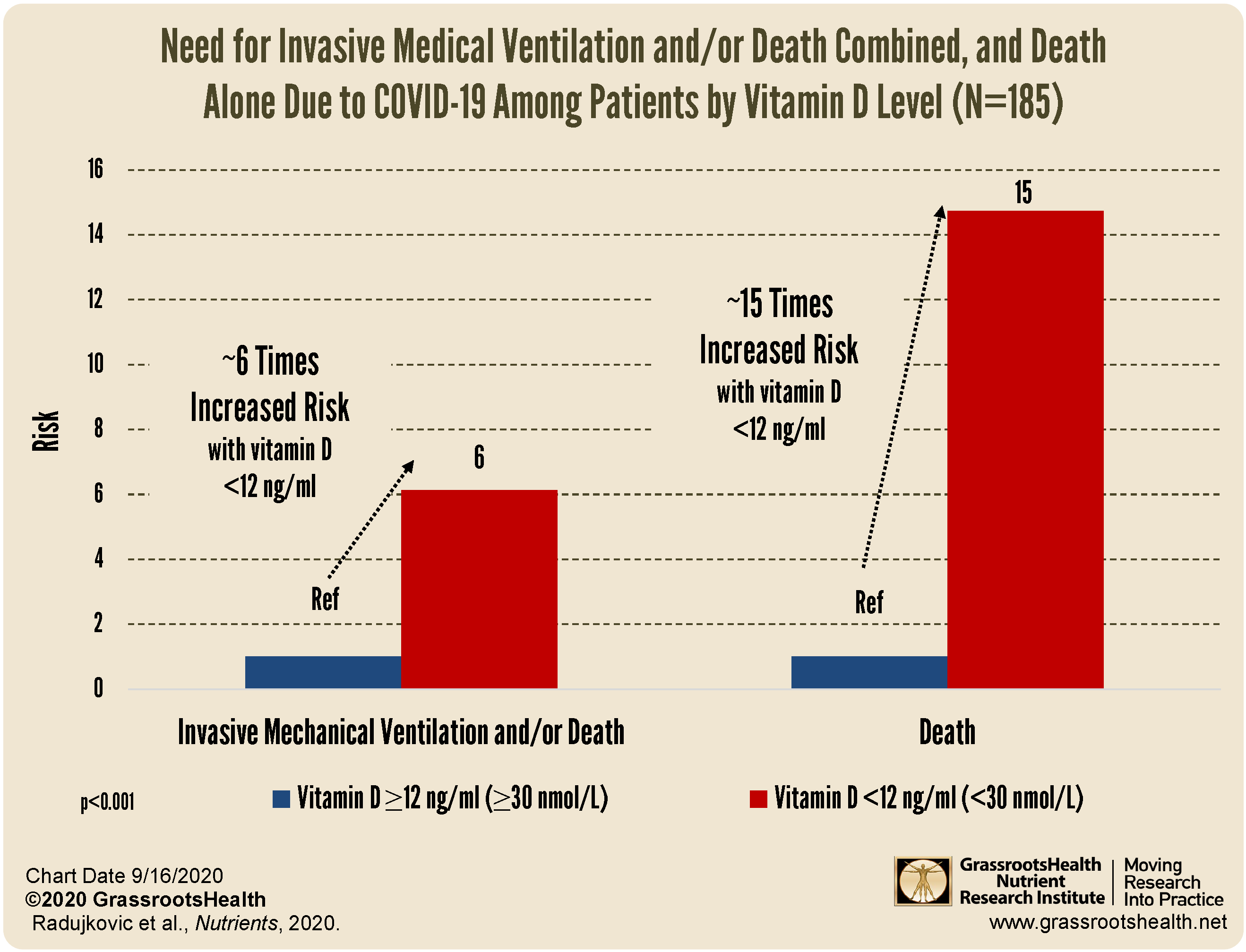 decreased risk of death due to COVID-19
Be sure to educate yourself on the benefits and importance of vitamin D for immune health, and take steps to ensure you and your loved ones are getting enough.
You can review all of the COVID-19 and immune health information we have shared on this page.
What Does it Take YOU to Get Your D to 40 ng/ml (100 nmol/L)?
Did you know your health could be greatly affected by making sure you have a vitamin D level of at least 40 ng/ml (100 nmol/L)? Help us help you.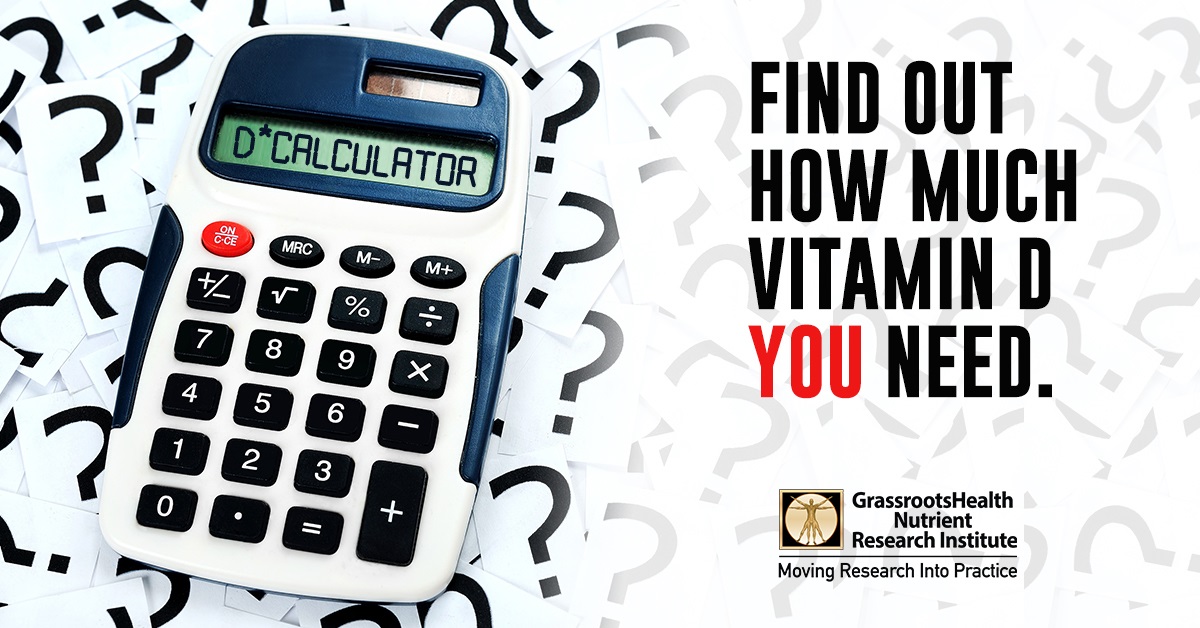 STEP 1 - Do you know what your vitamin D level is? If not, be sure to test today to find out.
STEP 2 – Determine your target level. Are you at your target level? Experts recommend a level of at least 40-60 ng/ml (100-150 nmol/L).
STEP 3 – Need to boost your level? Use the D*calculator to see how much vitamin D it may take to reach your target. Opt for the Loading Dose for a quicker boost.
STEP 4 – Optimize how your body absorbs and utilizes vitamin D with co-nutrients and these simple steps.
STEP 5 – Re-Test! This is an important step to make sure you have reached your target level, and to ensure you are not taking too much! Re-testing after 3-4 months is recommended.
STEP 6 – Adjust, Repeat…
Give your immune system the nutrients it needs to support a healthy you and protect yourself from unnecessary diseases, especially COVID-19.
NEWS ALERT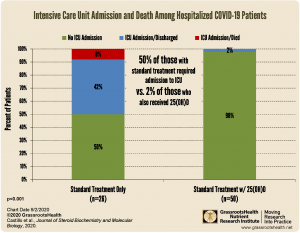 The first Randomized Controlled Trial on vitamin D and COVID-19 has shown a 96% lower risk of ICU admission for those receiving vitamin D (as 25(OH)D to quickly boost vitamin D blood levels) along with the standard treatment, compared to those receiving standard treatment alone.
These results support many previous observational studies showing a relationship between vitamin D levels and intake and COVID-19 severity.
Review the Latest Nutrient Research for COVID-19
GrassrootsHealth Nutrient Research Institute has launched the new Immune Boost project with the use of our myData-myAnswers nutrient health system that nearly 15,000 people are already using for their health. Specific markers that influence immune health are suggested for testing as part of this project including:
Vitamin D
Omega-3 Index
Essential elements magnesium, selenium, and zinc
hsCRP
Our goal is to demonstrate how one can use the Nutrient Research Model established by Dr. Robert Heaney to show the effect of vitamin D serum levels of at least 40 ng/ml (100 nmol/L) on risk reduction for all ethnicities in the population. Status and intake of other nutrients will also be analyzed for any type of relationship to immune status and symptom severity. Join the project today!
Please let us know if you're interested in helping sponsor this project.

CLICK HERE for updates and new information about the project.
Through GrassrootsHealth Nutrient Research Institute, you can also test your essential elements magnesium, copper, zinc and selenium, toxins such as lead, mercury and cadmium, as well as your omega-3 levels, inflammation levels and thyroid stimulating hormone (TSH) level. Find out your levels today! Log on to the test selection page (click the link below) to get your tests and see for yourself if your levels can be improved.
Make sure you track your results before and after, about every 6 months!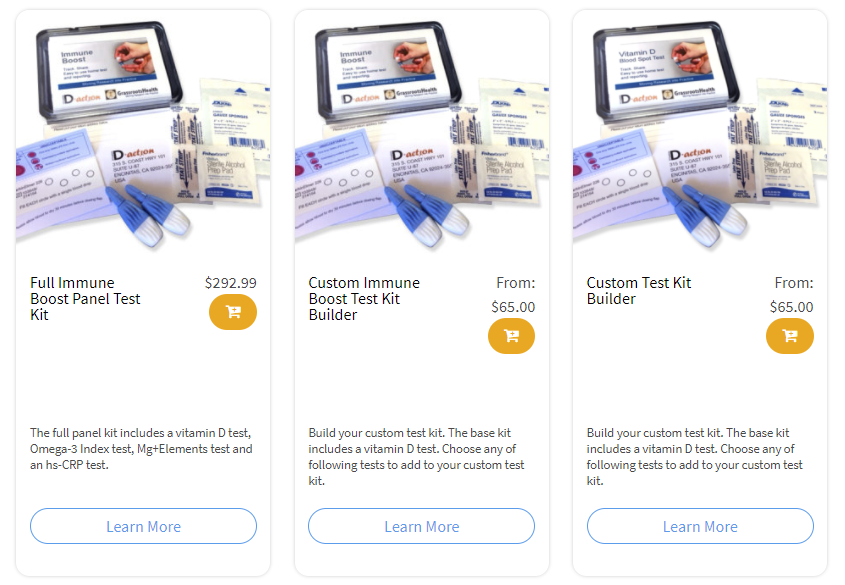 Click Here to Access the Test Page
How can I track my nutrient intake and levels over time?
To help you track your supplement use and nutrient levels, GrassrootsHealth has created the Personal Health Nutrient Decision System called

For each specific supplement, you can track what days you take it, how much, and many other details.  This will help you know your true supplemental intake and what patterns of use work for you to reach and maintain optimum nutrient levels. Check it out today!