Published on August 8, 2022

Studies show how nutritional deficiencies can decrease conception success, and during pregnancy and early infancy, may lead to damages that are irreversible beyond certain critical points in development
Key Points
Vitamin D is necessary for all stages of the life-cycle, with numerous studies showing how higher vitamin D levels before and during pregnancy reduce the risk of adverse maternal and infant outcomes; vitamin D is also involved in the process of conception, implantation and the development of the placenta
Omega-3 fatty acids are so important to the health of the pregnancy and baby, the Australian Government, Department of Health officially made the recommendation for daily supplementation with omega-3s for all pregnant moms, for reasons discussed below
Magnesium is also important to a healthy pregnancy, has been shown to help ameliorate muscle cramping during pregnancy, decrease the frequency of preterm births, low birth weight and small for gestational age newborns, is used as a treatment for preeclampsia/eclampsia, and has been associated with metabolic syndrome for the child later in life
---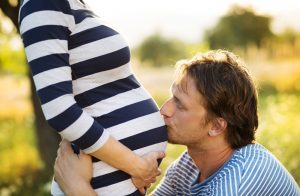 Planning for a healthy pregnancy is an important step for both mom and dad to-be, and can also help improve the chances of conceiving for those who may be struggling. One very important component to having a healthy pregnancy and baby is ensuring adequate levels of several key nutrients.
In fact, the "Barker Hypothesis," also known as the "The Fetal Origins Hypothesis," theorizes that certain adult-onset diseases originate from nutritional deficiencies during the perinatal period (during pregnancy or in early infancy). These damages are irreversible beyond certain critical points in development, even following full nutrient repletion. For example, prenatal vitamin D deficiency has been correlated to later-onset diseases such as Multiple Sclerosis (MS), Type 1 Diabetes, Preeclampsia, Schizophrenia, and other cognitive function and learning disabilities.
Below are just a few of the key nutrients important to having a healthy pregnancy and baby.
From Pre-Conception to a Healthy Baby, Your Reproductive System Needs Vitamin D
Vitamin D is necessary for all stages of the life-cycle. Numerous studies have found that higher vitamin D levels during pregnancy reduce the risk of adverse maternal and infant outcomes. Vitamin D has also been shown to be involved in the process of conception, implantation and the development of the placenta.
Vitamin D and Conception
Study of couples by Tartagni et al., with previous infertility and undergoing fertility treatments, found a 3 times higher chance of pregnancy for couples when the male had a vitamin D level of 30 ng/ml or higher. The pregnancy rate per patient and per cycle as well as delivery rate per patient and per cycle were all significantly higher among the couples whose male partner had a higher vitamin D level compared to the lower vitamin D. Another study by Jukic et al. found that the probability of conception taking longer than 6 months was 71% lower when the woman's vitamin D level was less than 20 ng/ml compared to at least 50 ng/ml.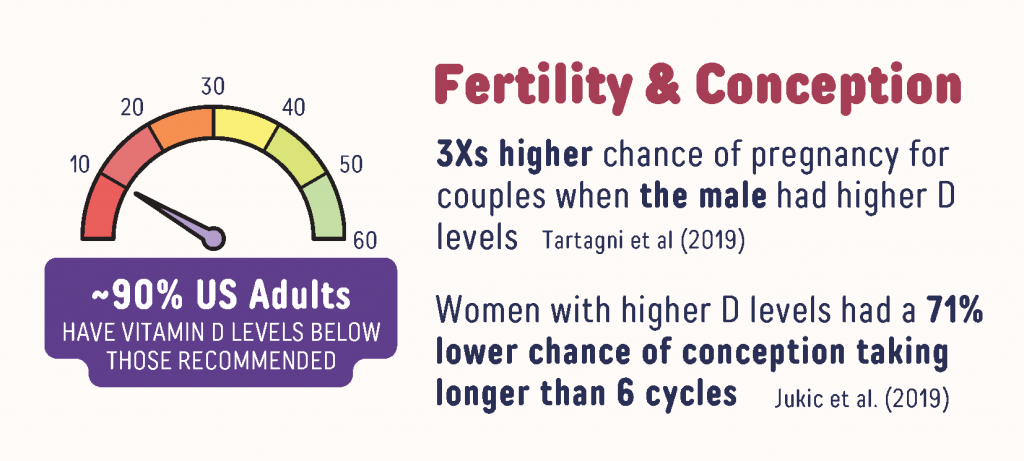 In an analysis of 10 different studies on vitamin D and miscarriage, Tamblyn et al. found that, compared to women whose vitamin D levels were sufficient (at least 30 ng/ml) at the beginning of pregnancy, women who were vitamin D deficient (below 20 ng/ml) had a 94% significantly increased risk of miscarriage, and women who were either deficient or insufficient had a 60% significantly increased risk of miscarriage.  The authors concluded that "Vitamin D deficiency and insufficiency are associated with miscarriage."
Looking at data from 14 different studies, Chen et al. showed that pregnant women who were vitamin D deficient were 4 times more likely to have recurrent spontaneous abortion compared to those who were not vitamin D deficient.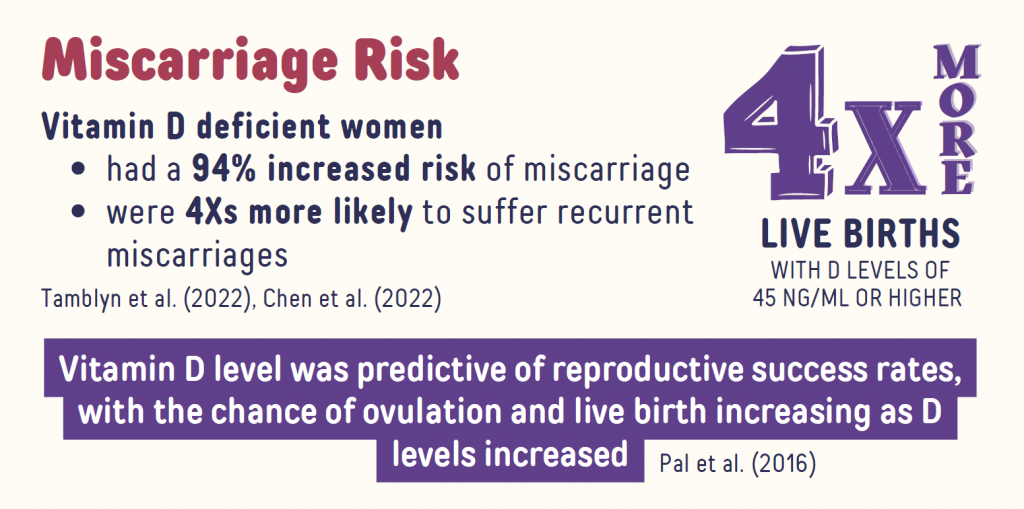 A study among women with polycystic ovarian syndrome (PCOS) by Pal et al. found that vitamin D level was an independent predictor of reproductive success rates in women with PCOS following induction of ovulation, with the probability of ovulation and live birth increasing as vitamin D levels increased. In fact, live births were 44% lower among women with PCOS whose vitamin D levels were below 30 ng/ml (75 nmol/L) and 4 fold higher among women with vitamin D levels of 45 ng/ml (112.5 nmol/L) or higher. For these women, the ratio of live births increased by 2% for every one ng/ml (2.5 nmol/L) increase in vitamin D levels. Women with PCOS undergoing IVF also have a higher chance of both implantation and occurrence of clinical pregnancy when vitamin D levels were higher, and vitamin D levels have also correlated with embryo quality.
Vitamin D and Pregnancy
Vitamin D levels in the range of 40-60 ng/ml (100-150 nmol/L) are especially protective during pregnancy, and have been shown to reduce complications including preterm birth, hypertensive disorders of pregnancy (preeclampsia) and gestational diabetes. A GrassrootsHealth publication by McDonnell et al. demonstrated how women with vitamin D levels at or above 40 ng/ml (100 nmol/L) had a 62% lower risk of preterm birth compared to women with levels less than 20 ng/ml.  Higher vitamin D levels in pregnancy have even been associated with a lower risk of cesarean section and lower labor pain scores!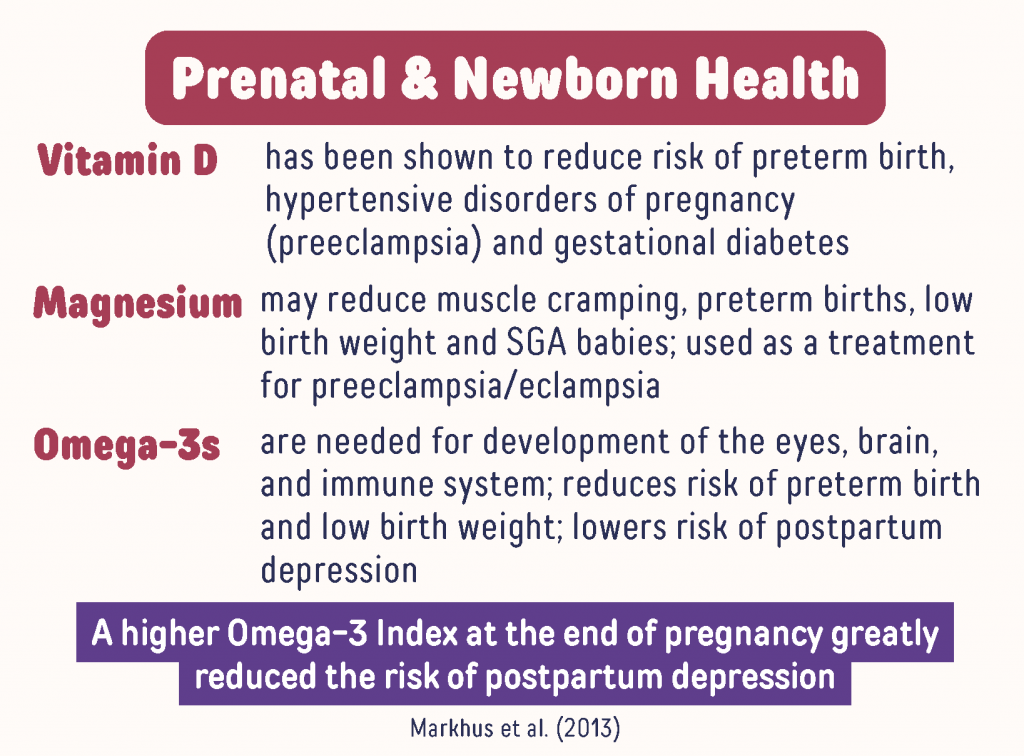 Omega-3s and Magnesium are Also Important for a Healthy Pregnancy
In fact, Omega-3 fatty acids are so important to the health of the pregnancy and baby, the Australian Government, Department of Health officially made the recommendation for daily supplementation with omega-3 long-chain polyunsaturated fatty acids (800 mg docosahexaenoic acid [DHA] and 100 mg eicosapentaenoic acid [EPA]) for all pregnant moms!
Several studies demonstrate the importance of omega-3s for pregnancy, such as a study by Carlson et al., in which a higher intake of EPA and DHA resulted in an approximate decrease of 70% for early preterm birth, 85% for very low birth weight, and 60% for low birth weight. Markhus et al. showed that a higher Omega-3 Index at the end of pregnancy greatly reduced the risk of postpartum depression, and when combining data from 9 different randomized controlled trials on omega-3 supplementation and preterm birth, Kar et al. found a 58% lower risk of early preterm birth among those taking omega-3 supplements. Omega-3s are also important to the healthy development of the baby's brain, eyes, nervous system, and even their immune system, among others.
Magnesium is also important to a healthy pregnancy, and getting enough magnesium has been shown to help ameliorate muscle cramping during pregnancy, decrease the frequency of preterm births, low birth weight and small for gestational age newborns, and used as a treatment for preeclampsia/eclampsia. Magnesium in pregnancy has also been associated with metabolic syndrome for the child later in life.

Toxic Elements to Avoid in Pregnancy
During pregnancy, toxic elements such as lead stored in bones can be released and passed from the mother's body to the baby which may result in miscarriage, premature birth, low birth weight, learning or behavioral problems, or damage to the baby's brain, kidneys, or nervous system. Cadmium is another toxic element that can also accumulate in the kidneys and thyroid gland, and can contribute to thyroid issues, kidney disease, infertility, uterine fibroids, and other reproductive tract diseases if the build-up is high enough.
Measure Your Levels of the Above for a Healthier Pregnancy and Baby
Based on the findings presented above, measuring your levels of vitamin D, magnesium, and omega-3s may help determine if more of these nutrients might be needed to support a healthy pregnancy and baby.
Create your custom home blood spot kit with the following measurements to help determine if you are getting enough of the following nutrients shown to benefit your current or future prenatal health:
Don't forget several other essential nutrients for reproductive health, including the below and many more
B Vitamins (especially Folate)
Iron
Zinc
Having and maintaining healthy vitamin D levels and other nutrient levels can help improve your health and the health of your baby, now and for the future. Enroll and test your levels today, learn what steps to take to improve your status of vitamin D (see below) and other nutrients and blood markers, and take action! By enrolling in the GrassrootsHealth projects, you are not only contributing valuable information to everyone, you are also gaining knowledge about how you could improve your own health through measuring and tracking your nutrient status, and educating yourself on how to improve it.
How Can You Use this Information for YOUR Health?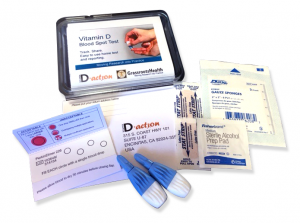 Having and maintaining healthy vitamin D and other nutrient levels can help improve your health now and for your future. Measuring is the only way to make sure you are getting enough!
STEP 1 Order your at-home blood spot test kit to measure vitamin D and other nutrients of concern to you, such as omega-3s, magnesium, essential and toxic elements (zinc, copper, selenium, lead, cadmium, mercury); include hsCRP as a marker of inflammation or HbA1c for blood sugar health
STEP 2 Answer the online questionnaire as part of the GrassrootsHealth study
STEP 3 Using our educational materials and tools (such as our dose calculators), assess your results to determine if you are in your desired target range or if actions should be taken to get there
STEP 4 After 3-6 months of implementing your changes, re-test to see if you have achieved your target level(s)