Published on December 8, 2023

A review of the research showing the relationships between vitamin D, magnesium, and omega-3 fatty acids and cholesterol and triglyceride levels
Key Points
A recent paper found a significant decrease in TC, LDL-C, and TG levels among those whose year-to-year vitamin D level had increased by 10 ng/ml or more, and a significant increase in TC, LDL-C, and TG levels among those whose vitamin D level had decreased by 10 ng/ml or more
Magnesium works through the same pathway as statins to lower LDL levels and more reliably lowers triglycerides and raises HDL, which are also associated with cardiovascular disease; further, magnesium has similar effects on clotting, plaque formation, and inflammation without the adverse effects and cost associated with statin drugs
When comparing the effects of omega-3 fatty acids among patients with high triglyceride levels, doses of 4 grams per day of omega-3 fatty acid formulations were shown to significantly reduce triglyceride levels compared to placebo
---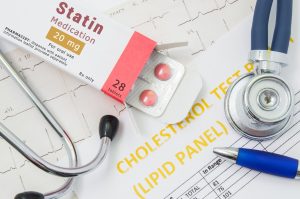 Several questions about vitamin D and cholesterol levels have been asked of us in the past, such as "Does increasing my vitamin D level or supplementing with vitamin D raise cholesterol levels," or "Do vitamin D levels change with cholesterol levels?" A 2021 paper helps to shed light on the topic, and is reviewed below along with other research highlighting the relationship between cholesterol, triglycerides, magnesium and omega-3s.
Real-World Data Reveals Relationship between Year to Year Changes in Vitamin D and Lipid Levels
In an effort to further clarify the relationship between vitamin D and lipid levels, Li et al. analyzed data from a real-world setting, using laboratory measurements obtained from an annual employee health program. Their goal was to see if there was a consistent, significant relationship between year-to-year increases or decreases in vitamin D levels and changes in serum lipid levels. They split the data into cohorts according to year:
Cohort 1 contained measurements from 5580 individuals for the years 2017 to 2018
Cohort 2 contained measurements from 6057 individuals for the years 2018 to 2019
Cohort 3 contained measurements from 7249 individuals for the years 2019-2020
Each cohort was split into two different groups – those whose vitamin D level increased by 10 ng/ml (25 nmol/L) or more from one year to the next, and those whose vitamin D level decreased by 10 ng/ml or more. Changes in total cholesterol (TC), low-density lipoprotein cholesterol (LDL-C), high-density lipoprotein cholesterol (HDL-C), and triglycerides (TG) were also evaluated for each of the two groups within each cohort.
Increasing Vitamin D Levels Linked to Decreased Cholesterol Measures
For each year to year comparison, the authors found a significant decrease in TC, LDL-C, and TG levels among those whose vitamin D level had increased by 10 ng/ml or more. They also found a significant increase in TC, LDL-C, and TG levels among those whose vitamin D level had decreased by 10 ng/ml or more.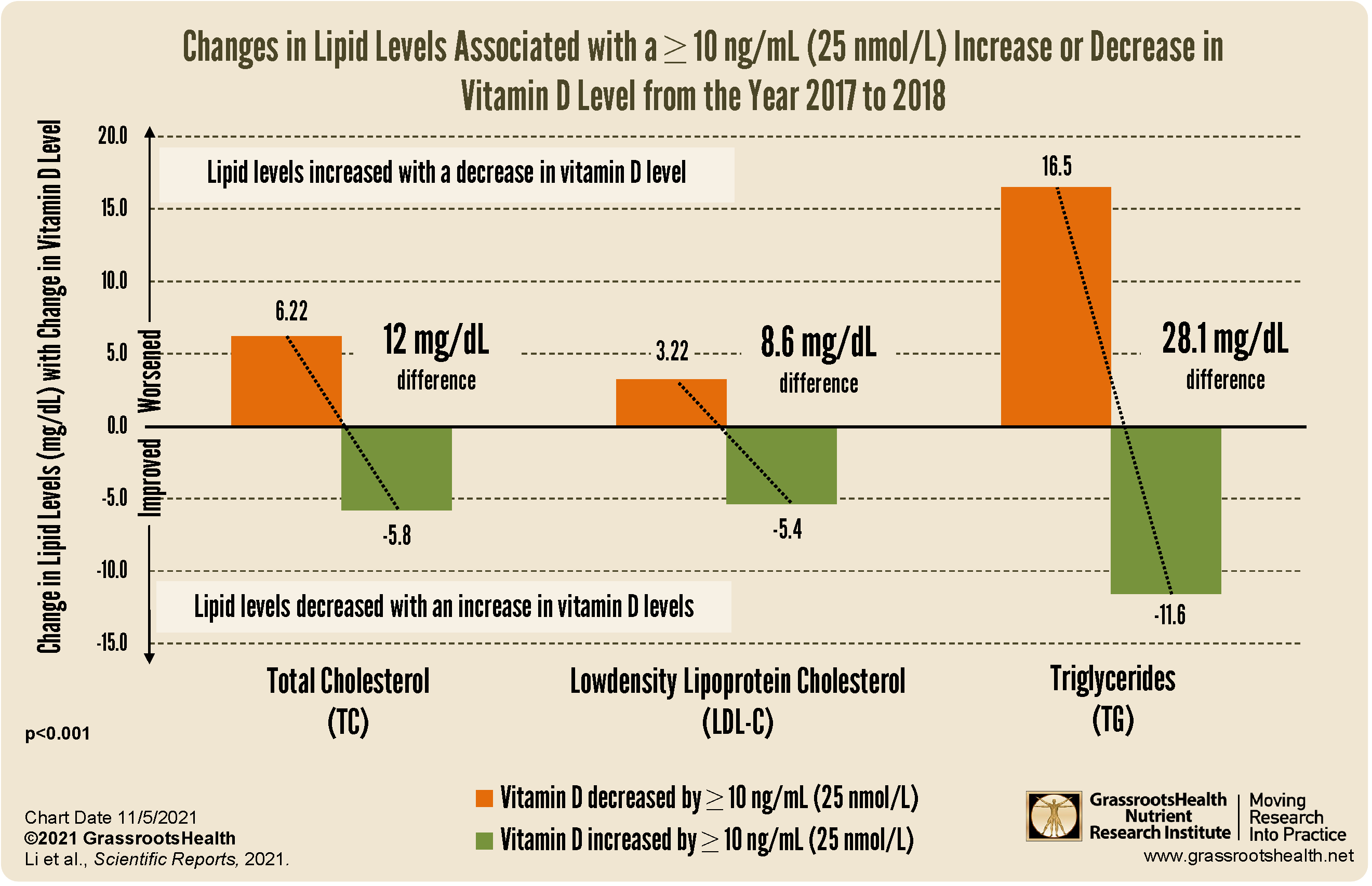 As can be seen in the chart above, where orange bars indicate decreasing vitamin D levels and green bars indicate increasing vitamin D levels, TC, LDL-C, and TG levels increased (worsened) when the vitamin D level went down by at least 10 ng/ml (25 nmol/L) over the year, and decreased (improved) when vitamin D level went up by at least 10 ng/ml over the year. For those whose vitamin D levels increased by 10 ng/ml (25 nmol/L) or more, compared to those whose levels decreased, there was an approximate reduction in
Total Cholesterol by 10-12 mg/dL
LDL-C by 7-8 mg/dL
And Triglycerides by 21-28 mg/dL
These changes remained significant even after adjusting for age, sex, race, education, BMI, blood pressure, smoking status, geographical location, vitamin D level at baseline, and lipid level at baseline. While changes in HDL-C were observed, these changes were slight and not statistically significant for all groups.
These findings support previous research showing that reductions in vitamin D levels are associated with worsening lipid profiles, and with this, the authors suggest that vitamin D supplementation may be of benefit for individuals with dyslipidemia.
Magnesium has Similar Effect on Cholesterol as Statins
Magnesium supplementation has some of the same effects on cholesterol as statin drugs, as highlighted by a paper by Andrea Rosanoff and Mildred Seelig that compares the mechanisms and effects of magnesium and statin drugs.
Statins work by blocking an enzyme (HMG CoA Reductase) that your body uses to make cholesterol. Similarly, when there is sufficient magnesium in the body, it works to inactivate this same enzyme though natural control mechanisms. Magnesium is also necessary for another enzyme (LCAT) which lowers LDL and triglyceride levels and raises HDL levels. Further, magnesium activates other enzymes involved in lipid production, such as the conversion of omega-3 and omega-6 into prostaglandins which are important for cardiovascular and general health.
Additionally, both statin drugs and magnesium prevent clotting and atherosclerotic plaques and reduce inflammation. While statins can raise liver enzymes and cause myopathy, a muscle disease resulting in muscular weakness, and cause other side effects, magnesium can protect against myopathy and only has mild gastrointestinal side effects for some. The cost difference is also a differing factor, with statin drugs costing at least $100/month (but may be covered by insurance) compared to magnesium supplements which are less than $20/month.
While statin drugs lower LDL levels more sharply than magnesium, magnesium works through the same pathway to lower LDL levels and more reliably lowers triglycerides and raises HDL, which are also associated with cardiovascular disease. Further, magnesium has similar effects on clotting, plaque formation, and inflammation without the adverse effects and cost associated with statin drugs.
Omega-3s Can Lower High Triglyceride Levels
Triglycerides are a type of fat found in your blood and measured as part of a cholesterol blood test. High triglycerides combined with high LDL or low HDL are often linked to a higher risk of heart disease. Traditional interventions for individuals with hypertriglyceridemia have relied heavily on the use of statins with diet and lifestyle changes. However, statins have undesirable side effects for some people. Several studies looking at the effect of omega-3 fatty acids on triglycerides have found beneficial results; a review of the evidence by Backes et al. looked at the efficacy and safety of prescription omega-3 fatty acids in the management of hypertriglyceridemia.
When comparing the effects of omega-3 fatty acids among patients with high triglyceride levels, doses of 4 grams per day of omega-3 fatty acid formulations were shown to significantly reduce triglyceride levels compared to placebo. The chart below illustrates the effects of three different prescription omega-3 fatty acid formulas, OM3EE (Lovaza), IPE (Vascepa), and OM3CA (Epanova), on triglyceride levels in patients with severe hypertriglyceridemia (500 mg/dL or higher).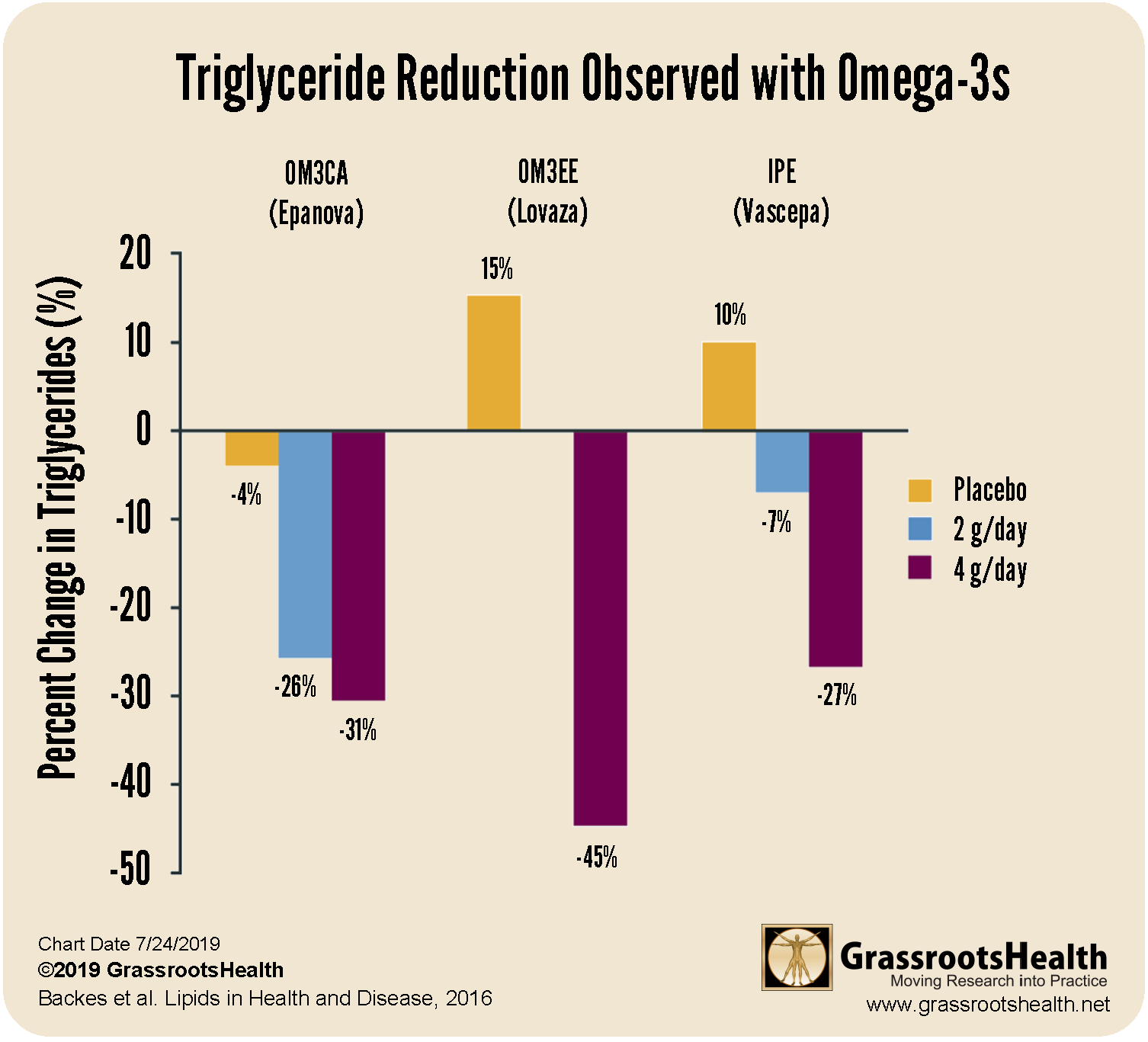 Make Sure You Are Getting Enough Vitamin D, Magnesium, and Omega-3s!
Create your custom home blood spot kit by adding any of the following measurements, along with your vitamin D:
Having and maintaining healthy vitamin D levels and other nutrient levels can help improve your health, now and for the future. Enroll and test your levels today, learn what steps to take to improve your status of vitamin D (see below) and other nutrients and blood markers, and take action! By enrolling in the GrassrootsHealth projects, you are not only contributing valuable information to everyone, you are also gaining knowledge about how you could improve your own health through measuring and tracking your nutrient status, and educating yourself on how to improve it.
How Can You Use this Information for YOUR Health?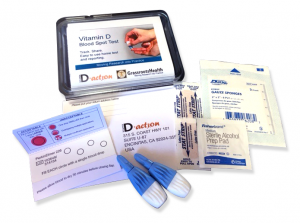 Having and maintaining healthy vitamin D and other nutrient levels can help improve your health now and for your future. Measuring is the only way to make sure you are getting enough!
STEP 1 Order your at-home blood spot test kit to measure vitamin D and other nutrients of concern to you, such as omega-3s, magnesium, essential and toxic elements (zinc, copper, selenium, lead, cadmium, mercury); include hsCRP as a marker of inflammation or HbA1c for blood sugar health
STEP 2 Answer the online questionnaire as part of the GrassrootsHealth study
STEP 3 Using our educational materials and tools (such as our dose calculators), assess your results to determine if you are in your desired target range or if actions should be taken to get there
STEP 4 After 3-6 months of implementing your changes, re-test to see if you have achieved your target level(s)