Published on June 24, 2022
How your status and intake of several key nutrients and health markers can affect muscle health, fitness, recovery, and overall performance
Key Points
Vitamin D (at recommended levels of 50 ng/ml or higher) helps build skeletal and bone tissue, maintain bone health, support fast-twitch muscle fibers, and decrease post-exercise inflammation and muscle damage – yet nearly 90% of US adults are below 40 ng/ml (100 nmol/L)
Magnesium has been shown to decrease muscle soreness and post-exercise pain, lower levels of post-exercise inflammation, may lead to faster run times – yet 45% of US adults do not get the average daily requirement
Omega-3 fatty acids help increase grip strength, prevent loss of muscle strength, maintain range of motion and muscle quality, lessen delayed onset muscle soreness, increase muscle circumference, and reduce inflammation – yet 80-90% of typical western diets do not provide enough omega-3s
---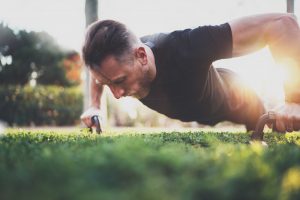 Are you doing everything you can do to support the health of your muscles for optimal sports and fitness performance?
Research shows a clear connection between certain nutrients, such as vitamin D and omega-3s, and muscular performance and recovery from exercise
Improve Fitness and Muscle Health by Improving Your Levels of the Following Nutrients
VITAMIN D SUPPORTS OVERALL MUSCULOSKELETAL HEALTH
Vitamin D is involved in rebuilding skeletal muscle tissue, maintaining bone health, and reducing inflammation after high impact exercise; unfortunately, vitamin D deficiency is common among athletes. Therefore, athletes may benefit from supplementing with vitamin D to raise their vitamin D levels to both help prevent deficiency and promote quicker recovery from exercise.
Studies have shown that maintaining a vitamin D level of at least 40 ng/ml (100 nmol/L) resulted in a decreased risk of bone fracture and stress fracture. Fast-twitch muscle fibers have been shown to be especially sensitive to vitamin D levels, which are important for burst activities and fall avoidance. Overall, cumulative research has shown that peak musculoskeletal performance may occur with a vitamin D level of at least 50 ng/ml.

---
VITAMIN D IMPROVES POST-EXERCISE RECOVERY
Findings by Zebrowska et al. support the role of vitamin D in skeletal muscle recovery after high impact exercise. The study measured the effect of supplementing with either 2,000 IU vitamin D or placebo for 3 weeks in male ultramarathon runners (n=24) with average vitamin D levels starting above 30 ng/ml (75 nmol/L). Both before and after the intervention, runners were asked to participate in a 30-minute downhill running test at 70% intensity.
The results from this study support a beneficial role for vitamin D in improving post-exercise recovery in high intensity endurance exercise.

---
MAGNESIUM FOR MUSCLE SORENESS AND RECOVERY
A double-blind, placebo-controlled, cross over study by Steward et al. included data from male recreational runners who were put on a low-magnesium diet, and were either given a week of 500 mg/day of magnesium or a placebo prior to a 10 km downhill run. Measurements for muscle soreness (using a pain scale of 0 to 10) were taken prior to the run, and at 1 hour, 24 hours, 48 hours and 72 hours after. The process was repeated for all participants with the opposite treatment after a two week wash-out period.

---
OMEGA-3S SUPPORT MUSCLE HEALTH AND POST-EXERCISE RECOVERY
Studies have shown how omega-3 supplementation and a higher Omega-3 Index can positively impact athletic performance and recovery. Muscle stiffness, soreness, and loss of range of motion (ROM) are common negative effects of a new or strenuous exercise routine, which have shown to be reduced or prevented with fish oil supplements. Specific outcomes were found among those supplementing with omega-3 fish oils and/or with a higher Omega-3 Index.
---
HIGHER OMEGA-3S HELP IMPROVE MUSCLE STRENGTH
A randomized, double-blind, placebo-controlled study (RCT) by Heileson et al. looked at the effects of omega-3 fatty acids on athletic performance by measuring changes in body composition, strength, and power among a group of athletes taking fish oil supplements. The study enrolled 27 collegiate athletes, 15 of whom took fish oil supplements consisting of 1.75 g EPA plus 1.1 g DHA (taken daily for 8 weeks), and 12 who received placebos. Levels of EPA and DHA were measured using the Omega-3 Index blood spot test.

---
OMEGA-3S CAN DECREASE POST-EXERCISE SORENESS
Omega-3s are known to have anti-inflammatory properties by inhibiting the inflammatory response, which can lead to muscle damage and resulting soreness and stiffness. As discussed above, muscle stiffness, soreness, and loss of range of motion (ROM) are common negative effects of a new or strenuous exercise routine, which have been reduced or prevented with fish oil supplements.
A study by Tsuchiya et al. gave one group of men 2400 mg of daily fish oil capsules (with 600 mg EPA and 260 mg DHA) for 8 weeks prior to an exercise experiment, and the other group received placebo.

---
CRP LEVEL AND THE OMEGA-3 INDEX RELATED TO POST-EXERCISE MUSCLE SORENESS
A study by Lembke et al. compared the Omega-3 Index of subjects to the incidence of delayed onset muscle soreness (DOMS), inflammatory biomarkers, and quality of life following vigorous exercise. Subjects in the supplement group were given an omega-3 dietary supplement (2.7 g EPA+DHA) each day. The measurement of DOMS (mean worst pain score) was recorded on a scale from 0 to 10.
Specific to exercise, the findings of this study "support the hypothesis that higher omega-3 tissue levels may have a protective effect on muscle cells during exercise and may act by reducing the inflammatory response (as measured by the CRP level) and subsequent DOMS."
---
Order Your "FITNESS-FOCUSED" Custom Test Kit Now!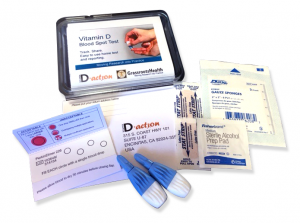 Measure your:
Vitamin D
Magnesium
Omega-3 Fatty Acids
hsCRP
Did you know that each of the above can be measured at home using a simple blood spot test? As part of our ongoing research project, you can order your home blood spot test kit to get your levels, followed by education and steps to take to help you reach your optimal target levels. Start by enrolling and ordering your kit to measure each of the above important markers, and make sure you are getting enough of each to support better mood and wellbeing!
Build your custom kit here – be sure to include your Omega-3 Index (Only or with Ratios), Magnesium, and hsCRP along with your vitamin D.
Start Here to Measure Your Levels
How Can You Use this Information for YOUR Health?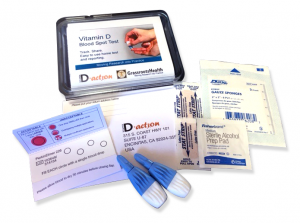 Having and maintaining healthy vitamin D and other nutrient levels can help improve your health now and for your future. Measuring is the only way to make sure you are getting enough!
STEP 1 Order your at-home blood spot test kit to measure vitamin D and other nutrients of concern to you, such as omega-3s, magnesium, essential and toxic elements (zinc, copper, selenium, lead, cadmium, mercury); include hsCRP as a marker of inflammation or HbA1c for blood sugar health
STEP 2 Answer the online questionnaire as part of the GrassrootsHealth study
STEP 3 Using our educational materials and tools (such as our dose calculators), assess your results to determine if you are in your desired target range or if actions should be taken to get there
STEP 4 After 3-6 months of implementing your changes, re-test to see if you have achieved your target level(s)