Published on September 30, 2022

The end of September marks the end of Healthy Aging Month and Alzheimer's Awareness Month… take this chance to learn how certain nutrients can help keep your mind and body younger, longer
Key Points
One of the key events that occurs as a part of the aging process is the shortening or degradation of telomeres, which can then affect the health of the cells and lead to increased risk of death and disease; studies on vitamin D have shown that individuals with the lowest levels of vitamin D had shorter telomeres, where those with the lowest vitamin D showed an extra 5 years of aging on the telomeres
There is also a strong inverse association between the Omega-3 Index and telomere shrinkage; one study found that the higher the Omega-3 Index, the less shrinkage occurred with the least amount of shrinkage at an Omega-3 Index of 8.7%
Measuring the vitamin D and the Omega-3 Index level is essential, as there is a large amount of variability in the resulting status of each for different people with the same intake amounts; for example, a GrassrootsHealth analysis of the omega-3 dose response showed that the range of response with 1000 mg of EPA+DHA per day was an Omega-3 Index of anywhere between 5.7% and 10.2%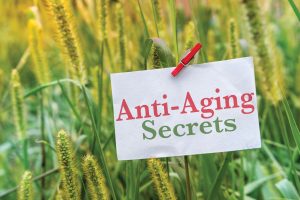 Is our age solely determined by the number of years we have lived? While chronological age is calculated the same for everyone (based on how old we are in years), biological age is more representative of overall physiological and functional health, including the risk of age-related conditions and diseases. On the other hand, epigenetic aging is related to the modification of our genes, specifically through DNA methylation, which may in turn directly affect the biological age of an individual. Research has shown that lifestyle and nutrition factors play a role in epigenetic aging, and that supplementation with specific nutrients may slow or reverse it.
For example, 99% of Alzheimer's disease is not caused by genes, but is the direct result of diet and lifestyle factors – and is predictable from as early as age 35! By starting early with positive prevention steps, researchers estimate that a person's risk could be cut by as much as two thirds. A lack of B vitamins, vitamin D, and omega-3 fatty acids contribute greatly to this risk.
---
HOW ELSE CAN VITAMIN D & OMEGA-3S AFFECT AGING?
Could the Vitamin D and Omega-3 Supplements We Take Add Years to Our Lives?
Evidence suggesting that supplemental vitamin D and/or omega-3 fatty acids can slow epigenetic aging and add years to our lives.
---
Vitamin D Protects Your Cells and Immune System from the Effects of Aging
Many alterations within the immune cells occur directly as a result of aging. One of the key events that occurs as a part of the aging process is the shortening or degradation of telomeres, which can then affect the health of the cells and lead to increased risk of death and disease. One study on how telomere length affected mortality found a 3 to 8 times increased risk of death due to heart or infectious diseases, respectively, among older individuals with shorter telomeres. Studies on vitamin D have shown that individuals with the lowest levels of vitamin D had shorter telomeres; in one study, those with the lowest vitamin D showed an extra 5 years of aging on the telomeres.
---
What are Optimal Levels of Omega-3? Why?
Another study with 608 coronary heart disease patients measured the length of telomeres, the end segments of chromosomes, over 5 years. Telomere shortening over time has been associated with cellular aging. This study found a strong inverse association between the Omega-3 Index and telomere shrinkage. The higher the Omega-3 Index, the less shrinkage occurred with the least amount of shrinkage at an Omega-3 Index of 8.7%.
---
Omega-3s Help Maintain Muscle Function and Strength with Aging
A systematic review and meta-analysis by Cornish et al. looked at 16 different studies on the effect of omega-3 fatty acids (with or without resistance exercise training) on muscle mass and function in older adults and found significant improvement of lower body strength, improved performance in the timed up and go test, and improved performance in the 30 second sit-to-stand test among those omega-3 supplements.
---
"Master Antioxidant" Glutathione Affected by Vitamin D Status
Levels of glutathione within the cells and mitochondria are highly associated with health and longevity, and its deficiency is associated with many chronic diseases and loss of function with aging. Research over the last several years has illustrated a positive relationship between glutathione and vitamin D, with higher vitamin D levels related to higher glutathione levels. Additional research has demonstrated that correcting vitamin D deficiency can, in itself, increase glutathione levels.
---
Reducing Risk & Improving Outcomes of Alzheimer's Disease and Dementia
There is a significant association between vitamin D deficiency and faster cognitive decline, as well as a 3-fold increase in the risk of Alzheimer's disease among those with vitamin D deficiency and insufficiency. Other nutrients that may help protect against Alzheimer's disease and progression include magnesium, omega-3 fatty acids, B-vitamins, and probiotics.
---
Know Your Levels of Vitamin D and Omega-3s
Measuring the vitamin D and the Omega-3 Index level is essential, as there is a large amount of variability in the resulting status of each for different people with the same intake amounts; for example, a GrassrootsHealth analysis of the omega-3 dose response relationship showed that the range of response with 1000 mg of EPA+DHA per day was an Omega-3 Index of anywhere between 5.7% and 10.2%.  It is recommended that individuals measure their vitamin D level and Omega-3 Index in order to determine a personalized doses using the vitamin D calculator (to achieve a minimum vitamin D level of 40 ng/ml (100 nmol/L)) and Omega-3 Index calculator (to achieve a minimum Omega-3 Index of 8%).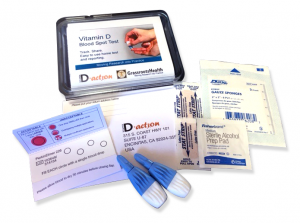 Having and maintaining healthy vitamin D and other nutrient levels can help improve your health now and for your future. Choose which to measure, such as your vitamin D, omega-3s, and essential minerals including magnesium and zinc, by creating your custom home test kit today. Add hs-CRP to measure your level of inflammation as well.  Take steps to improve the status of each of these measurements to benefit your overall health. You can also track your own intakes, symptoms and results to see what works best for YOU.
Enroll and test your levels today, learn what steps to take to improve your status of vitamin D (see below) and other nutrients and blood markers, and take action! By enrolling in the GrassrootsHealth projects, you are not only contributing valuable information to everyone, you are also gaining knowledge about how you could improve your own health through measuring and tracking your nutrient status, and educating yourself on how to improve it.
How Can You Use this Information for YOUR Health?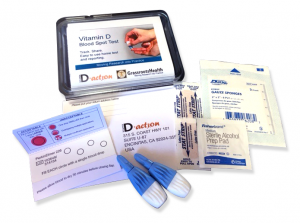 Having and maintaining healthy vitamin D and other nutrient levels can help improve your health now and for your future. Measuring is the only way to make sure you are getting enough!
STEP 1 Order your at-home blood spot test kit to measure vitamin D and other nutrients of concern to you, such as omega-3s, magnesium, essential and toxic elements (zinc, copper, selenium, lead, cadmium, mercury); include hsCRP as a marker of inflammation or HbA1c for blood sugar health
STEP 2 Answer the online questionnaire as part of the GrassrootsHealth study
STEP 3 Using our educational materials and tools (such as our dose calculators), assess your results to determine if you are in your desired target range or if actions should be taken to get there
STEP 4 After 3-6 months of implementing your changes, re-test to see if you have achieved your target level(s)